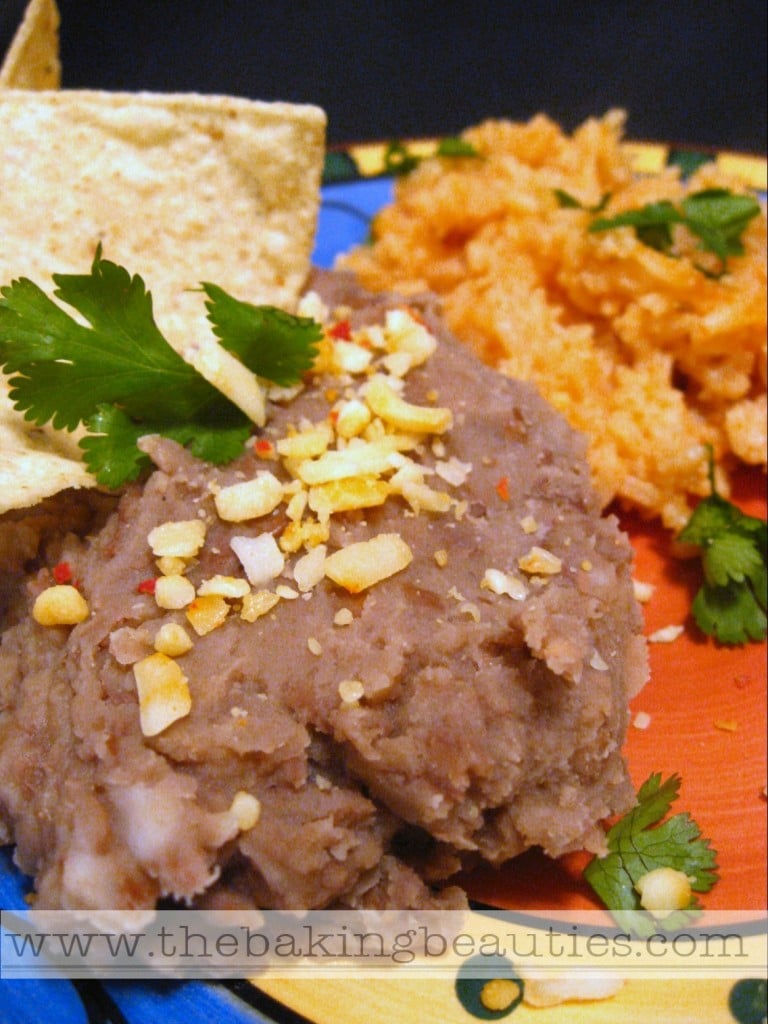 I love foods with a Mexican flare. I like the cheeses, the spices, it's all good. And like most things, homemade Refried Beans taste better than those that you can get in a can. Those in a can, they do when you need to add them to a casserole, or something like that. but, I wouldn't want to eat them alone, with chips. THESE beans, however, topped with a little cheese (melted, maybe?), and you're ready to dig in with your tortilla chips.
Be warned, they do take a while to make, but they can be made either on the stove, or in the slow cooker, I've done it both ways without a problem. It also makes a large batch, so if you are not going to use them all within a week, once they have cooled you can put them in a heavy zipper bag and freeze them for the next time you need Refried Beans.

Refried Beans
Ingredients
1 onion, peeled and halved
3 cups dry pinto beans, rinsed
1/2 cup fresh jalapeno pepper, seeded and chopped (optional)
2 tablespoons minced garlic
3 teaspoons salt
1 teaspoon fresh ground black pepper
1 teaspoon ground cumin (optional)
2 teaspoons gluten-free chicken bouillon
9 cups water
Instructions
Place all ingredients into a slow cooker (or heavy bottomed stock pot). Stir to combine.
For the slow cooker, cook on high for 8 hours, adding more water as needed. Note: If more than 1 cup of water has evaporated during cooking, the temperature is too high.
For the stove top, bring to a boil, then turn the heat down to low and cover, stirring occasionally. Cook for 4-5 hours, or until the beans are tender. Add more water if more than 1 cup of water has evaporated during cooking.
Once the beans have cooked, strain them, reserving the liquid. Mash the beans with a potato masher, adding the reserved water as needed to attain the desired consistency.
Other recipes I think you might enjoy: