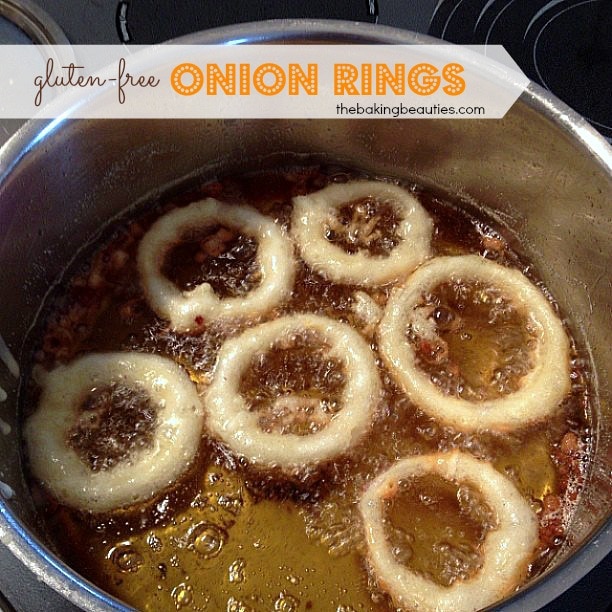 I have decided to quickly share this recipe while the aroma of these deep-fried gems still fills my kitchen. Yesterday my family and I spent the day at on outdoor amusement park. As we rode the rides, and spun, and spun, and spun our way around the park (why are all these rides designed to go round and round, I'll never know – or appreciate), the smells of fresh mini doughnuts, cotton candy, and onion rings filled the air. One smell of those onion rings, and I declared to the family, "We're having onion rings for supper!"
I had made onion rings before over 4 years ago. I even shared the recipe for gluten-free onion rings on the blog. And although that recipe was good, having even been published in a "Best of Food Blogs Cookbook", my way of using gluten-free flours has changed a lot in the past 4 years. Getting home from the amusement park, with everyone tired and hungry (and their heads still spinning), I headed to the kitchen to fulfill the onion ring declaration from earlier in the day. Taking one look at that old recipe, I thought – nah, I'll just wing it this time. I no longer use pre-blended flour mixtures, I prefer to use individual flours now. This recipe was super easy to put together, and stayed a lot crisper than the previous version. It had been over 4 years since I had made these last, but with how perfectly these worked yesterday, I don't think it will be a full four years before we have them again. When things taste so good that I have to stop mid-bite and think – "Is there any possible way these are not gluten-free?" – you know it's good.
I shared a picture of yesterday's rings being fried on the Facebook page, and many of you were eager for the recipe, so I quickly typed it out. Today I'm sharing it here so that everyone has a chance to read it, print it, pin it, and share it. These Crisp Gluten Free Onion Rings are definitely worth the effort.

Crispy Gluten Free Onion Rings
No reason to miss take-out when you can make these crispy gluten free onion rings at home.
Ingredients
2 medium yellow onions, sliced
1/2 cup brown rice flour (for dusting the unfried rings)
1/2 cup brown rice flour (for the batter)
1/4 cup potato starch
1/4 cup tapioca starch
1/4 cup cornstarch
1/2 tsp xanthan gum
1 tsp baking powder
1/2 tsp salt
1/2 tsp sugar
1 cup milk
1/4 cup canola oil
1 large egg
canola oil for frying
Instructions
Preheat oil in heavy bottomed pot until a thermometer reads 375 degrees F.
Slice onions into 1/4" slices and separate into individual rings.
Place 1/2 cup brown rice flour in one bowl.
Whisk together 1/2 cup brown rice flour, potato starch, tapioca starch, cornstarch, xanthan gum, baking powder, salt and sugar.
Whisk together the milk, oil & egg. Add the wet ingredients to dry ingredients and stir to blend.
Dip the rings in the dry rice flour, then into the batter, and carefully place in HOT oil. Fry until browned, flipping over once. Keep hot in 275 degree F oven on paper-lined baking sheet. Serve hot.
Notes
I use canola oil when deep frying, it tolerates high temperatures very well, and has a nice neutral flavour too, which I like.
Did you know that you can reuse your deep-frying oil? Use it to also make:
Gluten Free Sweet & Sour Chicken Balls
Gluten Free Beer Battered Fish
Disclaimer: This post contains affiliate links. If you make a purchase using these links – your cost remains the same, but I earn a small percentage to help support this blog. Thank you!
Other recipes I think you might enjoy: