Restaurant Style Fried Rice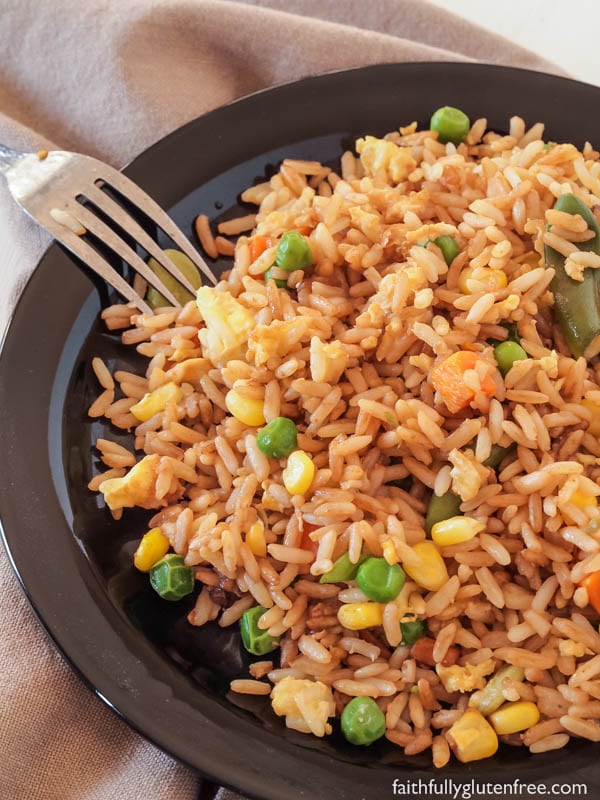 2 cups uncooked white rice, cooked according to package directions
2 tablespoons vegetable oil
1 small onion, diced
2 cups frozen mixed vegetables, cooked according to package directions
2 large eggs
Gluten free soy sauce to taste (2-3 tablespoons)
sesame oil, to taste (optional)
onion greens (for garnish)
Heat wok or large frying pan over medium-high heat.
Pour in oil. Once the oil is hot, add the onion and cook until tender, about 2-3 minutes.
Add the cooked rice, stirring to heat throughout if you made it earlier. Cook for a few minutes before adding the vegetables.
Add the cooked vegetables. Stir for a few more minutes before adding the eggs.
Push the rice to the outside of the pan, and in the middle, crack the eggs, stirring quickly to scramble the eggs.
Stir to incorporate into the rice and vegetables.
Pour in the soy sauce and stir rice so that the soy sauce is evenly distributed.
Drizzle with sesame oil and toss again. Garnish with onion greens before serving.
Recipe by
Faithfully Gluten Free
at https://www.faithfullyglutenfree.com/fried-rice-restaurant-style/