Gluten-free Rhubarb Crisp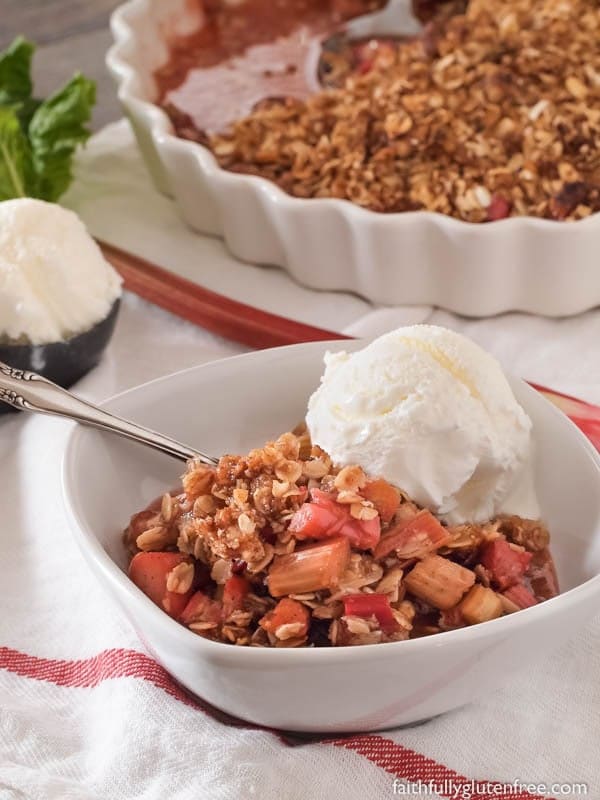 1 cup (200 g) granulated sugar
3 tablespoons (45 g) cornstarch
1/2 teaspoon (2.5 ml) ground cinnamon
4 cups (1 L) rhubarb, cut into 1/2" (1 cm) pieces
1 cup (100 g) certified gluten-free rolled oats
1/2 cup (110 g) brown sugar, packed
1/2 teaspoon (2.5 cm) ground cinnamon
1/2 cup (125 g) chopped walnuts, chopped pecans, or slivered almonds
1/4 cup (55 g) cold unsalted butter, cut into small cubes
Preheat the oven to 375 degrees F (190 degrees C).
In a mixing bowl, combine the granulated sugar, cornstarch, and 1/2 teaspoon ground cinnamon. Add the chopped rhubarb, and stir to coat.
Pour into rhubarb mixture intoan 8x8-inch (20x20 cm) baking pan, pouring any remaining sugar over the top.
You can use the same mixing bowl to stir together the gluten free oats, brown sugar, and 1/2 teaspoon ground cinnamon. Add the butter cubes, and using your fingers, break the butter into smaller pieces, about pea-sized. Stir in the chopped nuts and sprinkle the topping evenly over top of the rhubarb filling.
Bake in the preheated oven for 30-35 minutes or until nice and bubbly. Let it sit for at least 10 minutes before serving to allow the filling to thicken while it cools. We like to serve ours still warm, with a scoop of gluten free vanilla ice cream.
Recipe by
Faithfully Gluten Free
at https://www.faithfullyglutenfree.com/rhubarb-crisp/