Gluten Free Oatmeal Cinnamon Raisin Bread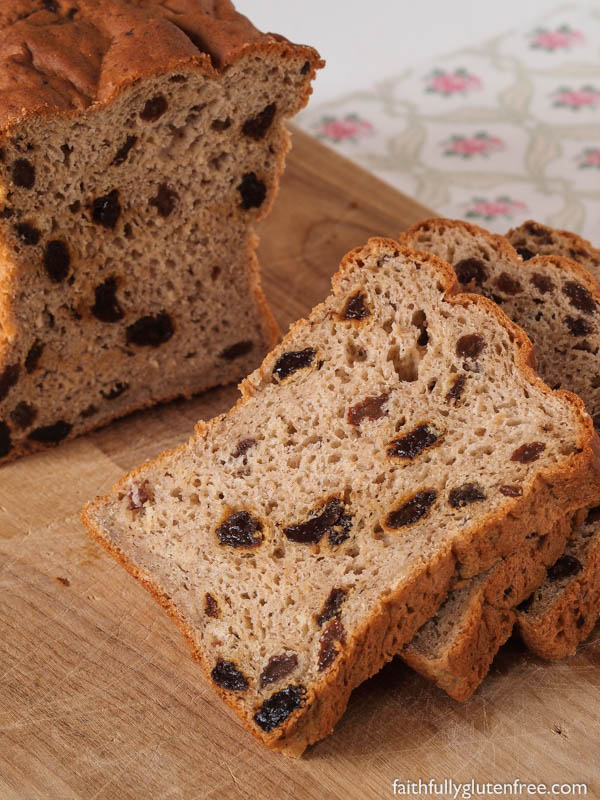 1/2 cup certified gluten free rolled oats
1 cup raisins
3/4 - 1 cup warm water (start with 3/4 cup and add up to 1/4 cup if necessary)
2 tablespoons granulated sugar
1 tablespoon rapid rise yeast
2 teaspoons apple cider vinegar
2 tablespoons oil
2 large eggs
2 egg whites
1 cup brown rice flour
1/2 cup potato starch
1/2 cup tapioca starch
1/4 cup milk powder
2 1/2 teaspoons xanthan gum
2 teaspoons ground cinnamon
1 teaspoon salt
Grease a 9"x4" (or 9"x5") bread pan with butter or coconut oil. Set aside.
Place oats & raisins in a bowl and cover with hot water. Set aside and let soak for 10 minutes. Drain water using a sieve or strainer. It is Ok if it is still wet, you just don't want any puddles in the mixture.
In a small mixing bowl, combine water, sugar & yeast. Stir and let sit until foamy on top. Then add the cider vinegar, vegetable oil, eggs and egg whites.
In the bowl of a stand mixer, combine all dry ingredients together. Mix until evenly combined.
Add the soaked oats & raisins to the dry ingredients. Turn the mixer (with the paddle attachment) on low speed, and slowly add the wet ingredients. Once combined, scrape down the sides of the bowl with a rubber spatula. Turn the mixer on medium, beat for 2 minutes.
Spoon dough into prepared bread pan. Let rise, uncovered, in a warm, draft-free place for 25 minutes, or until it has reached the top of the bread pan. (I preheat my oven to 100 degrees F, and turn it off, just so it is warm in there, and then I leave the oven light on for warmth.)
Place bread in preheated 350 degrees F oven, and bake for about 35 minutes, or until the internal temperature with an instant read thermometer is 200 degrees F.
Remove loaf from oven, and leave in the bread pan for 5 minutes. Remove from pan and cool on wire cooling racks (I like to cool loaf on its side, flipping ever 5 minutes).
When the loaf is completely cool, store in airtight bag. Can be left on the counter for 3 days, or frozen (wrap in additional plastic wrap if freezing).
Recipe by
Faithfully Gluten Free
at https://www.faithfullyglutenfree.com/gluten-free-oatmeal-cinnamon-raisin-bread/