Gluten Free Raisin Bran Muffins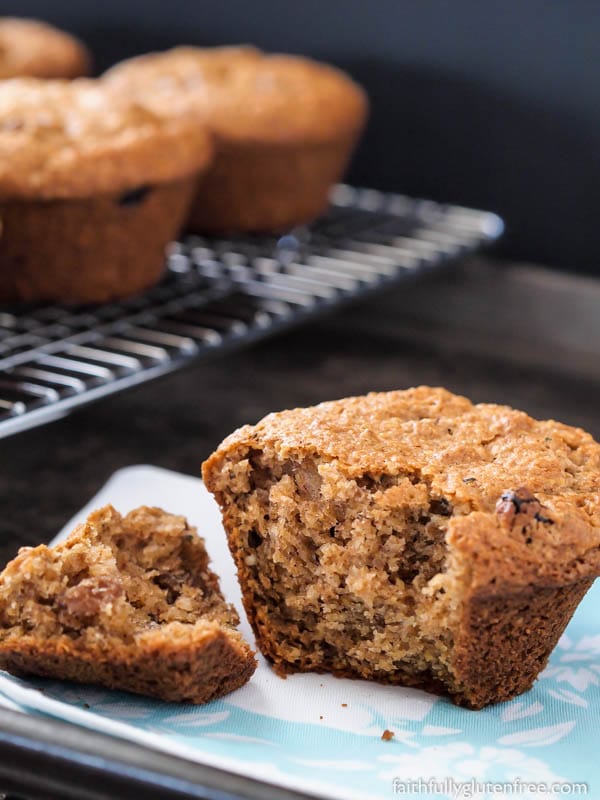 1/2 cup ground flax seed
1/2 cup rice or gluten-free oat bran (substitute with more flax seed if you don't have the rice bran)
1 cup buttermilk
1/3 cup oil
1 large egg
2/3 cup brown sugar
1/2 teaspoon vanilla extract
1/3 cup gluten free oat, millet, or sorghum flour
1/3 cup brown rice flour
1/3 cup tapioca starch
1 teaspoon xanthan gum
1 teaspoon baking soda
1 teaspoon baking powder
1/2 teaspoon ground cinnamon (optional)
1/2 teaspoon salt
2 tablespoons hemp seeds (optional, I added them, more nutrition)
1/2 cup re-hydrated raisins (I microwave mine for 30 seconds with a little bit of water, let sit, then drain)
Preheat oven to 375 degrees F. Grease or line muffin cups with paper liners.
Mix together the flax seed, rice bran and buttermilk. Let sit for 10 minutes (while you get everything else ready).
In a large mixing bowl, combine the gluten free flour(s), xanthan gum, baking soda, baking powder, cinnamon, salt, and hemp seeds (if using). Set aside.
In a medium bowl, beat together the oil, egg, sugar and vanilla. Add the buttermilk/flax seed mixture & stir well.
Stir buttermilk mixture into the dry ingredients, just until blended. Fold in the raisins and spoon batter into prepared pans.
Bake for 15-20 minutes, or until a toothpick inserted into the center of a muffin comes out clean.
Wait 5 minutes and then remove the muffins from baking pan to cooling rack. Allow to cool completely before storing in an air tight container.
Recipe by
Faithfully Gluten Free
at https://www.faithfullyglutenfree.com/gluten-free-raisin-bran-muffins/