Crispy Gluten Free Onion Rings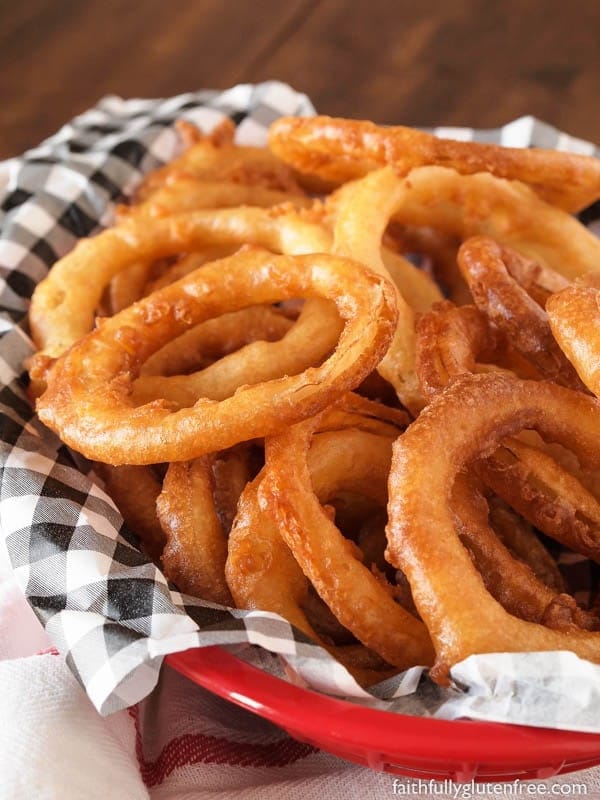 2 medium yellow onions, sliced
1/2 cup brown rice flour (for dusting the unfried rings)
1/2 cup brown rice flour (for the batter)
1/4 cup potato starch
1/4 cup tapioca starch
1/4 cup cornstarch
1/2 tsp xanthan gum
1 tsp baking powder
1/2 tsp salt
1/2 tsp sugar
1 cup milk
1/4 cup canola oil
1 large egg
canola oil for frying
Preheat oil in heavy bottomed pot until a thermometer reads 375 degrees F.
Slice onions into 1/4" slices and separate into individual rings.
Place 1/2 cup brown rice flour in one bowl.
Whisk together 1/2 cup brown rice flour, potato starch, tapioca starch, cornstarch, xanthan gum, baking powder, salt and sugar.
Whisk together the milk, oil & egg. Add the wet ingredients to dry ingredients and stir to blend.
Dip the rings in the dry rice flour, then into the batter, and carefully place in HOT oil. Fry until browned, flipping over once. Keep hot in 275 degree F oven on paper-lined baking sheet. Serve hot.
I use canola oil when deep frying, it tolerates high temperatures very well, and has a nice neutral flavour too, which I like.
Recipe by
Faithfully Gluten Free
at https://www.faithfullyglutenfree.com/crispy-gluten-free-onion-rings/