Creamy Gluten Free and Dairy Free Tomato Soup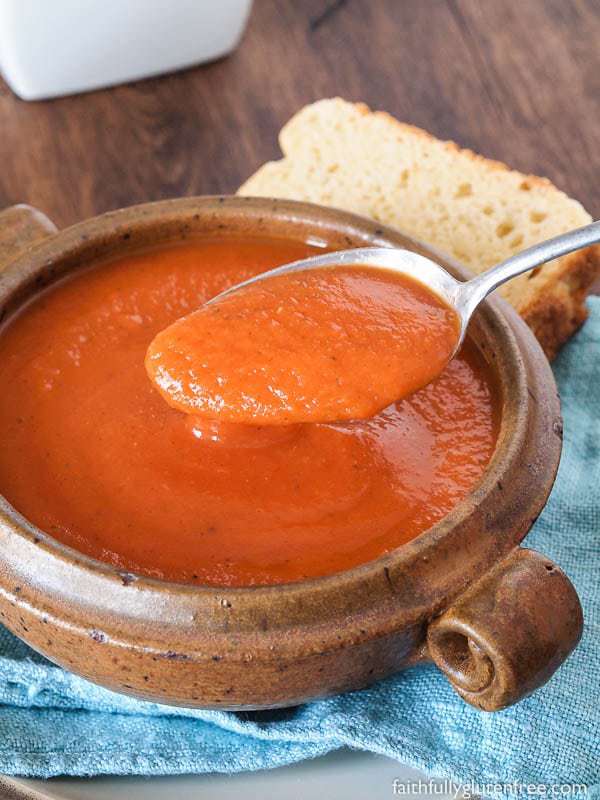 1 tablespoon (15 ml) oil
1/2 cup (125 ml) diced onion
1 stick celery, chopped
1 medium carrot, chopped
1 clove garlic, chopped
1- 28 fl. oz (796 ml) tin diced tomatoes, no salt added
1 medium potato, peeled and diced
1 1/2 cups (375 ml) gluten-free vegetable stock (chicken stock can be substituted)
1 1/2 - 2 teaspoons (7.5-10 ml) salt (less if your diced tomatoes contain salt)
1 teaspoon (5 ml) dried parsley, or 1 tablespoon (15 ml) fresh
1 teaspoon (5 ml) granulated sugar (omit for Whole 30)
1/2 teaspoon (2.5 ml) ground black pepper
In a large pot over medium heat, saute the onion, celery, carrot, and garlic in the oil until tender, about 10 minutes.
Add the remaining ingredients and bring to a boil. Reduce heat and simmer until vegetables are tender, about 20 minutes.
Use an immersion blender to puree the mixture until smooth, or ladle a small amount into a blender and blend until smooth. If you are using a blender or food processor, only work with small amounts of soup at a time. Too much hot liquid in your blender may cause the top to blow off while blending. That's a horrible mess to clean up.
Serve with gluten-free croutons, or gluten-free grilled cheese sticks. Enjoy!
Recipe by
Faithfully Gluten Free
at https://www.faithfullyglutenfree.com/creamy-gluten-free-and-dairy-free-tomato-soup/