Gluten Free Pita Bread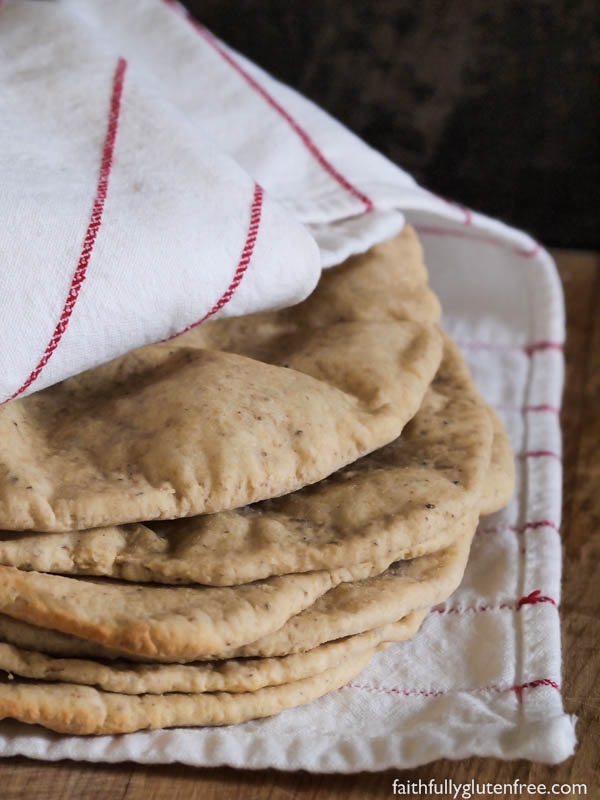 1 1/4 cup Only Oats pure whole grain oat flour
1/2 cup potato starch
1/3 cup cornstarch
1/3 cup tapioca starch
2 tablespoons psyllium husk powder
1 tablespoon ground chia seed
1 tablespoon rapid rise yeast
1 teaspoon granulated sugar
1 teaspoon salt
1 cup warm milk
1 large egg, room temperature
1/4 cup oil
1 teaspoon apple cider vinegar
rice flour, for rolling
Measure the oat flour, potato starch, cornstarch, tapioca starch, psyllium husk powder, ground chia seed, yeast, sugar, and salt into the bowl of a stand mixer. Whisk to combine.
Whisk together the milk, egg, oil, and vinegar.
Add the wet ingredients to the dry ingredients, and mix on medium/low speed for 5 minutes. This allows the psyllium husk powder and chia seed to absorb the liquid, and the dough to thicken.
Line 3 baking sheets with parchment paper.
Divide the dough into 6 pieces, each being just bigger than a golf ball. Lightly flour the counter with rice flour, and sprinkle a little flour on top of the dough. Roll the dough into a 6-inch circle, turning frequently so that it doesn't stick to the counter. Place rolled out dough on the prepared baking sheet. Repeat until you have 6 pitas (2 pitas per sheet).
Lightly cover the pitas with plastic wrap and let sit on the counter for 1 to 1 1/2 hours.
Place a heavy baking sheet or a pizza stone in the oven and preheat the oven to 450 degrees F. Having a very hot oven is very important, it is what will make the pitas puff up while baking.
Spray two pitas with water, slide out the oven rack, and carefully place them on the hot baking sheet/stone. Close the door and let the pitas bake for 5-7 minutes, or until they are puffed up and lightly browned.
Carefully remove the pitas from the oven and place them in a clean, dry tea towel, covering them. This will help the pita bread to stay soft.
Repeat with the remaining 4 pitas, letting the oven heat up a few minutes between batches.
Best served fresh and warm.