Another of my dessert entries for the Real Women of Philadelphia contest. I 'think' this may have been the family favorite that week. We all LOVED this Gluten Free Creamy Cookie Pizza, the flavour was AMAZING! This is the one thing that I know I could have made right away again, and my family would have gobbled it up in a matter of days. So yummy, and so pretty with all the coloured candy, and drizzled chocolates and caramel. *sigh* I wish I had a piece right now!
Whatever toppings you plan on using, be sure they are gluten-free!
Oh. My. Goodness. This dessert was so great. If I ever open a cafe, this is definitely going on the list of baked goodies I'll be selling. A fantastic chewy chocolate chip oatmeal cookie on the bottom, with a sweetened creamy layer of cream cheese 'sauce', topped with toasted nuts, candies, coconut, caramel sauce and drizzled with two kinds of chocolate. My family can not wait until I make this again (and neither can I!).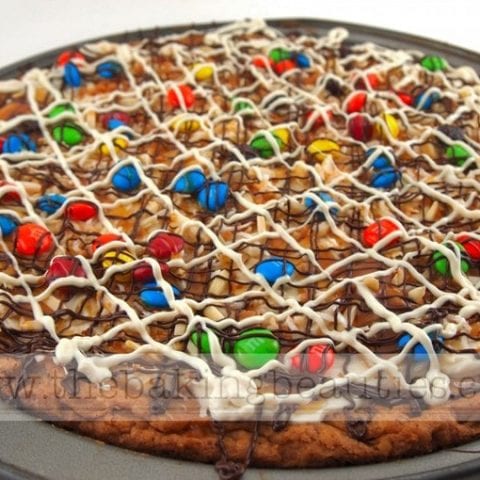 Gluten Free Creamy Cookie Pizza
A large Gluten-free Chocolate Chip Cookie Pizza - use your favorite toppings, just be sure they are all gluten-free.
Ingredients
1/2 cup butter, softened
1 cup brown sugar
1 large egg
1 teaspoon vanilla extract
1 cup plus 2 tablespoons all-purpose Gluten-Free Flour (see NOTE)
1/4 teaspoon xanthan gum
1/2 teaspoon baking powder
1/4 teaspoon baking soda
1 cup gluten-free Quick Cook oats
1 cup chocolate chips
8 ounces cream cheese, softened
1/4 cup confectioners' sugar
1 teaspoon vanilla extract
1/2 cup almond slivers
1/2 cup shredded, sweetened coconut
1/2 cup M&M Candies
1/4 cup caramel sauce
1/4 cup semi-sweet chocolate, melted
1/4 cup white chocolate, melted
Instructions
Preheat oven to 350 degrees F.
In a large mixing bowl, stir together the butter and brown sugar. Stir in the egg and vanilla. Add the gluten-free flour, xanthan gum, baking powder, baking soda, and gluten-free oats. Stir until well combined. Add the chocolate chips and stir until evenly distributed in the dough. Place dough in a lightly greased pizza pan. Place plastic wrap over the dough, and press dough evenly over the bottom of the pizza pan. Bake in preheated oven for 18 minutes.
While the cookie is baking, mix the cream cheese "sauce". In a large mixing bowl, use a hand mixer to combine the cream cheese, confectioners' sugar and vanilla until smooth and creamy. Set aside.
Toast the almond slivers and coconut in a frying pan over medium heat. Keep stirring the mixture until it is a light golden colour, and smells nutty. Remove from frying pan as soon as the nuts and coconut are a light golden colour. Set aside.
Once the cookie has baked, remove from oven and place on a cooling rack. Allow to cool for 30 minutes.
Once the cookie has cooled, spread the cream cheese "sauce" over the cookie pizza. Sprinkle the top of the pizza with the toasted almonds and coconut and M&M's. Drizzle with caramel sauce and melted semi-sweet and white chocolate.
Cut into wedges, and serve. Cookie can be refrigerated for 1 day (longer if not using the M&M candies).
Notes
Gluten-Free Flour Blend - 4 cups superfine brown rice flour, 1 1/3 cups potato starch (not flour), 2/3 cup tapioca starch. Combine all ingredients in a large zipper-top bag. Shake until well blended.