Whether they are for dessert or breakfast, or if the filling is sweet or savoury, gluten free Crepes are a favourite of many. You won't believe they are gluten free!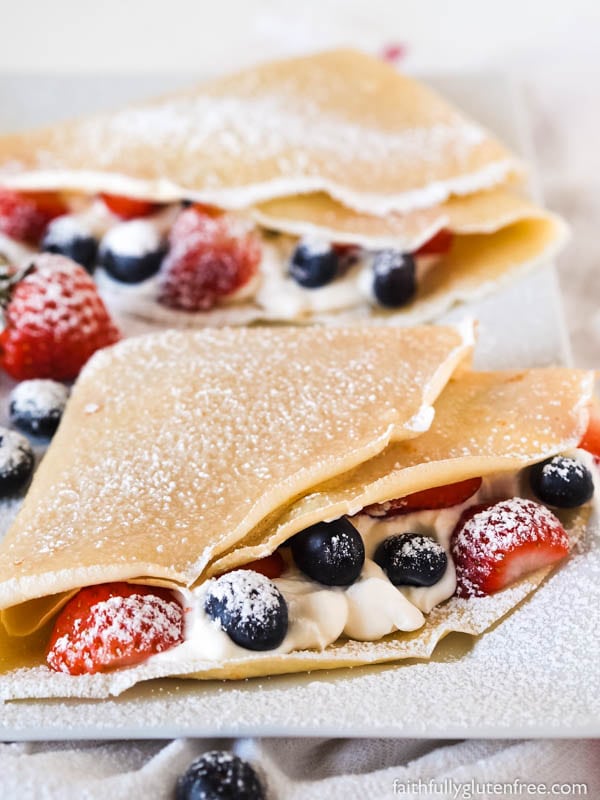 First off…Happy Anniversary to me! As of yesterday, I have been gluten-free for 1 year! It is amazing how quickly you adjust to the new way of baking, cooking, looking at food, and finding the words "Gluten-Free" on packaging (it never would have caught my eye before). I am feeling much, much better, and my iron levels are the highest they have been in years! Woohoo!!
I want to take this little moment to say thank you to all of you that stop by here regularly, irregularly, or on a whim. To everyone that has ever left a comment, a huge thank you! I have received so many wonderful comments & emails, and it really helps me stay focused on my goal for my blog. Just because you have celiac disease doesn't mean you can't have everything.
You can.
It just takes some trial & error to figure out how to make those particular items gluten free. Sometimes it's just a matter of finding the right flour blend. I want to find & create recipes that will help everyone to eat a normal diet, not having to go without just because of this silly little "disease". I don't consider it a disease, I just can't eat items with gluten…that is a pretty easy way to deal with it. I'd rather just avoid it than have to take pills or shots everyday. Anyways… that's my feeling. I'm glad that so many of you are following along and subscribing! Thanks!
The one thing that I had to give up making, which really saddened my daughter, was crepes (or as we call them in our house – flat pancakes). My daughter loves crepes slathered with syrup, rolled up and cut. I've loved them ever since I was her age. I did try a recipe nearly a year ago, and it failed. Miserably.
But, just recently my daughter told me that her favorite food was flat pancakes, and her favorite fruit was strawberries. Now I was determined, I was going to make these crepes gluten free! I think I had only made crepes once in the past year for the kids, and now that I knew it was her favorite food, I knew I wanted to figure out how to make them again, so that we could ALL enjoy her favorite food again.
That is how this recipe came to be. It is based on my Mom's recipe that she gave me years & years ago. I converted it to use gluten free flours, and what a success.
Other people with celiac disease know what I'm talking about.
When you re-create something that used to be a favorite of yours, and it works. Wow…excitement! You have to tell someone! Yes, it is silly to get so excited over some gluten free crepes, but this meant that we could all enjoy them again.
While we were eating, I was just commenting (for the fifth time) about how great these gluten free crepes were. The taste, texture and roll-ability were all identical to my regular crepes. It was then that my 6 year old, which a huge grin on her face, says "So, that means we can have these more often???"
Yes dear, we most certainly can!
Wondering what to fill your Gluten Free Crepes with?
Sweetened Whipped Cream and fruit
Gluten Free Crepes
Whether they are for dessert or breakfast, or if the filling is sweet or savoury, gluten free Crepes are a favourite of many. You won't believe they are gluten free!
Ingredients
1 cup brown rice flour
1/3 cup potato starch
3 Tablespoons tapioca starch
1/2 teaspoon xanthan gum
1 tablespoon granulated sugar
1/2 teaspoon baking powder
1/2 teaspoon salt
2 cups milk
2 large eggs
2 tablespoons oil
1/2 teaspoon vanilla
Instructions
In a small bowl, combine all dry ingredients.
In a larger bowl, combine all wet ingredients.
Combine the wet & dry ingredients, whisking until nearly smooth (a few lumps are alright).
In a hot frying pan (about medium heat) pour approximately 3/4 cup of batter in the middle of the pan. Lift the pan & turn it to distribute the batter over the entire pan. You want your batter to cover the entire bottom of the frying pan when you are done.
Once there are little holes and air bubbles forming in the top of your pancake, using a spatula, carefully flip the crepe to brown the other side. This does not take long to cook, because they are so thin.
You can top with your favorite syrup, fresh fruit, sprinkle with sugar, or any other multitude of toppings. Roll up and enjoy!
Notes
Add more milk if the batter is too thick to spread nicely across the pan. I usually have 2 frying pans going at a time, but they need your full attention then. You can not leave them on the stove unattended, because they cook so quickly.
Recipe and images updated in February 2018.