Using Gluten Free Bread Bowls is the perfect way to serve your favourite hearty soup or stew. I had my doubts that baking gluten free bread bowls would work, but to my surprise, they were a huge success!
With January still holding us in its cold grip, we've been enjoying quite a few soups & stews for dinner. The other day while I had soup cooking in the slow cooker, I decided to try my hand at baking gluten free bread bowls. Would it work? Would the bread hold its shape on a baking pan? Would the bread be dense enough to hold the soup without it becoming a big soggy mess?
I'm quite thrilled to say that it did work! And better than I thought, actually. I was trying to achieve a denser bread so that it would hold up to the soup that I would be serving in it, and it did not disappoint. Before pulling pieces of the bowl off and eating it, I actually had a second helping of soup in my bread bowl, and it held up beautifully.
The dough is still softer than traditional wheat-based dough, so I had to grease my hands with a little bit of vegetable shortening to keep it from sticking. I simply formed the dough into four balls, let them rise for 30 minutes in a warm place, and baked them. As you can see, the results are beautiful browned loaves of bread.
We let the bread sit on a cooling rack for about 30 minutes before slicing the tops off, and using a knife and spoon to remove the inside of the bread. You want to leave about a 3/4-inch wall around the outside. Fresh baked bread bowls, filled with your favourite chunky soup or stew, is the perfect dinner on these cold January nights.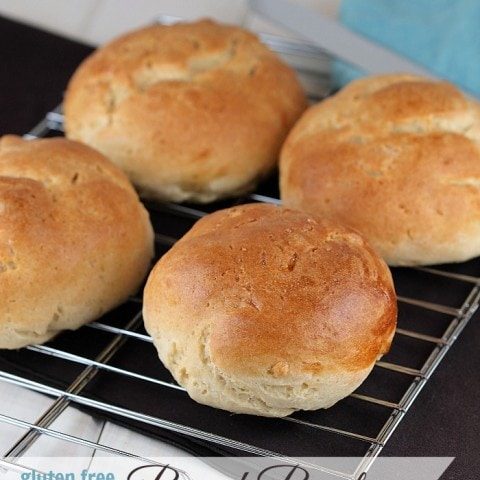 Gluten Free Bread Bowls
Total Time:
1 hour
10 minutes
Using Gluten Free Bread Bowls is the perfect way to serve your favourite hearty soup or stew.
Ingredients
1 1/3 cups (280 ml) warm water, about 100°F
1 tablespoon (12 grams) rapid rise yeast
1 tablespoon (14 grams) granulated sugar or honey
1 1/2 cups (240 grams) brown rice flour
1 cup (125 grams) millet flour
1 cup (120 grams) tapioca starch/flour
1/2 cup (90 grams) sweet rice flour
1/4 cup (40 grams) potato starch (not flour)
1/4 cup (18 grams) dry milk powder
1 tablespoon (10 grams) xanthan gum
1 teaspoon (4 grams) salt
1/2 teaspoon garlic powder (optional)
2 large eggs, room temperature
3 tablespoons (45 ml) canola oil
1 teaspoon (15 ml) apple cider vinegar
1 egg white whisked with 1 tablespoon water, for an egg wash while baking
Instructions
Line a baking sheet with parchment paper.
Combine warm water, yeast, and sugar (or honey) in a glass bowl. Stir & let sit 5 minutes. This allows the yeast to proof & shortens rising time.
In the bowl of a stand mixer fitted with a paddle attachment, combine the brown rice flour, millet flour, tapioca starch, sweet rice flour, potato starch, milk powder, xanthan gum, salt, and garlic powder (if using). Mix well.
Add the eggs, oil, and apple cider vinegar to the yeast mixture. Whisk to combine.
With mixer on lowest speed, slowly add the wet ingredients to the dry ingredients until combined. Scrape bottom and sides of bowl with rubber spatula. With mixer on medium speed, beat for 2-3 minutes.
Grease your hands with some shortening, and divide and shape the dough into four even loaves.
Cover lightly with a lint-free towel and let rise in a warm, draft-free place for 30-40 minutes.
Meanwhile, preheat oven to 375°F.
Using a pastry brush, brush the loaves with half of the egg white wash (saving the remaining for a second brushing).
Bake for 15 minutes. Remove the baking sheet from the oven, and brush with the remaining egg white wash. Return loaves to oven, and bake for an additional 10-15 minutes.
Remove bread from baking sheet and place on a wire cooling rack. Cool for at least 30 minutes before removing the top and carefully scooping out the inside of the bread to make room for your soup or stew.
Notes
TIPS:
I like to let my bread rise in a slightly warmed oven. Turn the oven on to 100 degrees F (or the lowest temperature setting on your oven), and leave it on just until it gets warm (not hot) in the oven. Then turn the oven off, place the bread in the oven, and let it rise (the amount of time this takes depends on how warm the environment is that the bread is rising in. Cooler temps = longer rise time). Remove the risen bread to preheat the oven before baking.
Here are some soups and stews that would be great in these bread bowls: