These Gluten Free Lemon Bars have a light, sweet shortbread base, a thick, tangy layer of lemon curd, topped with a dusting of icing sugar. Just the way lemon bars should be.
In my mind, I always had this vision of what lemon bars should be like. They should have a light crust, and be topped with a lot of lemon filling before being sprinkled with powdered sugar.
I tried making lemon bars a few times, and was always disappointed with them because they had this thin, thin layer of lemon. I know some of you may like them that way, but I wanted my gluten free Lemon Bars to be loaded with lemon.
After searching around the world wide web a bit, I came across Ina Garten's recipe for Lemon Bars. These bars looked promising, all I needed to do was convert them to contain no gluten.
Success! But I didn't stop there. I tweaked the recipe a little further, reducing the sugar slightly, to give a nice thick, tangy gluten free Lemon Bar.
The smell when you are preparing the filling for these bars is amazing. I love the smell when you zest a lemon (or any citrus fruit, really) – it is so refreshing.
These gluten free Lemon Bars converted really well, and when we had them for dessert last night, my husband just says "They taste just the way I thought they should". Finally, a lemon bar recipe that lives up to my standards and his. My daughter was sure to ask for some for her lunch kit today. My son has been begging me for a piece since 8:30 this morning.
Yes, these gluten free Lemon Bars are exactly how I think lemon bars should be.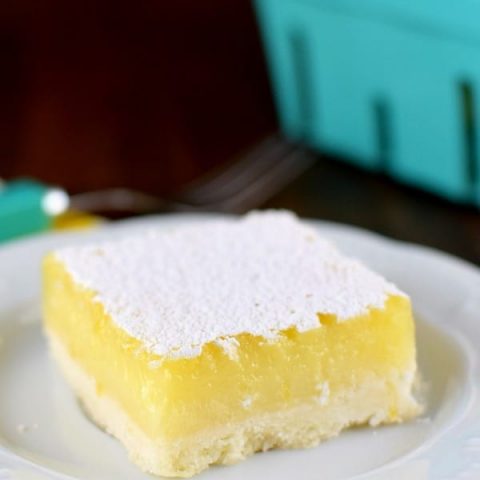 Gluten Free Lemon Bars (the Way Lemon Bars Should Be)
Total Time:
1 hour
15 minutes
These Gluten Free Lemon Bars have a light, sweet shortbread base, a thick, tangy layer of lemon curd, topped with a dusting of icing sugar. Just the way lemon bars should be.
Ingredients
For the crust:
3/4 cup (180 ml) unsalted butter, at room temperature
1/2 cup (100 g) granulated sugar
1 cup (160 g) rice flour (white or brown)
2/3 cup (115 g) potato starch
1/4 cup (30 g) tapioca starch
1/2 teaspoon xanthan gum
pinch salt
For the Filling:
7 large eggs, at room temperature
2 cups (400 g) granulated sugar
2 tablespoons (30 ml) grated lemon zest (from about 4 lemons)
1 cup (250 ml) freshly squeezed lemon juice (I needed 5 lemons to get 1 cup)
3/4 cup (120 g) rice flour (white or brown)
1/4 cup (30 g) tapioca starch
Icing or Confectioners' Sugar for dusting
Instructions
Preheat oven to 350 degrees F (177 degrees C).
Line a 9x13-inch (33x23 cm) baking pan with parchment paper, so the paper rises up the sides - I had it run up the 13" sides, and left the 9" sides bare. (This will make removing the squares much easier, as you can lift them out once they are cooled.)
For the crust, in the bowl of a stand mixer, cream the butter and sugar until light and fluffy. Combine the flours & salt, and slowly add to the butter/sugar mixture while the mixer is on low. Mix just until it is combined. Dump the dough into your prepared pan, place a sheet of plastic wrap over the top, and press the dough evenly over the bottom of the pan, building up a 1/2-inch (1 cm) edge on all sides.
Bake in preheated oven for 25 minutes, or until very lightly browned. Remove from oven and allow to cool for 5 minutes before adding the filling. Do not turn the oven off yet, you still need it.
While the crust is baking, you can prepare the filling. For the filling, whisk together the eggs, sugar, lemon zest, lemon juice, rice flour and tapioca starch. Pour the filling into a large spoon that you are holding about 1-inch (2.5 cm) above the pre-baked crust. This will stop the crust from eroding away where you are pouring it. Bake for 30-35 minutes, until the filling is set. It is alright if it still has some wiggle when you remove it from the oven, it will set more as it cools. Let cool to room temperature.
To remove from pan, cut along 9" edges, and use the parchment paper to lift the bars out and onto a cutting board. Using a sifter or wire sieve, dust the top of the bars with icing/confectioners' sugar. Cut into squares, and serve. If you don't plan to serve them immediately, wait to sprinkle them with the confectioners' sugar, since it will melt over time.
Disclosure: We are a participant in the Amazon Services LLC Associates Program, an affiliate advertising program designed to provide a means for us to earn fees by linking to Amazon.com and affiliated sites.
Recipe and images updated March, 2016.
Save