This easy candied Jello Popcorn lets you create a rainbow of flavors and colors. Change the gelatin flavor to create different colors and flavors.
This crispy, fruity flavored popcorn actually reminds me of the flavored popcorn that you can buy at the mall. Walking past those places always smells so good, but now you can make it at home for a fraction of the cost.
I got this recipe for Jello Popcorn from my friend Cynthia way back in junior high (which was apparently about 30 years ago?? How?) . I'd never heard of it when I had it at her place, but we've been making it ever since.
How to make candied Jello Popcorn:
Making Jello Popcorn is so easy. You can start with either air popped popcorn or microwave popcorn. Melt the butter and honey in the microwave. Add sugar and whatever flavor of Jello you want, and microwave that until it doubles in size. Pour it over your prepared popcorn, and spread it out on a parchment liked baking sheet. Now you have to bake the popcorn to get the Jello coating crispy. This only takes 30 minutes though, stirring every 10 minutes. Let cool, and store it in an air-tight container. Large zipper seal bags work great too.
Flavors and Colors:
You can make a variety of different color and flavor combination by making multiple batches and using different kinds of flavored gelatin.
Would you like to make pink colored popcorn? Using Watermelon Jello should do that (if you can get it, not available where I live).
Wondering how to make blue popcorn? Berry Blue Jello will give you a nice teal blue color.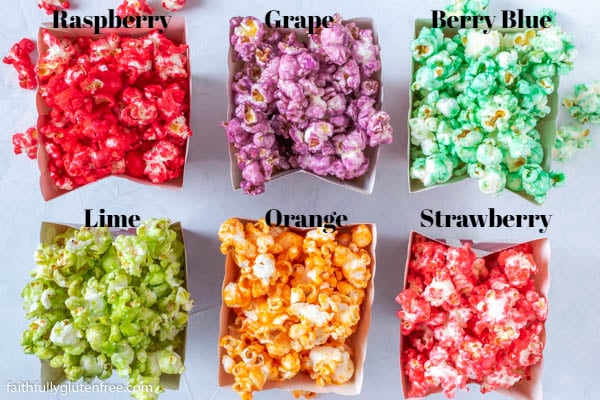 The colors of the candied Jello Popcorn can be customized for any time of year.
Red and green popcorn is perfect for Christmas.
Green is perfect for St. Patrick's Day.
Yellow and purple would be great for Easter.
Purple and orange are spooky enough for Halloween.
Or, get crazy and make a full rainbow of colors. Such a pretty blend for any time.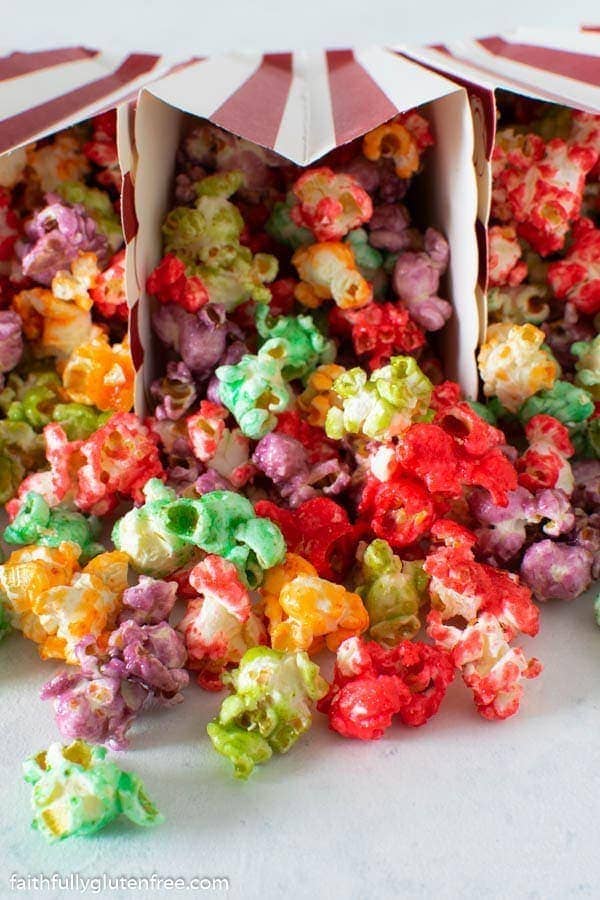 How to remove popcorn kernels from popped corn:
Whether you are making Jello Popcorn, or Caramel Popcorn, you don't want to have unpopped kernels in your popcorn. They are a hazard and can cause broken teeth. But removing them is really simple.
Place your popcorn in a bowl
Place a cooling rack with smaller openings over the top of the bowl. You want the openings to be smaller than a piece of popped popcorn.
Place a cookie sheet over the cooling rack. Now hold on tight, and flip everything upside down. The bowl of popcorn is now upside down, over the cooling rack, which is over the sheet pan.
Hold onto all three things, and gently shake it. This will cause the unpopped kernels to go to the bottom of the popcorn, and fall through the cooling rack, into the sheet pan.
Hang onto just the bowl and cooling rack, and flip it so it is right side up.
Now you have removed all the hard, unpopped kernels, and can continue making your tasty snack.
Flavored Jello Popcorn recipe:
Jello Popcorn
This easy candied Jello Popcorn lets you create a rainbow of flavors and colors. Change the gelatin flavor to create different colors and flavors.
Ingredients
1/3 cup butter
1/4 cup honey
1/2 cup granulated sugar
1 small package Jello (dry flavored gelatin mix)
9 cups popped popcorn
Instructions
Combine honey & butter in a large microwave safe bowl. Microwave until melted.
Add sugar & Jello powder. Stir. Put in microwave and cook until it comes to a rolling boil (doubles in size).
Pour over popcorn in a large bowl. Stir to coat.
Place on parchment lined baking sheet and bake at 250 degrees F for 30 minutes, stirring every 10 minutes.
Cool & break apart. Store in airtight container.
Notes
2 bags of microwave popcorn equals about 10 cups of popped corn.
Recommended Products
Disclosure: We are a participant in the Amazon Services LLC Associates Program, an affiliate advertising program designed to provide a means for us to earn fees by linking to Amazon.com and affiliated sites.
Don't forget to
PIN THIS RECIPE
to your Pinterest board. Looking for more gluten free treats? Be sure to check out my
Gluten Free Popcorn board
while you're there.

Originally posted January 2009. The images and text were updated in November 2019.