Ease the heat of these Spicy Quinoa-Crusted Chicken Fingers by serving them with some Creamy Avocado Dipping Sauce.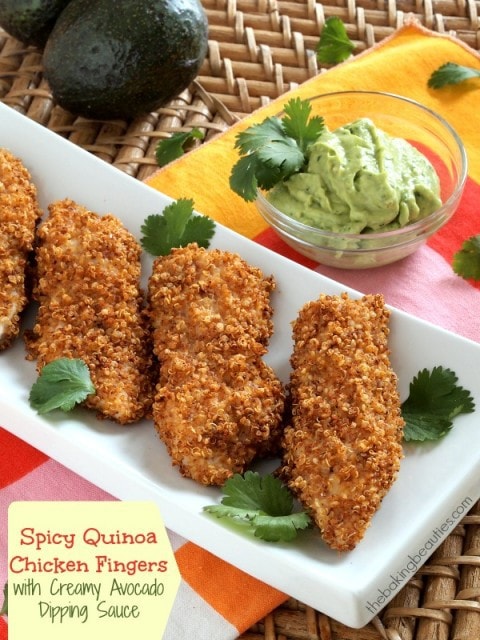 Ever feel like you're preparing the same 4 or 5 meals for your family? Over, and over, and over. Although they fulfill the dietary requirements, they just don't excite anyone anymore. When you start hearing responses like "Again?" when you answer your child's inquiry about dinner, you know it's time to burst out of the rut and liven things up a little bit. That's the inspiration behind these Spicy Quinoa-Crusted Chicken Fingers. My kids love chicken fingers – what kid doesn't – but my kids also love spicy foods. Not hot enough to make your brow bead up with sweat, but enough heat that you know you've got some great flavours going on.
When I received an email earlier this week from Closet Cooking showcasing 35 quinoa recipes, I was immediately intrigued by the Quinoa Crusted Chicken Parmesan that Kevin featured. I've  always cooked up quinoa and used it as a side dish, but I'd never even thought to use it as a "breading". Using cooked quinoa as the "breading" for these Spicy Quinoa-Crusted Chicken Fingers worked brilliantly. It adheres to the chicken well, browns beautifully, and holds up to being dunked in the Creamy Avocado Dipping Sauce well too.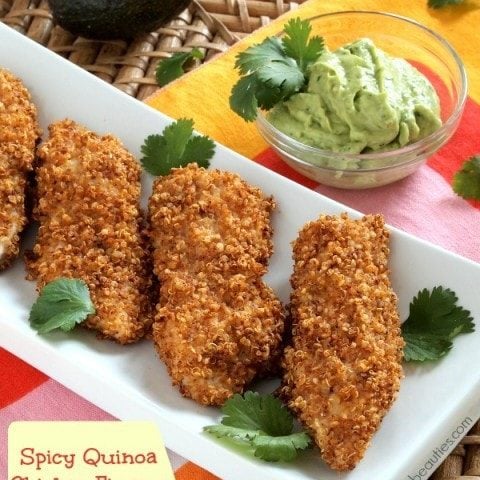 Spicy Quinoa-Crusted Chicken Fingers
Since this recipe uses cooked, cooled quinoa, it would also be a great use for leftover quinoa. You will need about 1 1/2 cups of cooked quinoa for this recipe.
Ingredients
Spicy Quinoa-Crusted Chicken Fingers
600 grams (1.3 lbs) boneless, skinless chicken breast, cut into 1" strips
1 cup water
1/2 cup quinoa
1 tablespoon chili powder
1/4 - 1/2 teaspoon cayenne pepper (for a little heat, stick to the 1/4 teaspoon)
1/2 teaspoon ground cumin
1/2 teaspoon salt
1/4 teaspoon ground black pepper
1/3 cup white rice flour
1/3 cup cornstarch
1 teaspoon salt
2 large eggs, beaten
1 tablespoon lime juice
Creamy Avocado Dipping Sauce
2 small avocados, peeled and pitted
1/4 cup loosely packed cilantro leaves (no stems)
1 tablespoon lime juice
1 clove garlic, chopped
1/4 teaspoon salt
1/4 teaspoon onion powder
Instructions
Spicy Quinoa-Crusted Chicken Fingers
In a small saucepan, bring the water and quinoa to a boil over high heat. Reduce heat to low, cover, and let simmer for 20 minutes. Fluff with a fork, and transfer to a bowl to refrigerate until chilled. Once cooled, add the chili powder, cayenne pepper, cumin, 1/2 teaspoon salt, and pepper. Set aside.
Preheat the oven to 400 degrees F, and line a baking sheet that has sides with parchment paper.
In a resealable bag, combine the rice flour, cornstarch, and 1 teaspoon salt. Seal the bag and shake it until evenly mixed. Open the bag and roll down the sides so that you can easily access the flour mixture. Set aside.
In a bowl, whisk together the eggs and lime juice.
Line up the strips of chicken, flour/cornstarch mixture, egg mixture, and quinoa mixture, beside your prepared baking pan.
Working one at a time, coat the chicken strips in the flour mixture, then dip into the egg mixture. Using other hand (keeping one hand for dry ingredients and the other for wet), coat the chicken with the egg mixture, and then coat with the quinoa mixture.
Place on prepared baking sheet. Repeat until all of the chicken strips have been coated.
Bake in preheated oven for 20-25 minutes, or until the chicken is done. Serve hot with the Creamy Avocado Dipping Sauce.
Creamy Avocado Dipping Sauce
While the Spicy Quinoa-Crusted Chicken Fingers are baking, place all of the ingredients for the dipping sauce into a food processor.
Process until the mixture is smooth, scraping down the sides if necessary.
Notes
Leftover Spicy Quinoa-Crusted Chicken Fingers would be perfect on a salad or wrap as well. Plan ahead, and prepare enough for lunch the next day!
Looking for more information on Quinoa? Be sure to check out our FOOD FACTS article discussing Quinoa.