Warm up with a hot bowl of Creamy Turkey Chowder, the perfect way to use up leftover turkey or chicken.
Simplicity. That is my motto when it comes to cooking. My pantry doesn't hold a lot of fancy ingredients. I believe that basic ingredients, combined in the right way, can give you fabulous results. This soup is the perfect example of that.
Onions, celery, and carrots are a staple – with them, you have the beginning of many tasty dishes. My fridge also holds Creamer potatoes, which keep for a long time but are ready to use as-is and cook quickly. With the holidays approaching, you might be fortunate enough to have leftover turkey. If you don't have leftover turkey, you could use leftover chicken in its place. No leftovers? You can easily poach a turkey or chicken breast in some water with salt, whole peppercorns, and a quartered onion.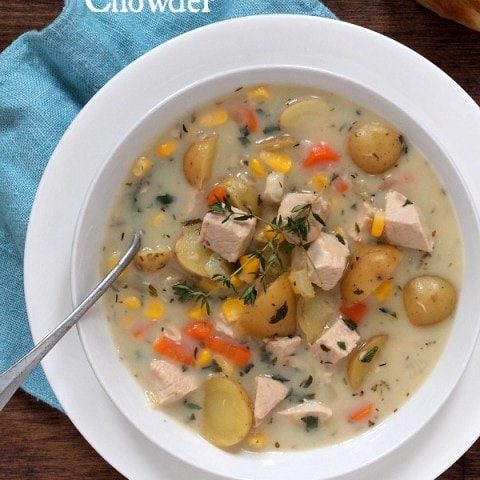 Creamy Turkey Chowder
Warm up with a hot bowl of Creamy Turkey Chowder, the perfect way to use up leftover turkey or chicken.
Ingredients
1/4 cup (125 ml) unsalted butter
1 small onion, diced
2 stalks celery, diced
2 carrots, diced
3 tablespoons (45 ml) cornstarch
4 cups (1L) gluten free chicken or vegetable stock
1 lb (about 3 cups) Baby Boomer potatoes, quartered or halved
2 cups (500 ml) diced turkey or chicken
1 cup (250 ml) frozen corn
2 teaspoons (10 ml) dried parsley
1/2 teaspoon (2.5 ml) dried thyme
1 1/2 cups (375 ml) milk (3% milk will make it creamier)
2 Tablespoons (30 ml) chopped fresh sage
salt & pepper to taste
Instructions
In a Dutch oven over medium-high heat, melt the butter. Add the onion, celery and carrot. Saute, stirring frequently, until the onions are translucent (about 5 minutes).
Stir in the cornstarch, until no lumps remain.
Add the chicken/vegetable stock, and bring up to a boil, stirring frequently. Once the mixture reaches a boil, the cornstarch will thicken it.
Add the potatoes, turkey, corn, parsley, and thyme. Cover, and bring the mixture back up to a boil. Once it has reached a boil, reduce the heat so that it is just simmer. Simmer, stirring frequently, until the potatoes are tender (about 15-20 minutes).
Add the milk and fresh sage. Bring the soup back up to a simmer, but do not boil. Season with salt and pepper to taste.
Disclosure: This recipe was developed as part of my ongoing partnership with Little Potato Company. All opinions expressed are completely my own.