Warm up with these Gluten Free Caramel Hot Chocolate Cookies that have a rich, fudgy base topped with a chocolate caramel square, and finally a marshmallow. Perfection.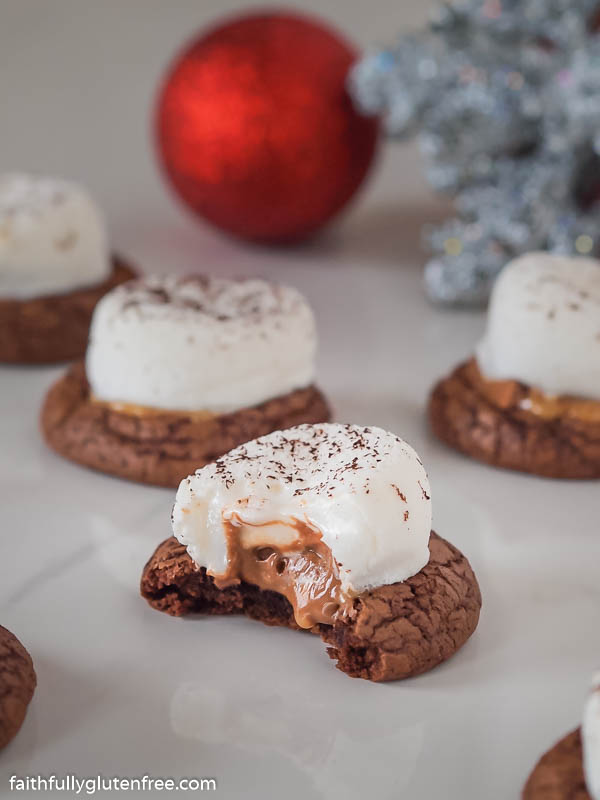 I love playing around with different cookie flavors, and the holidays give me the perfect opportunity to do just that!
This cookie isn't just for Christmas though, these gluten free Caramel Hot Chocolate Cupcakes are perfect for the whole winter! A soft, rich chocolate cookie is topped with a square of Caramilk chocolate bar, and a marshmallow. You've been warned – they are addicting!
Not a fan of marshmallow, or don't have Caramilk chocolate bars on hand? Use a square of your favorite milk chocolate candy bar instead, and eliminate the marshmallows – you will still have an amazing cookie.
Virtual Gluten Free Christmas Cookie Exchange:
This recipe is part of a virtual gluten free cookie exchange. Check out all 18 recipes in our virtual gluten-free cookie exchange, listed in the order they appear in the photo, left to right, row by row:
Gluten Free Caramel Hot Chocolate Cookies recipe:
Gluten Free Caramel Hot Chocolate Cookies
Total Time:
1 hour
37 minutes
Warm up with these Gluten Free Caramel Hot Chocolate Cookies that have a rich, fudge-y base topped with a chocolate caramel square, and finally a marshmallow. Perfection.
Ingredients
12 oz (about 2 cups) gluten-free semi-sweet chocolate chips
1/2 cup (125 ml) unsalted butter
1 cup (160 g) brown rice flour
1/3 cup (57 g) potato starch
1/4 cup (30 g) cocoa powder
1/4 cup (31 g) tapioca starch
1 1/2 teaspoons (6 g) baking powder
1/2 teaspoon (3 g) salt
1/2 teaspoon (2 g) xanthan gum
1 1/4 cup (275 g) brown sugar, packed
3 large eggs
1 teaspoon (5 ml) pure vanilla extract
30 large marshmallows, cut in half
60 Caramilk bar squares (six 50 g bars)
Instructions
Place the chocolate chips and butter in a microwave safe bowl. Microwave in 30 second intervals, stirring in between, until it is just melted and smooth. You could do this in the top of a double boiler if you don't have a microwave. Let this mixture cool while you mix the rest of the ingredients.
Whisk together the rice flour, potato starch, cocoa powder, tapioca starch, baking powder, salt, and xanthan gum. Set aside.
In the bowl of a stand mixer, beat together the brown sugar, eggs, and vanilla until lighter in colour, about 2 minutes with the paddle attachment. Stir in the chocolate/butter mixture.
Once this has been completely incorporated, stir in the dry ingredients. Beat for 1 minute on medium speed.
The dough will have the consistency of thick cake batter. Cover, and refrigerate for AT LEAST one hour, longer if the dough is still too soft. If you refrigerate it overnight, take it out 30 minutes before you want to bake to allow the dough to soften slightly.
Preheat the oven to 325 degrees F (163 degrees C). Line your baking pans with parchment paper.
Using a sharp knife, cut the marshmallows in half.
Unwrap the Caramilk bars, and break them into squares. Place the squares in a container and put them in the freezer until you need them.
Roll the dough into 1-inch (2.5cm) balls, placing them 2 inches (5 cm) apart on the prepared pans. I use a cookie scoop to get my cookies even.
Bake the cookies in the preheated oven for 12 minutes.
Place a marshmallow (sticky side down) on top of a Caramilk square. Press one chocolate/marshmallow into the top of each cookie.
Bake for an additional 4 minutes.
Place cookies on a wire cooling rack to cool completely. Garnish the tops with grated chocolate, if you desire.
Store cookies in an air-tight container.
Notes
Plan ahead - This dough does require refrigeration, don't try to skip that step.
Recommended Products
Disclosure: We are a participant in the Amazon Services LLC Associates Program, an affiliate advertising program designed to provide a means for us to earn fees by linking to Amazon.com and affiliated sites.
Be sure to
PIN THIS RECIPE
to to your gluten free cookies Pinterest board!
Looking for more gluten-free cookies? Be sure to download my FREE Cookies for Santa E-book.
Also be sure to check out my article, How to Correct Your Cookie Crisis, to ensure that you bake the best cookies possible.