Everyone should have a recipe for a rich, moist chocolate Bundt cake in their collection – consider this gluten free Chocolate Buttermilk Bundt Cake yours.
I've always loved chocolate cake. I also think that a cake baked in a Bundt pan adds something a little special. It fancies things up a bit. It makes the cake something you can actually wow your guests with, making them think that you put in a lot of extra effort for them. Truth be told, baking a Bundt cake takes no more work than baking a cake in a 9×13-inch pan, and in this case, you don't even need to use a stand mixer, it can all be done with a few mixing bowls and a wooden spoon.
I like to add a package of dry pudding mix to my cakes. It's a trick I learned from my pre-gluten free days. Adding a package of pudding mix to the dry ingredients helps to make the cake moister, and a little denser. And you don't want a Bundt cake to be too light or it won't hold it's shape properly. You want a slightly denser crumb, and the pudding mix helps achieve that. The chocolate Jello pudding mix that I use isn't labeled gluten-free, but it contains no gluten ingredients, and I've never had any issues. It also contains no dairy ingredients, if you're wanting to make this cake dairy free with a few substitutions. If you don't want to use the Jello brand pudding mix, I understand that you can purchase certified gluten free pudding mix at health food stores, or you could even make your own.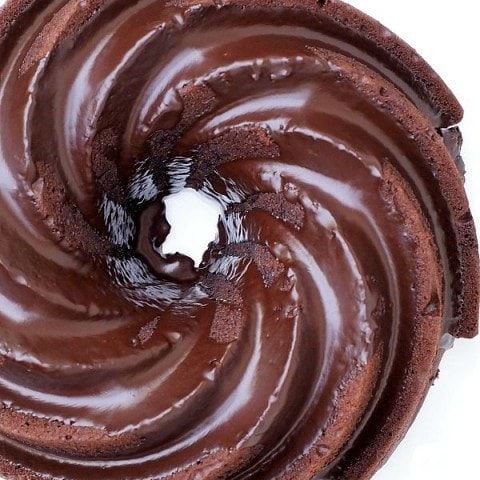 Gluten Free Chocolate Buttermilk Bundt Cake
Total Time:
1 hour
15 minutes
Everyone should have a recipe for a rich, moist chocolate Bundt cake in their collection – consider this gluten free Chocolate Buttermilk Bundt Cake yours.
Ingredients
Chocolate Buttermilk Bundt Cake:
1 cup (160 g) brown rice flour
1 cup (200 g) granulated sugar
1/2 cup (110 g) brown sugar, packed
1/2 cup (60 g) millet, sorghum or gluten-free oat flour
1/2 cup (85 g) potato starch
1/4 cup (50 g) sweet (glutinous) rice flour
1/4 cup (30 g) tapioca starch
4 oz (113 g) package of dry instant chocolate pudding mix (I use Jello brand)
1 1/2 teaspoons (7.5 g) baking soda
1 teaspoon (4 g) xanthan gum
1/2 teaspoon (2 g) baking powder
1/2 teaspoon (3 g) salt
1 cup (225 g) unsalted butter (plus extra for greasing the pan)
1 cup (250 ml) water
1/2 cup (60 g) cocoa powder
3 large eggs, room temperature
3/4 cup (175 ml) buttermilk
1 teaspoon (5 ml) pure vanilla extract
Chocolate Ganache:
3 tablespoons (45 ml) unsalted butter, softened
6 tablespoons (90 ml) milk
6 oz or 1 cup (190 g or 250 ml) semi-sweet or milk chocolate chips
Instructions
Chocolate Buttermilk Bundt Cake:
Preheat the oven to 325 degrees F (170 degrees C). Prepare your 10-12 cup Bundt pan by coating the inside with a light coat of butter (I found butter works better than oil). My pan was the 10 cup Heritage Bundt pan from Nordicware, and it went overly slightly, so either place a baking sheet under your Bundt pan, or use a 12 cup Bundt paninstead.
In the bowl of a stand mixer (or just in a large mixing bowl, if you want to use extra arm power), whisk together the brown rice flour, sugars, potato starch, sweet rice flour, tapioca starch, pudding mix, baking soda, xanthan gum, baking powder, and salt.
Combine the 1 cup butter, water, and cocoa powder in a medium-size, heavy-bottom sauce pan over medium heat. Continue to heat until the butter has melted, and the mixture begins to steam, but do not let it come to a boil.
With the mixer running on low speed, pour the hot butter/cocoa mixture into the dry ingredients, running it until it is mixed in.
With the mixer still running on low, add the eggs, one at a time, being sure that the egg is completely blended into the batter before adding the next one. Slowly add the buttermilk and vanilla, and mix just until it all comes together in a smooth batter.
Spread the cake batter into the prepared Bundt pan, pushing it into any designs that your pan may have. Give your pan a few good taps on the counter to help bring any air bubbles to the top of the batter before baking.
Bake in the preheated oven for 55-60 minutes, or until a skewer inserted into the middle of the cake comes out clean.
Remove from the oven, and allow to sit in the pan for 30 minutes, or until the pan is cool enough to handle. You should be able to tell that the cake is releasing from the sides before trying to turn it out. Trying to turn it out too quickly, depending on the design of your pan, may result in your cake not releasing properly. Having patience and letting it cool longer in the pan, helps it release from the pan better.
Allow the cake to cool completely on a wire cooling rack before topping with the ganache (optional).
Chocolate Ganache:
Heat the butter and milk in a microwave safe bowl, stirring every 30 seconds, until the butter is melted, and the milk is steaming, but not boiling.
Place the chocolate in a glass bowl. Pour the hot milk mixture over the chocolate, and let it sit for one minute. Stir until the chocolate melts, and the mixture becomes smooth. Let the ganache sit until it has reached the desired consistency, as it cools it will thicken. Pour over your cooled Bundt cake.
Disclosure: This post contains affiliate links. If you make a purchase using these links – your cost remains the same, but I earn a small percentage to help support this blog. Thank you!