Gluten Free Pumpkin Spice Beignets are like soft pillows of yeasty dough, created with moist pumpkin and warming pumpkin spices, fried to perfection.
I first had a beignet last year when our family visited Disney World. While we were down there, we made a special stop at Sassagoula Floatworks and Food Factory to pick up some of the much-talked-about gluten free beignets. As the one year anniversary of our trip was approaching, I was thinking about beignets again. I decided to try to re-create the Disney beignets at home. I knew I'd seen their recipe online in the past, so figured I'd use that as a starting point.
However, when I searched for "gluten free beignet Disney", the first recipe that I found was for Pumpkin Beignets from a Disneyland cookbook. With it being fall, and me loving all things pumpkin, I thought I'd try to recreate that recipe instead. But after looking at their recipe, it did include pumpkin, but it had no spices. I looked at other pumpkin beignet recipes online, and they had spices, but no pumpkin. So I decided to go my own direction and include both pumpkin and pumpkin spices in this recipe.
It doesn't take a lot of time to mix and form the beignets, but it does take time to let them rise. Depending on how warm your house is, it could take up to an hour or longer until they are like nice, soft pillows of yeasty dough. Once they reach that point, it is time to start frying them.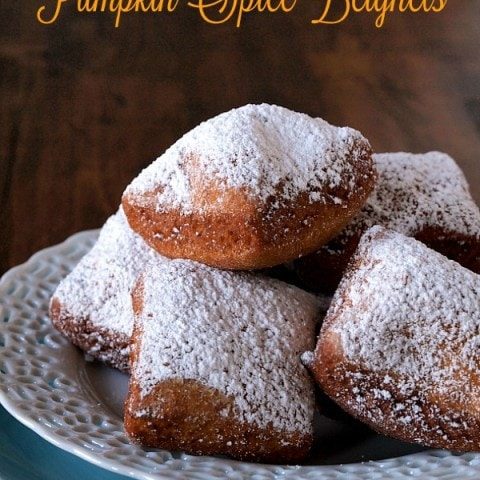 Gluten Free Pumpkin Spice Beignets
Total Time:
1 hour
10 minutes
Gluten Free Pumpkin Spice Beignets are like soft pillows of yeasty dough, created with moist pumpkin and warming pumpkin spices, fried to perfection.
Ingredients
1 2/3 cup (265 g) brown rice flour, plus extra for dusting
3/4 cup (95 g) tapioca starch
1/2 cup (85 g) potato starch
1/4 cup (50 g) granulated sugar
1 tablespoon (15 ml) instant yeast
1 tablespoon (15 ml) xanthan gum
1 teaspoon (5 ml) baking powder
1/2 teaspoon (2.5 ml) salt
3/4 cup (175 ml) evaporated milk
2 large eggs, room temperature
2 tablespoons (30 ml) unsalted butter, melted
1 teaspoon (5 ml) pure vanilla extract
Oil for Frying
Instructions
Whisk together the brown rice flour, tapioca starch, potato starch, sugar, pumpkin pie spice, yeast, xanthan gum, baking powder and salt in the bowl of a stand mixer.
In a separate bowl, whisk together the evaporated milk, pumpkin puree, eggs, melted butter, and vanilla.
With the mixer running on low speed, slowly add the wet ingredients to the dry ingredients. Mix on medium speed for 1 minute, until the dough has a nice uniform look. It will be a soft dough, but it should not be too sticky.
Place a sheet of parchment paper on the counter, and sprinkle it with a few tablespoons of brown rice flour on the paper. Scrape the dough out onto the prepared parchment paper, sprinkling a little more rice flour on the dough if necessary. It should be a nice soft dough, but not very sticky.
Place a sheet of plastic wrap over the dough, and roll the dough out until it is about 1/2-inch (1.25 cm) thick. Using a bench scraper or pizza cutter, cut the dough into 2-inch (5 cm) squares.
Carefully pick up each piece, and place it on a parchment lined baking sheet, leaving an inch (2.5 cm) between pieces. Cover with a clean, lint-free cloth and let rise in a warm, draft-free place for 30-45 minutes, or until the dough has puffed up to nearly double it's original size.
Heat about 1-2-inches (2.5-5cm) of high smoke point oil (like peanut or canola) in a heavy bottom pot over medium-high heat until a thermometer reads 365 degrees F (185 degree C). Be sure to use a thermometer for accuracy. Oil can quickly become too hot, and dangerous, or be too cool, and not fry properly.
Once the oil is the correct temperature, carefully place a few of the beignets in the hot oil. You don't want to have too many, or the oil's temperature will drop too quickly. Gently lay them in the oil, letting them gently fall away from you, in case there is any splashes. The oil is hot, and will burn you if you get any splashed on yourself.
Fry the beignets for about 45 seconds per side, or until both sides are a nice brown colour.
Carefully remove the beignets with a metal slotted spoon, and place them on a baking sheet lined with paper towel.
Pumpkin Spice Beignets are best eaten fresh. Let them cool for about 15 minutes before sprinkling them with confectioners' sugar and serving.
Disclosure: This post contains affiliate links. If you make a purchase using these links – your cost remains the same, but I earn a small percentage to help support this blog. Thank you!