Nothing says "I love you" more than a giant, chewy Gluten Free Chocolate Chip Cookie Pizza topped with cream cheese, strawberries, and chocolate.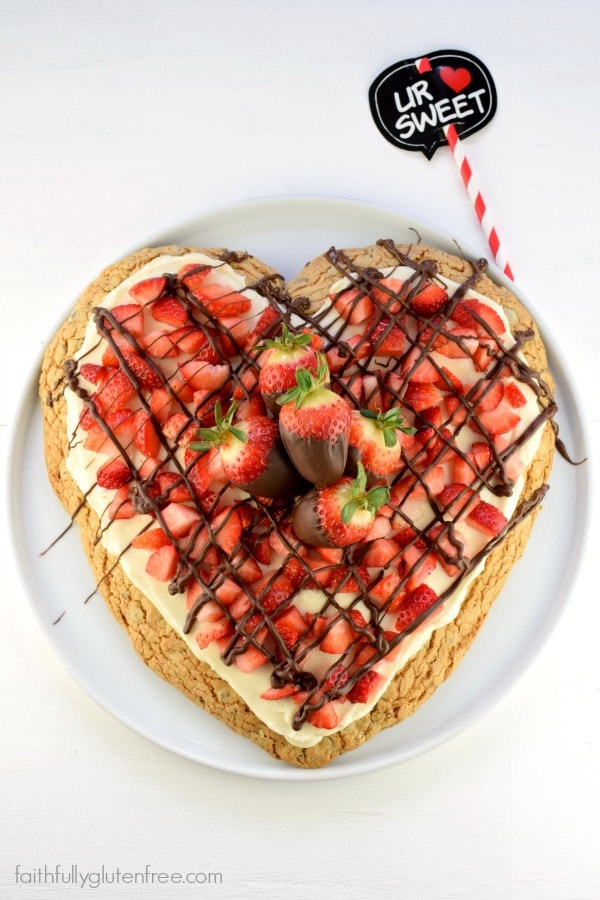 Every year, for Valentine's Day, I try to do something a little special for the family. I've made them this jumbo gluten free Chocolate Chip Cookie Pizza before, and they love it. Keep in mind, my family doesn't have to eat gluten free, but no one will ever be able to tell that this cookie is missing the gluten. The base of the cookie is actually one of their favourite cookie recipes, the ones that I bake on the first day of school, or as a treat on snowy storm days.
The chewy chocolate chip cookie is topped with a layer of slightly sweetened cream cheese, cut up strawberries, and a drizzle of chocolate. Top it all off with some pretty chocolate dipped strawberries.
You can always change things up and top the cookie with gluten free candy like M&M's, chocolate chips, or different fruit – whatever you have on hand.

Gluten Free Chocolate Chip Cookie Pizza
Total Time:
1 hour
5 minutes
Nothing says "I love you" more than a giant, chewy Gluten Free Chocolate Chip Cookie Pizza topped with cream cheese, strawberries, and chocolate.
Ingredients
1/2 cup (125 ml) unsalted butter, softened
1 cup (220 g) brown sugar, packed
1 large egg
1 teaspoon (5 ml) pure vanilla extract
3/4 cup (120 g) brown rice flour
1/4 cup (43 g) potato starch
2 Tablespoons (16 g) tapioca starch
1/2 teaspoon (2.5 ml) baking powder
1/2 teaspoon (2.5 ml) salt
1/2 teaspoon (2.5 ml) xanthan gum
1/4 teaspoon (1.25 ml) baking soda
1 cup (90 g) certified gluten free quick-cook oats
1 cup (190 g) gluten free semi-sweet chocolate chips
8 oz (250 g) cream cheese, softened
1/2 cup (100 g) confectioners' sugar (icing sugar)
1 teaspoon (5 ml) pure vanilla extract
1 pound (453 g) strawberries, cut up (leave about 5 or 6 pretty ones whole)
1/2 cup (95 g) gluten free semi-sweet or milk chocolate chips
1 teaspoon (5 ml) oil
Instructions
Preheat the oven to 350 degrees F (177 degrees C). Line a large baking sheet or pizza pan with parchment paper. Set aside.
In the bowl of a stand mixer, beat the butter and brown sugar together until well blended.
Add the egg and vanilla, and mix until that is incorporated into the butter mixture.
Add the brown rice flour, potato starch, tapioca starch, baking powder, salt, xanthan gum, and baking soda. Run the mixer to fully incorporate these ingredients.
Stir in the quick-cook oats, followed by the chocolate chips.
Scrape the cookie dough onto the prepared baking sheet. Cover the dough with a sheet of plastic wrap, and using your hands, form into the shape of heart. The heart should be about 13-inches (33 cm) high, and the dough should be about 1/2-inch (1.25 cm) thick.
Bake in the preheated oven for 20 minutes. Remove from the oven, and allow to cool completely before removing it from the baking pan.
Once the cookie is completely cool, carefully move the cookie to the serving plate, and proceed to top it.
Beat together the softened cream cheese, confectioners' sugar, and vanilla until smooth. Spread over the entire cookie in an even layer.
Top the cream cheese layer with the cut up strawberries.
In a microwave safe measuring cup, heat the chocolate chips and oil in 30 second intervals, stirring in between, until melted and smooth.
Dip your reserved strawberries into the melted chocolate, and set aside on a sheet of waxed paper.
Place the remaining melted chocolate into a heavy zipper seal bag or piping bag, and snip off one corner. Pipe the melted chocolate over the top of the cut strawberries.
Top with the chocolate dipped strawberries.
Refrigerate until ready to serve, removing from the refrigerator 30 minutes before serving to let it come to room temperature.
More Yummy Valentine's Day Recipes
I've teamed up with 14 gluten free bloggers to bring you 14 more gluten free Sweets for your Sweeties. Between the 15 of us, we've got recipes that you can use for breakfast, lunch, or dinner. Be sure to visit each of their sites to get the recipes.

Listed in the order they appear in the photo, left to right, row by row:

And now the fun part! We've teamed up to offer you the chance to win a beautiful 5 qt. KitchenAid Stand Mixer with a glass mixing bowl, plus an extra stainless steel mixing bowl. So many pretty colours – which one would you pick? If you've been following me for any amount of time, you know I LOVE my KitchenAid Stand Mixer. Here's your chance to win one for yourself, or your Sweetie. Simply enter below for your chance to win. Canadians, please accept my apologies, this contest is open to U.S. residents only.
Disclosure: This post contains affiliate links. If you make a purchase using these links – your cost remains the same, but I earn a small percentage to help support this blog. Thank you!