Potato Reuben Stacks – corned beef, saurkraut, dressing & Swiss cheese on a seasoned, roasted Creamer potato.
Have you ever had a Reuben Sandwich? A Reuben sandwich normally consists of corned beef, saurkraut, Thousand Island or Russian dressing, and Swiss cheese served on rye bread. You heat it up before serving, so that the saurkraut is warm, and the cheese is melting.
I'll admit, I've never had one. I've always had a huge aversion to saurkraut. When I was growing up, my Mom used to ferment her own saurkraut in a large crock, and the smell it gave off is not nearly as inviting as cookies baking. That's why I've lived a life full of cookies, but no saurkraut.
I have, however, been intrigued by the Reuben Sandwich. It's probably due to an episode of Diners, Drive-ins, and Dives, or something, I'm not sure, but the flavour combination has had me thinking. I've finally found a great way to serve up the flavour of a Reuben sandwich without having to find a replacement for gluten-filled bread – By serving that Reuben as an open-faced sandwich on a roasted Creamer potato.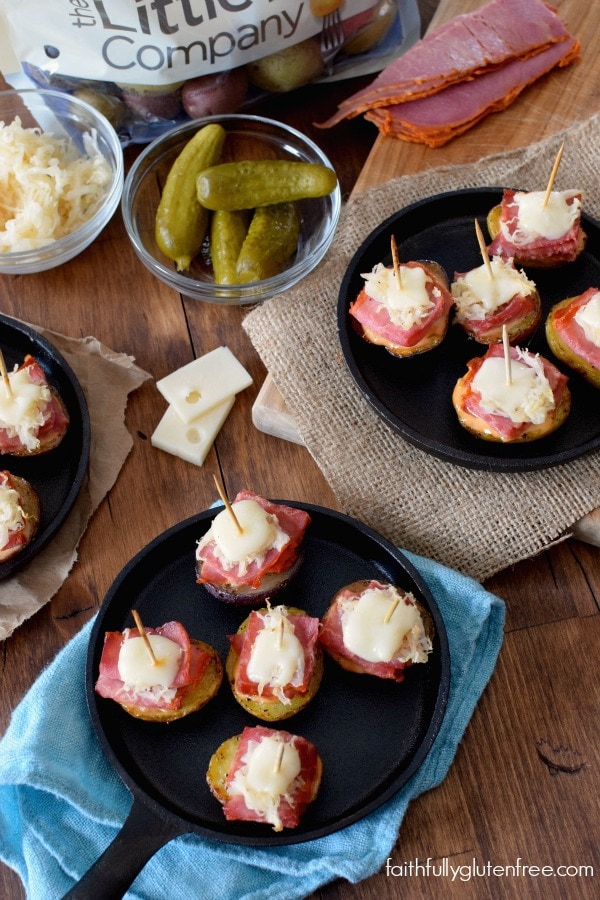 As part of my on-going relationship with The Little Potato Company, I have the opportunity to get creative with potatoes. This month's challenge was to create an appetizer recipe. Once I decided to include the flavours of a Reuben sandwich, it was a snap. These Potato Reuben Stacks are really easy to prepare, can be prepared ahead of time, and serve up amazing flavour. Even though I have kept away from saurkraut my whole life, this recipe had me trying it. And you know what? I liked it! At least I liked it served like this. I'm not about to serve up a huge mound of saurkraut on my next hot dog or anything crazy like that, but the flavour really worked well with the other ingredients.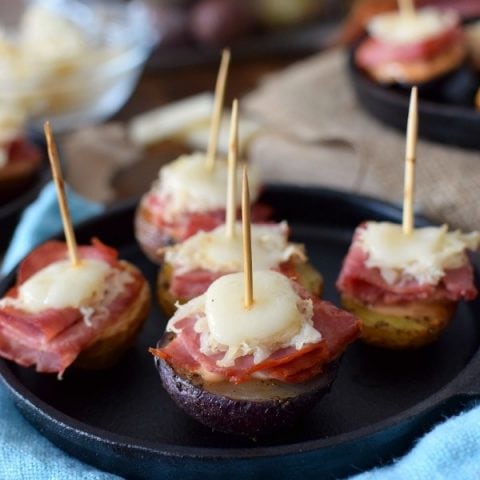 Potato Reuben Stacks
Total Time:
1 hour
5 minutes
Potato Reuben Stacks – corned beef, saurkraut, dressing & Swiss cheese on a seasoned, roasted Creamer potato.
Ingredients
1 1/2 lbs (680 g) Terrific Trio Creamer potatoes, sliced in half lengthwise
1 Tablespoon (15 ml) olive oil
1/2 teaspoon (2.5 ml) salt
1/4 teaspoon (1.25 ml) celery seed
1/4 teaspoon (1.25 ml) ground black pepper
9 oz (250 g) gluten free Corned Beef, shaved
1 cup (250 ml) saurkraut (squeeze out any liquid)
3 1/2 oz (100 g) Swiss cheese slices, cut into little squares
1/2 cup (125 ml) gluten free Thousand Island Dressing
Instructions
Preheat the oven to 400 degrees F (205 degrees C), and line a rimmed baking sheet with parchment paper.
Place the Creamer potatoes, cut into half lengthwise, oil, salt, celery seed, and pepper into a large bowl, and stir until the potatoes are evenly coated.
Spread into a single layer on the prepared baking sheet, and bake in the preheated oven for 30 minutes, stirring the potatoes up once.
Remove from oven, and allow to cool.
Once the potatoes have cooled, line up your topping ingredients. It is easiest to prepare these in an assembly-line fashion. I prepared 6 at a time, the moved onto another 6.
Top the potato halves with a small amount (1/2 tsp) Thousand Island dressing.
Fold up a strip of corned beef to fit on top of the potato, place it on top of the dressing.
Top the corned beef with a small amount of saurkraut, followed by a square of Swiss cheese.
Place a wooden toothpick through the whole stack to help hold it all in place. Place prepared potatoes in an oven-safe baking dish. Repeat until all the potatoes have been prepared. Cover and refrigerate until you need them.
When you are ready to serve the Potato Reuben Stacks, preheat the oven to 350 degrees F (180 degrees C). Bake the potatoes in the preheated oven for about 15 minutes, or until the potatoes are heated through, and the cheese is melted.
Here's your chance to WIN a month's supply of Creamer potatoes from The Little Potato Company.
Disclosure: This recipe was developed as part of my ongoing partnership with Little Potato Company. All opinions expressed are completely my own.