This stunning Cinnamon Bun Cheesecake features a pecan crust, a creamy cheesecake swirled with cinnamon and brown sugar, topped with warm caramel sauce; all the components of a perfect cinnamon bun.
This dessert is also naturally gluten-free, so it is perfect for those that are entertaining guests with a gluten intolerance or celiac disease.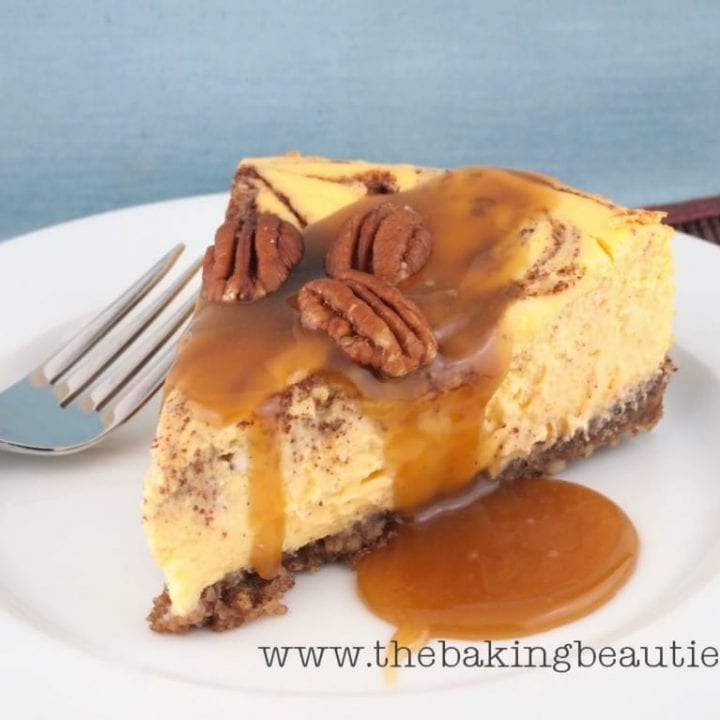 Gluten-free Cinnamon Bun Cheesecake
Total Time:
5 hours
20 minutes
A decadent, naturally gluten-free dessert that will wow your guests. You can make the sauce ahead of time, and gently re-heat it before serving.
Ingredients
2 cup pecans
1/2 cup packed brown sugar, divided
2 1/2 teaspoon ground cinnamon, divided
5 Tablespoons butter, divided
2 1/2 (8-ounce) packages cream cheese
1 cup granulated sugar
1 cup sour cream
3 Tablespoons cornstarch
1 large egg
4 egg yolks
2 teaspoon vanilla extract, divided
1/4 teaspoon salt
3 Tablespoons maple syrup, divided
2 teaspoons plus 2 Tablespoon heavy cream, divided
Instructions
Preheat oven to 350 degrees F.
Combine the pecans, 1/4 cup brown sugar, and 1/2 tsp cinnamon in the bowl of a food processor. Pulse until the pecan pieces are about the size of peppercorns. Add 4 Tablespoons melted butter and pulse again to combine. Pat the mixture in an even layer in a 9-inch springform pan. Set aside.
In the bowl of a stand mixer, beat the cream cheese and granulated sugar until smooth and creamy. Add the sour cream and cornstarch, and mix until well blended. With the mixer running, add the egg and egg yolks, one at a time, being sure each egg is fully blended into the batter before adding the next. Add 1 teaspoon vanilla and salt, stirring to combine. Pour the batter in an even layer over the crust.
In a medium mixing bowl, combine 2 teaspoons ground cinnamon, 1/4 cup brown sugar, 1 Tablespoon softened butter. Add 1 Tablespoon maple syrup and 2 teaspoons heavy cream. Dollop this mixture on top of the unbaked cheesecake. Use a knife to swirl the brown sugar/cinnamon mixture into the cheesecake batter.
Place springform pan on a baking sheet (this will make for easy clean up in case your springform pan leaks during baking). Bake in preheated oven for 50-55 minutes, or until the cake is set. The center will still be slightly jiggly, but will set up as it cools. Open the oven door a few inches and leave cake in the oven for 1 hour as it cools. Refrigerate cake for at least 4 hours or overnight.
To make the caramel sauce, combine 1/4 cup butter, 1/2 cup brown sugar, and 2 Tablespoons maple syrup in a small sauce pan. Stirring frequently, bring the sauce to a to a boil over medium heat. Once it has reached a boil, remove from heat and stir in 1 teaspoon vanilla, 2 Tablespoons heavy cream, and a pinch of salt. Allow to cool for 10 minutes before serving. The sauce can also be made in advance and reheated in the microwave before serving.
To serve, remove the outside of the springform pan. Use a sharp knife, dipped in hot water and dried with a towel, to cut the cake into 12 even slices. Drizzle each slice with the warm caramel sauce and garnish with pecan pieces.