I've managed to re-create nearly everything that I missed from gluten days. Gooey Cinnamon Buns. Check. Amazing pizza. Check. Oatmeal Chocolate Chip Cookies. Check. Plus, another 400+ recipes that I didn't really NEED, but it's nice to have, just in case. 😉 I seldom buy gluten-free products, I usually try to make my own instead. But, I will buy cereal, pasta, and ice cream cones. One thing that I miss, that I don't think I've even seen a store-bought version available, is ice cream sandwiches. It's been over 4 years since I've enjoyed an ice cream sandwich, so I figured maybe it was time to do something about that. And so I created this recipe for a crisp dark chocolate wafer, that can be used for sandwich cookies (read "Oreo" knock-offs"), or pulsed in the food processor for chocolate crumbs, great for cheesecakes and gluten-free rum balls.
Or, you can use them to make gluten-free ice cream sandwiches! 🙂 To make ice cream sandwiches, scoop softened ice cream onto a cool cookie, and top with another cookie. Wrap each ice cream sandwich in plastic wrap and store in the freezer. It is best to do this in advance so that the cookie has a chance to soften and the ice cream has a chance to harden before they are eaten.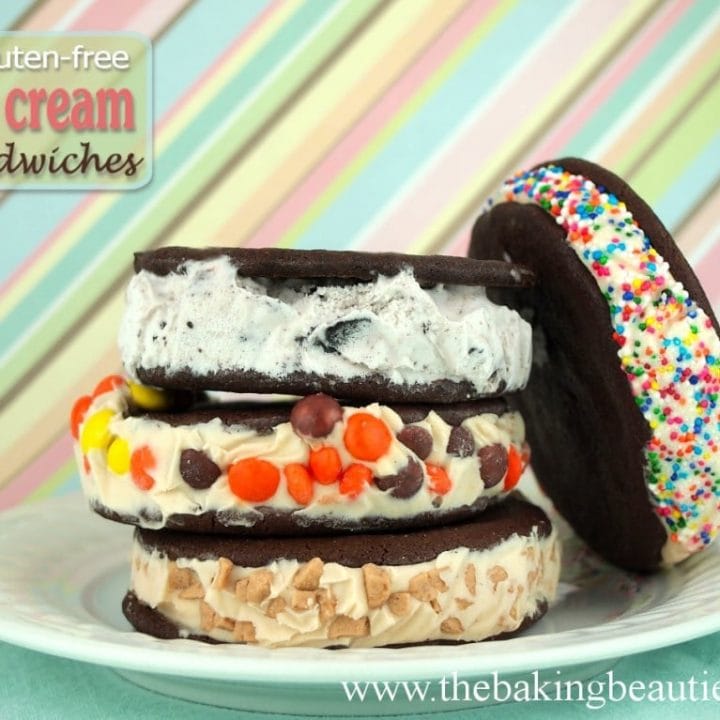 Gluten-free Crisp Chocolate Wafers, Perfect for Ice Cream Sandwiches
These gluten free Crisp Chocolate Wafers are perfect for "Oreo" knock-offs, ice cream sandwiches, or process into crumbs for the perfect cheesecake base.
Ingredients
¾ cup unsalted butter (or margarine)
1 ¼ cup granulated sugar
1 Tbsp rum or 1 tsp rum extract (optional)
1 large egg
½ cup brown rice flour
½ cup tapioca starch
½ cup cornstarch
1 tsp xanthan gum
¾ cup Dutch-processed cocoa powder
1 tsp baking powder
1 tsp baking soda
¼ tsp salt
Instructions
Preheat the oven to 375°F. Tear two pieces of parchment paper the size of your baking pans.
In the bowl of a stand mixer fitted with a paddle attachment, beat together the butter and granulated sugar until well combined. Add the rum (or rum extract) and egg. Beat until well mixed.
In a medium mixing bowl, whisk together the brown rice flour, tapioca starch, cornstarch, xanthan gum, cocoa powder, baking powder, baking soda and salt.
With the mixer running on medium-low, add the dry ingredients to the sugar mixture. Mix until well combined.
Working with a handful of dough at a time, roll out the dough directly on one of the pieces of parchment paper that you prepared. You can sprinkle the parchment paper with a light dusting of sweet rice flour, if you wish. It will make removing the excess dough a little easier. Place plastic wrap on top of the dough to keep it from sticking to the rolling pin. Reposition the plastic wrap as necessary, and keep rolling the dough out until it is about 1/8" thick.
Use a cutter, about 2 1/2-inches wide, to cut the cookies out of the rolled dough. Do not remove the cookies though. Rather, using a rubber spatula or knife, carefully remove the excess dough around the cookies, leaving the cookies on the parchment paper. Leave about 1-inch between cookies when cutting them out. The excess dough that is removed can be rolled out again for the next pan of cookies.
Place the parchment paper with the cookies onto a baking sheet, and bake in preheated oven for 8 minutes.
While the cookies are baking, you can roll out and prepare the next batch on the other piece of parchment paper.
Remove cookies from oven, and allow the cookies to remain on baking pan for a few minutes before removing to wire cooling rack to cool completely.
Repeat this process until you have baked all the cookies, re-rolling the dough that you remove from between the cookies.
Once cookies are completely cool, you can store them in an air-tight container. These cookies also freeze wonderfully.