Who doesn't love chocolate cake?? OK, I know there are a few of you, but I would venture to say, you are the minority. 😉  I know I love chocolate cake, any kind of chocolate cake, especially if it is covered in frosting. This moist, rich Devil's Food Cake fit the bill perfectly. My husband actually brought most of the cake to work, and no one even know they were eating gluten-free. That always puts a smile on my face; when no one even suspects that they are eating something that doesn't contain wheat flour. Especially when it is people that say they would NEVER want to eat gluten-free, because it's flavourless and bland and such a BORING diet. WRONG! We can actually have our cake, and eat it too!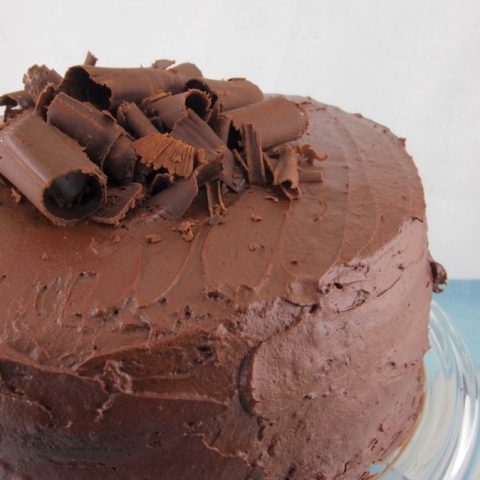 Gluten-free Devil's Food Cake with Mocha Buttercream
Total Time:
1 hour
5 minutes
Rich, decadent Devil's Food Cake
Ingredients
Devil's Food Cake
1/2 cup Dutch-processed cocoa powder
1/2 cup hot coffee (or water)
1 cup milk
3/4 cup unsalted butter, softened
1 cup granulated sugar
3/4 cup brown sugar
3 large eggs
2 tsp gluten free vanilla extract
1 cup white rice flour
1/2 cup potato starch
1/3 cup cornstarch
1/4 cup sorghum flour
1 tsp xanthan gum
2 tsp baking powder
1 tsp baking soda
1/4 tsp salt
Mocha Buttercream:
1 cup unsalted butter, softened
1 cup Dutch-processed cocoa powder
1 tsp gluten free vanilla extract
1/2 tsp instant espresso powder
4 cups sifted confectioners' sugar
4-6 Tbsp water
Instructions
Devil's Food Cake:
Preheat the oven to 350 degrees F. Line two 9-inch round baking pans with parchment paper.
In a small bowl, mix together the Dutch-processed cocoa powder and hot coffee. Let it sit for a few minutes while you prepare the other ingredients..
Sift together the white rice flour, potato starch, cornstarch, sorghum flour, xanthan gum, baking powder, baking soda and salt.
In the bowl of a stand mixer, beat the butter, granulated sugar and brown sugar until light and fluffy, scraping down the bowl when necessary. Add in the eggs, one at a time, and the vanilla. Mix until well blended.
Add the milk to the cocoa/coffee mixture.
With the stand mixer running on low, add half of the sifted dry ingredients to the mixer. Mix until nearly all blended. Add the cocoa mixture, and when that is incorporated, add the rest of the dry ingredients. Once it is all incorporated, divide the batter between the two prepared pans. Place on middle rack in preheated oven and bake for 35-40 minutes, or until a toothpick inserted into the middle of the cake comes out clean.
Remove cakes from oven and allow to sit for 5 minutes before running a knife around the outside of the cake, and inverting the cake onto a wire cooling rack. Cool completely before frosting. Before frosting, you can either cut each cake in half horizontally, giving you a four layer cake, or leave each layer as is, giving you a two layer cake.
Mocha Buttercream:
With a hand mixer, beat together the butter, cocoa powder, vanilla, espresso powder and confectioners' sugar. Slowly add enough water to reach desired consistency. You want the frosting to be stiff enough to hold its shape, but soft enough to easily spread over the cake.
Use an offset spatula to frost the cake as desired. This recipe makes enough frosting to frost a four-layer cake, but just enough. If you want a thick layer of frosting, make another half recipe.
Wondering how to make the chocolate curls to decorate your gluten-free Devil's Food Cake with Mocha Buttercream?? Watch this video, it's so simple!