UPDATE MARCH 24, 2016: I've shared a new, improved Gluten Free Easter Bread recipe. Please click over and check it out!
At this time of year, we start to think about spring (goodness knows we can't feel it here yet, only think about it. Ha!), and with spring comes Easter. In our family, my Mom & Grandma have always treated us with Easter bread, or Paska. This year, the challenge was to make myself some gluten-free Easter Bread or Paska. After playing around with a few recipes, I've finally got it to where I'm pretty pleased with the results. The smell when this bread is rising is AMAZING! And when baked & topped with some vanilla icing, they are perfect!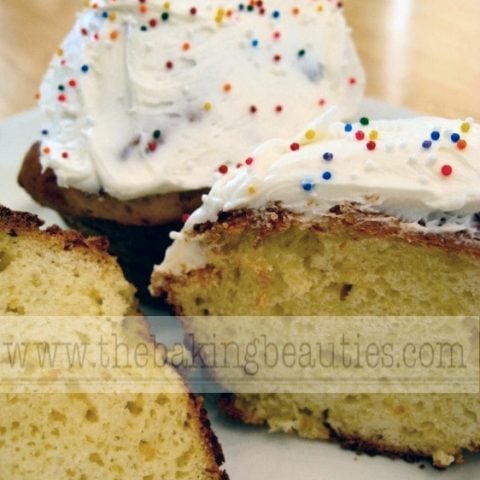 Gluten-Free Easter Bread (Paska)
Total Time:
1 hour
20 minutes
The smell when this sweet, citrusy bread is rising is AMAZING! And when baked & topped with some vanilla icing, they are perfect!
Ingredients
1/2 cups warm water
2 teaspoons granulated sugar
1 tablespoon rapid rise yeast
1 1/3 cup white rice flour
2/3 cup sweet rice flour
1 cup tapioca starch
2 teaspoons unflavoured gelatin
1 tablespoon xanthan gum
1 teaspoon salt
1/2 cup granulated sugar
4 large eggs
1/4 cup oil
1/2 cup warm heavy whipping cream
1 teaspoon vinegar
1 teaspoon vanilla
zest and juice of 1/2 lemon
zest & juice of 1/2 navel orange
Instructions
Combine warm water, sugar & yeast. Set aside until bubbly (proofing your yeast).
In the bowl of a stand mixer, combine all dry ingredients and mix until evenly distributed.
In a medium size bowl, combine all wet ingredients, including zest & juice of lemon & orange.
Slowly add the wet ingredients, and the yeast mixture to the dry ingredients, and beat for 2 minutes. Add more water if it is too dry. The dough should be very soft and sticky.
Place dough in greased pan. This recipe bakes one loaf, or you can make 12 buns, using muffin tins as a mold. Smooth tops with a wet spatula or greased hands.
Let rise in warm place for 30-40 minutes.
Preheat oven to 350 degrees F.
Bake in preheated oven for 30-35 minutes (25-30 for buns). Cover tops of loaf/buns with foil after 10 minutes, to prevent the tops from browning too much.
Once cooled, frost with your favorite vanilla frosting (shh...mine was store-bought).