Gluten Free Easter Bread, also known as Paska, has been a part of my family's Easter tradition for years. A sweet bread, with orange and lemon zest, topped with icing. What's not to love?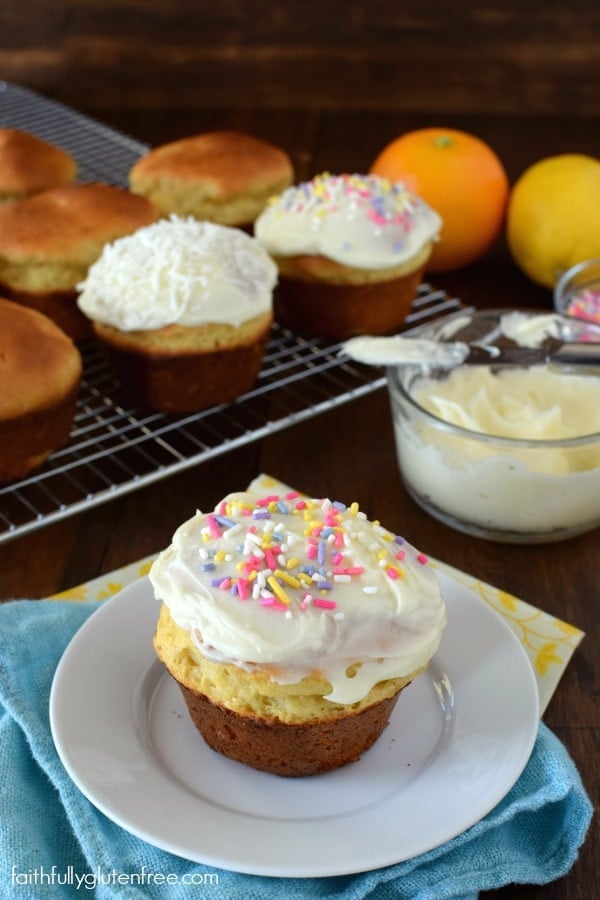 Paska, a Ukrainian Easter Bread, is a sweetened bread filled with lemon and orange zest, topped with icing and sprinkles.
I remember my Grandma baking loaves and loaves of Paska at Easter when I was a kid. She would actually bake it in large, empty coffee tins, making a giant round loaf, with a huge domed end. My Mom often baked Paska into buns instead of bread, which I liked, because it meant more icing.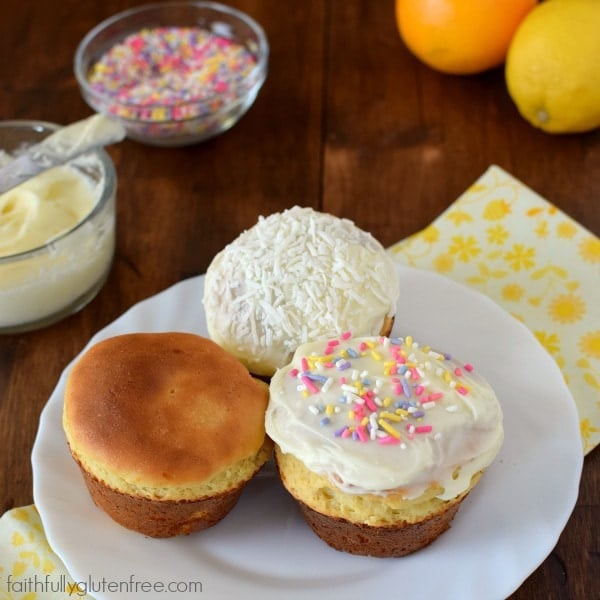 When I was diagnosed with celiac disease 8 years ago, one of the first things I did was figure out how to make Gluten Free Easter Bread, and I shared a recipe for it too. But since then, I've changed the way I bake – I use different flours, and just do things differently now – and I felt it was time for this recipe to get revised.
I decided to bake these buns in muffin tins, because I knew they would hold their shape this way. I haven't tried baking them in a 9×13-inch pan yet, but if you do, please let me know how it worked for you. I also think this would make a great loaf of bread, you would just need to increase the baking time.
I thought it would be a few tweaks to existing recipes, and I'd have a great gluten free Easter Bread. Little did I know!
The perfectionist in me came out, and now, five versions later, I'm proud to say I have a great Gluten Free Easter Bread recipe to share with you. This one also got the family's thumbs up, which should say something, since none of them have to eat gluten free. I hope you enjoy it as well!
Tools to help make this Gluten Free Easter Bread even easier:

Other Easter treats you may like: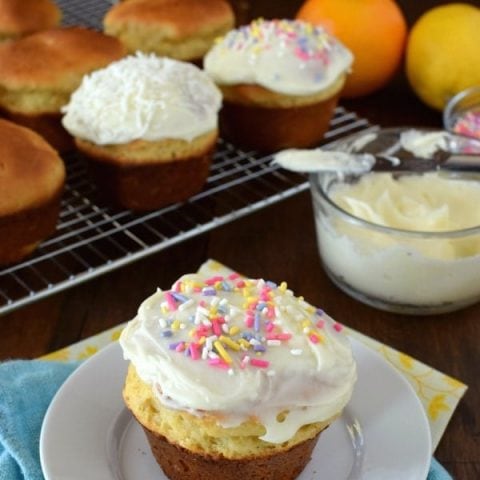 Gluten Free Easter Bread
Gluten Free Easter Bread, also known as Paska, has been a part of my family's Easter tradition for years. A sweet bread, with orange and lemon zest, topped with icing. What's not to love?
Ingredients
Easter Bread:
Zest of 1 medium sized orange (about 2-3 teaspoons)
Zest of 1 medium sized lemon (about 1 1/2-2 teaspoons)
Juice of 1/2 an orange
Juice of 1/2 a lemon
Enough milk to make 1 cup (250 ml); see instructions
3 large eggs, room temperature
1/4 cup (60 ml) oil
1 cup (160 g) brown rice flour
1/2 cup (60 g) millet flour
1/2 cup (63 g) tapioca starch
1/3 cup (67 g) granulated sugar
1/4 cup (25 g) dry milk powder
1 1/2 teaspoons (7.5 ml) rapid rise yeast
1 1/2 teaspoons (7.5 ml) xanthan gum
1/4 teaspoon (1.25 ml) salt
Frosting:
1 cup (125 g) Confectioners' (icing) sugar
2 Tablespoons (30 ml) unsalted butter, softened
1-2 Tablespoons (15-30 ml) orange juice
Sprinkles or shredded coconut for topping (optional)
Instructions
Easter Bread:
Zest the orange and lemon into a large glass measuring cup. Squeeze the juice from half of each fruit into the measuring cup as well. Add enough milk to make 1 cup (250 ml) total liquid. Heat in the microwave for 30 seconds, just to warm it up slightly. Stir. Add the oil and eggs and whisk to combine. Set aside.
In the bowl of a stand mixer, use the paddle attachment to whisk together the brown rice flour, millet flour, tapioca starch, sugar, powdered milk, yeast, xanthan gum, and salt.
With the mixer running on low, pour the wet ingredients into the dry ingredients. Turn the mixer up to medium speed, and beat for 2 minutes.
Grease a muffin tin with butter or oil. Scoop the dough into the prepared pan. I use my large cookie scoop, dipped in water, to do this easily. Divide the dough between the muffin cups, I got between 11 & 12, depending on how big I made the buns.
Dip your finger in water to smooth the tops of the buns.
Place the buns in a warm, draft-free area to rise for 30-45 minutes. I like to turn the oven on to the lowest temperature, just so it warms up in the oven, before turning the oven off, and placing the buns inside to rise.
Bake the buns in a preheated 350 degree F (176 degree C) oven for 18-20 minutes. Because of the higher sugar content, the buns will brown quite a bit when baking. If you notice them browning too much, you can cover the top loosely with foil.
Once buns are finished baking, remove them from the muffin tin and place them on a wire cooling rack to cool completely. Frost them before serving.
Frosting:
Beat together the Confectioners' sugar, butter, and orange juice until smooth. Spread on top of the buns before topping with sprinkles or shredded coconut. (optional)
Disclosure: We are a participant in the Amazon Services LLC Associates Program, an affiliate advertising program designed to provide a means for us to earn fees by linking to Amazon.com and affiliated sites.