Welcome here! I'm glad that you've stopped by today. Today is the kick off of Gluten-Free Bread Baking week, in honour of Celiac Awareness Month. Each day this week I will be posting a new bread recipe for different types of breads. From great sandwich breads, which are loaded with all the healthy stuff, to quick breads & scones. I hope that you continue to come back throughout the week, and leave a comment or two to let me know how you're enjoying these recipes. Let me know if you know of anyone with celiacs, or if you've been diagnosed yourself. It is surprising how many people have this disease. Once you start talking about it, everyone seems to know somone that is affected by it.
Without further ado, here is one of my favorite new bread recipes. Although I do love my Whole Grain Sandwich Bread, I am really enjoying this new Gluten-Free Flax Bread. I have tweaked the recipe a bit from it's original recipe (go figure, seems I can't leave a recipe alone!). The loaf is a regular sized loaf, made in a non-stick medium sized pan. It rises beautifully, bakes up beautifully, and actually gives a light, fluffy (even squishy) loaf. It is great eaten fresh, but I'm finding that I enjoy toasting my bread lately (maybe that is just so my Nutella will melt, hehe).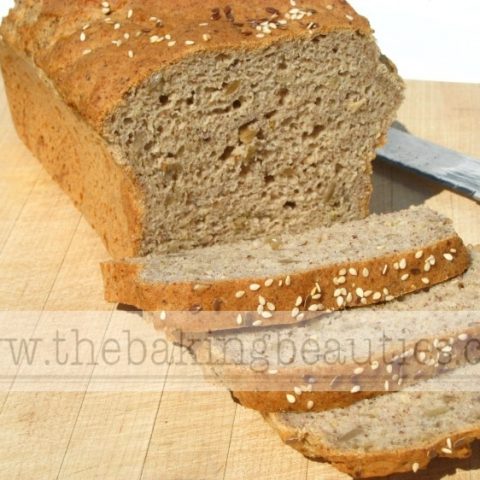 Gluten Free Flax Bread
Additional Time:
30 minutes
Total Time:
1 hour
20 minutes
Ingredients
Dry:
1 cup sorghum flour
1/4 brown rice flour
1/4 cup millet flour
1/2 cup potato starch
1/4 cup cornstarch
1/4 cup ground flax seed
2 1/2 tsp xanthan gum
1 tsp salt
1 tsp unflavoured gelatin
1/4 cup shelled sunflower seeds
Wet:
2 eggs
3 Tbsp vegetable oil
2 Tbsp liquid honey
2 tsp apple cider vinegar
Yeast Mixture:
1 cup warm water or milk
2 tsp instant yeast
1 tsp sugar
Flax Seed Mixture:
1 Tbsp ground flax seed
3 Tbsp water
Optional Topping:
flax seeds & sesame seeds to sprinkle on the top of the loaf
Instructions
In a small bowl, combine 1 cup water, sugar and instant yeast. Stir & let sit while preparing the other ingredients (should get bubbly).
In another small bowl, combine 3 Tbsp water and 1 Tbsp ground flax seed (this is used as an egg replacer, the original recipe calls for addition egg whites). Mix together & let it sit while preparing the other ingredients. It will become the consistency of egg whites.
In a mixer, combine all dry ingredients. Mix to evenly distribute.
In a medium bowl, combine wet ingredients. Add water/yeast mixture, as well as the water/ground flax seed mixture. Add to dry ingredients in the mixer.
Scrape the sides and mix on medium speed for 4-5 minutes.
Pour into a 9x5-inch pan, sprinkle optional toppings on the bread, and let rise to top of pan (takes about 30 minutes). I always let my bread rise in a turned off oven, with the oven light on.
Leave bread in the oven, and turn the temperature up to 350 degrees F. Once that temperature is reached, bake for approximately 30-35 minutes.
Leave in pan for 10 minutes, then remove & cool completely.
I bet you cut into that loaf before it is cool, warm bread is so delicious! Be sure to come back tomorrow, as we will have another tried & true Gluten-Free bread all ready for you try.
In the meantime, enjoy these little "You Might be a Celiac If…" tidbits. It's meant to be fun, so please take it in that nature. I got these from a Celiac group on Facebook (we also have a Faithfully Gluten Free group there, if you want to join us, please do!).
You might be a celiac if…
…you've ever had to give a doctor a crash course in Celiac 101.
…you weep at picnics, parties, receptions, and breakfast, lunch, dinner.
…you've "brown bagged it" to an elegant dinner
…a 7 course meal is a 1 course meal for you -Lettuce.
…you've installed bookcases in your bathroom.
…you've driven more than 40 miles to buy a cookie.