I've never had Pineapple Upside-Down Cake before. At least, I don't think I have. If I have, I don't recall. But for some reason, I wanted to make a gluten-free Pineapple Upside-Down Cake. After taking a peek over a few recipes, I combined them and created this moist, delicious, gluten-free version. When I turned them out of the pans (I used two 8″ pans), my daughter was amazed. "How'd you do that??". 🙂 She thought it was pretty neat.
You could substitute the cake part with your favorite gluten-free cake mix, prepared according to the directions on the box.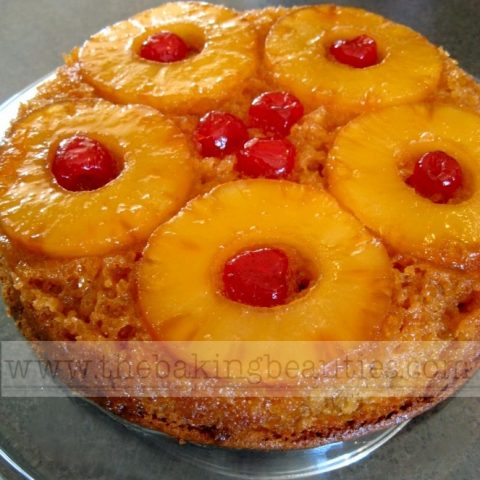 Gluten-Free Pineapple Upside-Down Cake
Ingredients
1/2 cup butter
1 1/2 cups brown sugar
1 (20 ounce) can sliced pineapple
16 maraschino cherries
Gluten-Free Yellow Cake
1 1/2 cups white rice flour
3/4 cup tapioca starch
1 teaspoon salt
1 teaspoon baking soda
3 teaspoons baking powder
1 teaspoon xanthan gum
4 large eggs
1 1/4 cup granulated sugar
2/3 cup mayonnaise or plain yogurt
1 cup pineapple juice
2 teaspoons vanilla extract
Instructions
Preheat oven to 350 degrees.
Melt the butter and divide between two 8" cake pans.
Sprinkle the brown sugar evenly to cover the butter (divided as well).
Next, arrange pineapple rings around the bottom of the pans, one layer deep (I had 5 rings per pan). Place a maraschino cherry into the center of each pineapple ring (and a few in the middle if you would like).
In a large mixing bowl, mix the white rice flour, tapioca starch, salt, baking soda, baking powder and xanthan gum together and set aside.
Mix the eggs, sugar and mayonnaise until fluffy. Add the flour mixture, pineapple juice and vanilla and mix well.
Pour the batter over the pineapple layer (dividing the batter between the two pans).
Bake for 25-30 minutes at 350 degrees F. Cool for 5 minutes, then carefully turn out onto a plate. Do not let the cake cool too much, or it will be stuck to the pan.