An abundance of cucumbers led me to making this homemade sweet relish the first year, but the flavour has made it a "must have" every year since. Great for hot dogs or hamburgers, you'll find yourself making this homemade relish for years to come too.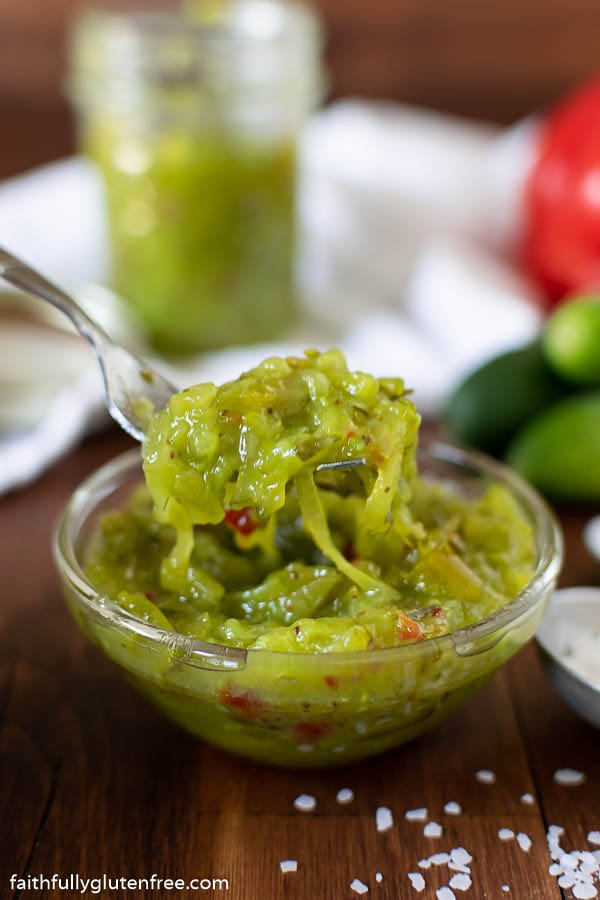 A number of years ago, when I had an abundance of cucumbers from my garden, I was searching for recipes that would help me use up the bounty. I didn't want any to go to waste, and I had already made pickles, so I was looking for something else to make.
A year or two before that, my Mother-in-law had given us a jar of homemade relish that she had made, so I emailed her to see if she would share her recipe with me. That was over a decade ago now, and my pantry shelves have always had at least a few jars of this sweet relish on there since.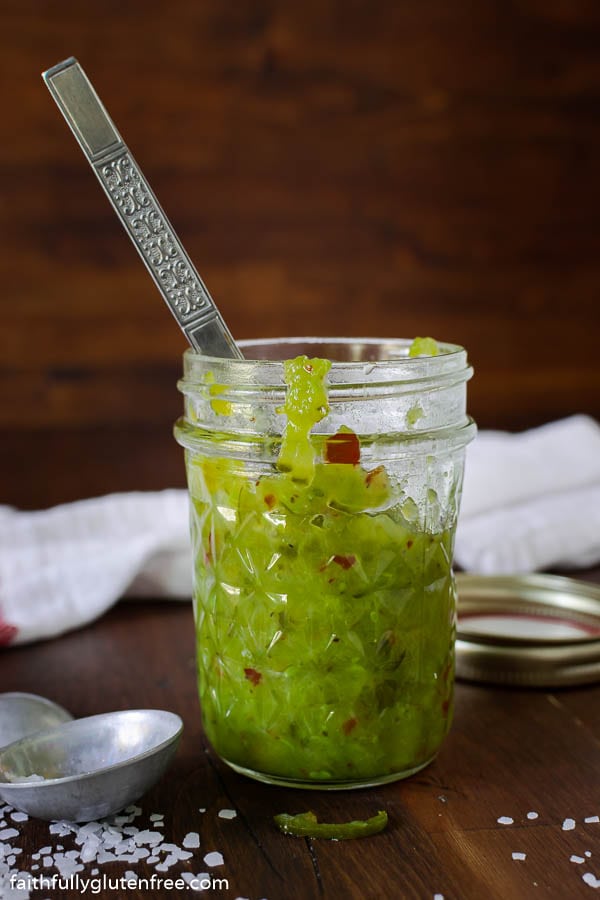 If you think making your own relish is overwhelming or too difficult, let me tell you – it is not!
To make things even easier, I use my food processor to shred up all the vegetables, and from there on it's a breeze.
I like to make our own homemade relish because then I know exactly what is in it and where it comes from. I'm not sure why, but I have found that a lot of the cucumber products in our local store – like pickles and relish – are all coming from India.
We grow plenty of cucumbers in Canada during the summer months, so I don't know why that is.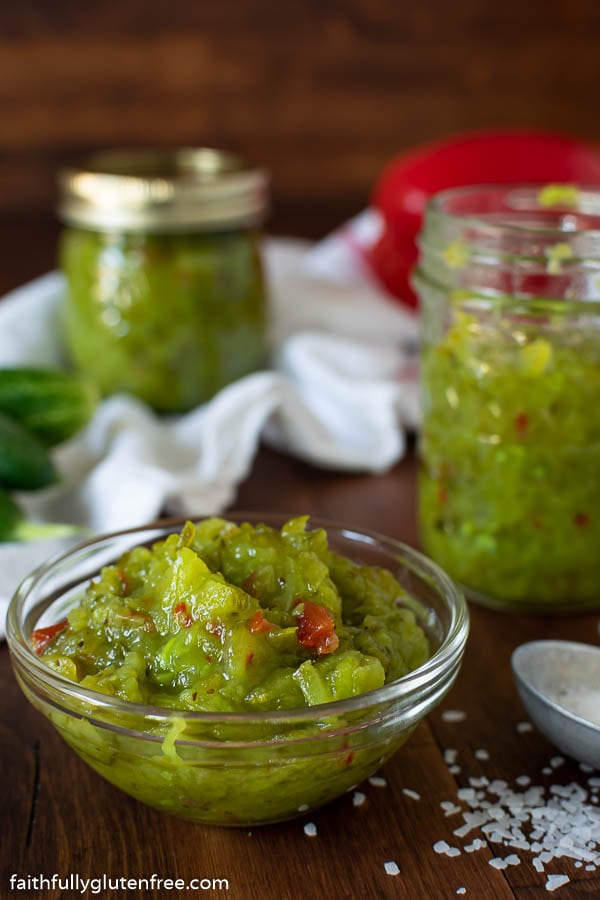 Looking for the perfect gluten free hot dog bun to enjoy a frankfurter covered in sweet relish? Look no further than my recipe for gluten free hot dog buns.
Form into either hot dog or hamburger buns, they are better than any store-bought that I've tried, and quite easy to make too.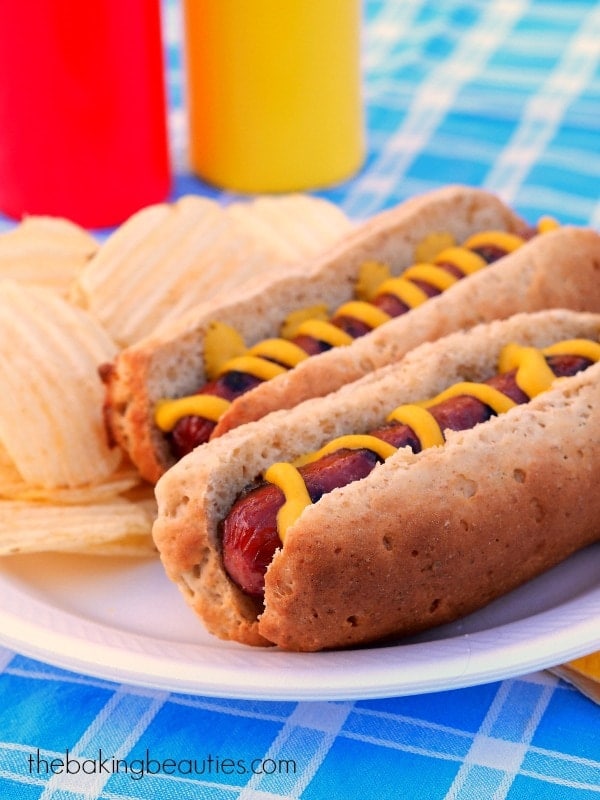 Love the homemade relish, but want even more toppings?
No problem! Here are a few more hot dog and hamburger toppings that you can make at home:
Homemade Sweet Relish Recipe: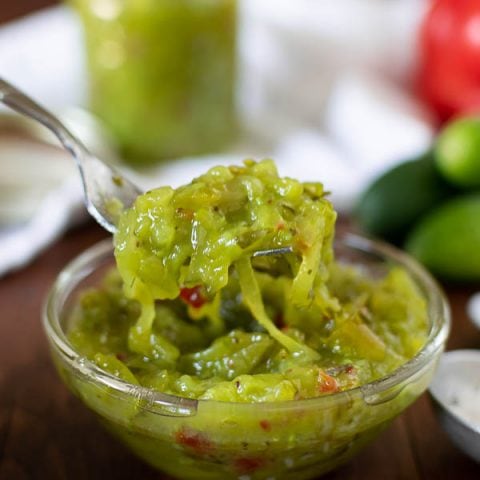 Homemade Relish
Total Time:
4 hours
45 minutes
A sweet recipe that my Mother-In-Law shared with me years ago. Still a favourite here!
Ingredients
3 quarts (12 cups) cucumbers (shredded)
1 quart (4 cups) onions (shredded)
2 red peppers, finely chopped
2 green peppers, finely chopped
1/4 cup pickling (course) salt
3 cups water
Brine:
3 1/2 cups granulated sugar
2 cups white vinegar
1 tablespoon dry mustard
1 tablespoon celery seed
1 1/2 teaspoons Turmeric
Paste:
1/4 cup granulated sugar
Additional white vinegar to make a pouring consistency
Instructions
Sprinkle cucumbers, onions & peppers with pickling (course) salt and water. Let sit for 4 hours. Drain - DO NOT RINSE.
In a stockpot, mix brine ingredients and bring to a boil. Add drained vegetables and continue cooking until it has returned to a boil.
Add paste to boiling mixture and cook until thick. NOTE: You can add some green food colouring before adding the paste for a greener relish.
Place your canning jars in a large canner with enough water to cover them by at least 1-inch, and bring to a boil. Boil for at least 10 minutes. Also place your lids in a pan of simmering water, and simmer for 10 minutes. This ensures that the jars and lids are sterilized before adding the relish to them.
Lift the sterilized jars from the boiling water bath and empty them. Half should be emptied into the sink, and half should be emptied back into the pot to keep the boiling water level up.
Once the relish mixture is hot, fill each jar with relish, to within 1/4" of the rim. Wipe the rim clean with a paper towel dipped in boiling water, and place the lids and rings on top of the jar. Return the jars to the boiling water bath and boil them for 10 minutes, well covered in water.
Remove from waterbath and set jars on a dry towel, free from drafts. Allow to cool completely before checking that each jar has sealed (the lid is pulled down slightly, and no longer "pops" when you push on it). Label and store in cool, dark place. It is best to used home canned goods within 12 months.
Recommended Products
Disclosure: We are a participant in the Amazon Services LLC Associates Program, an affiliate advertising program designed to provide a means for us to earn fees by linking to Amazon.com and affiliated sites.
What is Thermflo?
Thermoflo is a modified cornstarch. It is made from waxy maize. Ingredion Incorporated, the manufacturer's of Thermflo, have released a statement saying that Thermflo is indeed gluten free.
When used in canning, Thermflo is more stable than cornstarch, which can become too thick to process safely, and then break down after canning.
Thermflo can be reheated more than once without breaking down, and it can also be used as a thickener in foods you freeze. It is great for canning and pie fillings, as it doesn't separate over time like cornstarch does. It also stays clear when it cools.
You can buy Thermflo at some stores that specialize in canning and home-baking, I buy mine at Stonybrook Pantry in Steinbach, Manitoba. I've read that people are able to find it at Amish and Mennonite stores as well. If you can't locate it locally, you can order it online though Amazon as well.
Looking for more ways to use up the seasonal vegetables or fruit? Check out my Canning board on Pinterest for more inspiration.
Disclosure: We are a participant in the Amazon Services LLC Associates Program, an affiliate advertising program designed to provide a means for us to earn fees by linking to Amazon.com and affiliated sites.
Originally posted September, 2008. Images updated August 2019.