Skip the store-bought soup from a tin and make this flavorful Homemade Canned Tomato Soup with a few simple ingredients from the garden.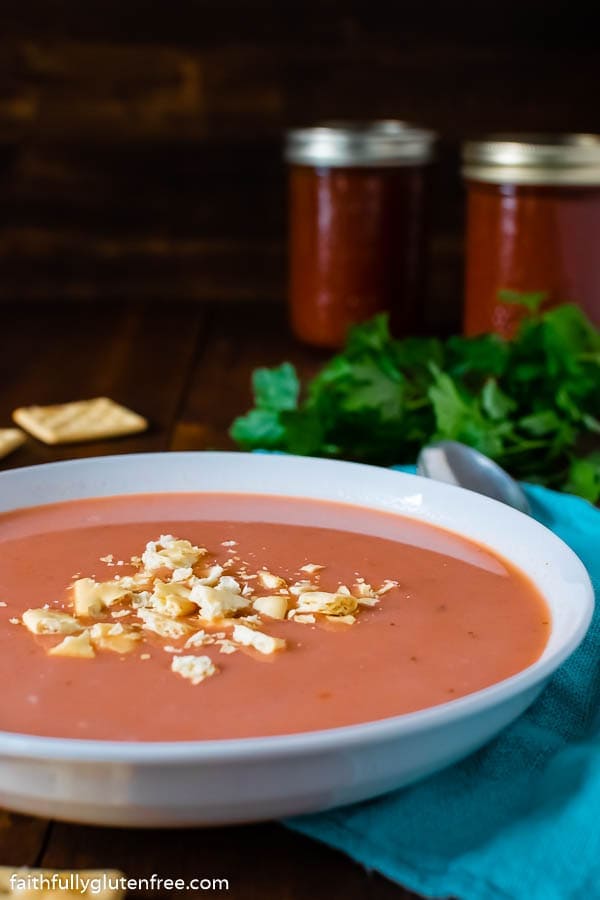 When I was first diagnosed with celiac disease, one of the things that surprised me the most was that the store-bought cans of "cream of" soup all contained wheat. Thankfully, at that point, I was already making my own homemade canned tomato soup, so I didn't feel too deprived.
Although I used to make this tomato soup just to be able to enjoy it, now that I need to eat gluten free, I make sure that I have enough tomatoes planted every year so that I can make enough soup to last us a year. It is a necessity now.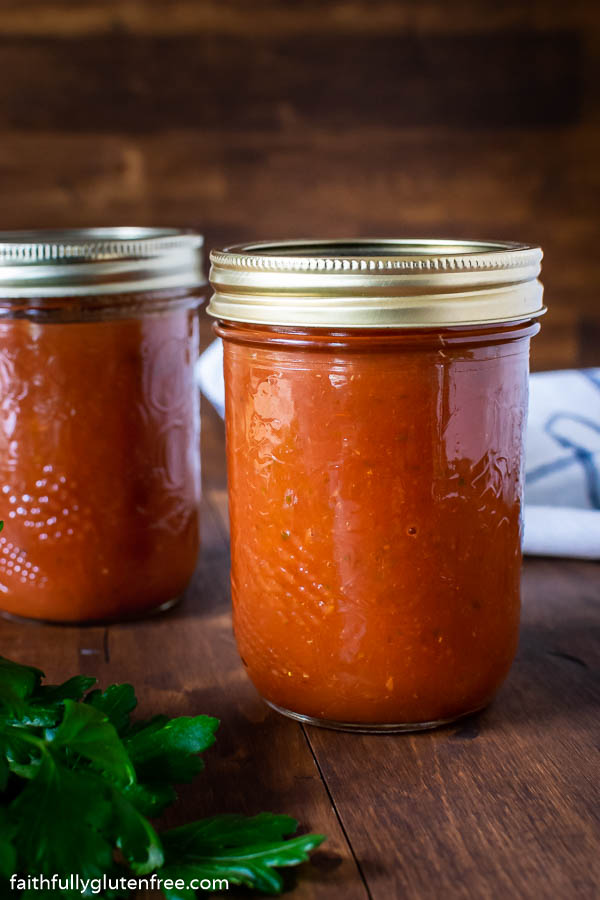 This recipe comes from my Mother-in-law, who has been making this recipe for as long as I've known her. Originally, I found the soup to be too spicy though. Like, beads of sweat on your forehead spicy.
But, that must have been a year for strong onions, strong peppers, and a few more dashes of cayenne, because I don't find it to be too warm anymore. If you don't want your soup to have any spice, feel free to omit the cayenne pepper.
How to prepare Homemade Canned Tomato Soup:
To prepare the soup after it has been canned, simply add your favorite milk, gluten free broth, or water. I do 1 jar of milk to 1 jar of canned soup, but you can do as little as half a jar for a stronger flavour.
Can I make this without canning it?
If the process of canning the finished soup scares you, you are not alone. You most certainly can still make this tomato soup, just freeze in freezer safe containers, defrost before using, and prepare the same way you would if it were canned.
Some tips for making Canned Tomato Soup:
Cut up all your vegetables in larger chunks. Since you will be pureeing the soup after the vegetables have cooked, they don't need to be finely chopped. This will safe you a lot of time.
You can cut up your tomatoes the day before, cover and refrigerate. This also allows some of the extra liquid in the tomatoes to separate, and you can just pour it off before beginning the cooking process. HOWEVER, I would not cut up the onions or peppers the day before, because that will leave a strong smell in your fridge by the next morning.
Roma, or other sauce tomatoes, work great for making soup because of the lower level of liquid in them. However, you can use any kind of tomato that you've grown.
Store bought tomatoes, may work to make canned tomato soup, but I would stick with locally grown tomatoes purchased in season, not tomatoes purchased in the middle of winter. The flavour and texture of tomatoes grown in season is so much nicer.
When you bring the vegetables up to a boil, be sure to start over a medium heat, and stir regularly. This will allow the vegetables to release their juices, and keep the vegetables from burning on the bottom of the pot. I also cover the pot with the lid. This helps keep the heat in the pot, and speeds up the process a little bit.
Using a stick blender, or immersion blender, will safe you a lot of time when it comes to blending the cooked vegetables. You won't have to wait for the soup to cool, and you won't have to transfer small batches to a blender.
What is Therm-Flo?
Thermflo is a modified cornstarch made from waxy maize. Ingredion Incorporated, the manufacturer's of Thermflo, have released a statement saying that Thermflo is indeed gluten free.
When used in canning, Thermflo is more stable than cornstarch, which can become too thick to process safely, and then break down after canning.
Thermflo can be reheated more than once without breaking down, and it can also be used as a thickener in foods you freeze. It is great for canning and pie fillings, as it doesn't separate over time like cornstarch does. It also stays clear when it cools.
You can buy Thermflo at some stores that specialize in canning and home-baking, I buy mine at Stonybrook Pantry in Steinbach, Manitoba. I've read that people are able to find it at Amish and Mennonite stores as well. If you can't locate it locally, you can order it online through Amazon as well.
Still have leftover tomatoes? Here are more recipes that you can make using your bounty:
Homemade Canned Tomato Soup Recipe:
Canned Tomato Soup
Additional Time:
20 minutes
Total Time:
4 hours
20 minutes
Skip the store-bought soup from a tin and make this flavorful Homemade Canned Tomato Soup with a few simple ingredients from the garden.
Ingredients
24 cups (about 1 1/2 ice cream pails) tomatoes, cut into chunks (I prefer to use Roma tomatoes because they are less juicy than other tomatoes)
2 cups chopped celery
4 cups onions, roughly chopped
2 large green peppers, chopped (about 2 cups)
1 small bunch of parsley, roughly chopped (about 3/4 - 1 cup chopped)
1-2 bay leaves
1/2 tsp whole cloves
1/4 cup granulated sugar
1/4 cup salt
1/4 cup Thermflo (or cooked Clearjel, not instant)
1/2 teaspoon cayenne pepper
Instructions
Put chopped tomato into a large stock pot. Mash them with a potato masher to extract some of the juice. Begin to heat the tomatoes on a low-medium temperature while you prepare the rest of the vegetables.
Add the rest of the ingredients to the tomatoes, and bring the mixture up to a boil over medium - medium/high heat, stirring often, being careful not to burn.
Once ingredients have come to a boil, reduce heat and allow the vegetables to slowly boil for another 2 hours, or until the vegetables are all very soft.
Use an immersion blender to puree the mixture until smooth. Note: If you do not have an immersion blender, you will have to wait for your soup to cool before using your regular blender. Hot liquids in a blender can be very dangerous.
Carefully scoop some of the soup mixture into a Chinois or rotary food press fitted over a large bowl. Press the juice through the press, and discard the peel and seeds. Repeat until you have pressed/strained all the soup. Reserve 2 cups of the soup mixture. Return the rest of the soup to the stock pot
In a medium bowl, whisk together the reserved soup, granulated sugar, salt, Thermflo, and cayenne pepper
Slowly bring the strained soup back up to a gentle boil. Whisk in the thickening mixture, and continue to boil until the soup has thickened.
Be sure to wash your jars before using them. While the soup mixture is reheating, place your lids in a pan of simmering water, and simmer for 10 minutes. This ensures that the lids are sterilized before using them.
Fill each jar with tomato soup, to within 1 cm of the rim. Wipe the rim clean with a paper towel dipped in boiling water, and place the lids and rings on top of the jar.
To Freeze:
Divide soup between freezer safe containers, leaving at least 1 cm (1/2-inch) room at the top to allow for the soup to expand.
To process in the pressure canner (directions come directly from Bernardin's website (http://www.bernardin.ca):
When pressure canner is full, adjust water to level as directed by canner manufacturer. Lock canner lid in place and follow manufacturer's heating instructions. Vent canner–allow steam to escape steadily–for 10 minutes; close vent.
When canner reaches the pressure appropriate for your altitude* and type of pressure canner, begin counting processing time. Process – heat filled jars – in pressure canner – 500 ml jars – 20 minutes at 10 lb (69 kPa). NOTE: processing times indicated are for a weighted gauge pressure canner used at altitudes up to 1,000 ft (305 m). When using a dial gauge pressure canner or canning at higher elevations, adjust pressure according to chart.
When processing time is complete turn off heat. Allow canner to stand undisturbed until pressure drops to zero. Wait 2 minutes, and then remove cover, tilting it away from your face. Remove jars without tilting. Cool upright, undisturbed 24 hours; DO NOT RETIGHTEN screw bands. After cooling check jar seals. Sealed lids curve downward. Remove screw bands; wipe and dry bands and jars. Store screw bands separately or replace loosely on jars, as desired. Label and store in a cool, dark place. It is best to used home canned goods within 12 months.
To serve the soup: Empty the contents of the jar plus an equal amount of milk, gluten free broth, or water into to a saucepan. Heat over medium heat, stirring occasionally, until soup is hot & steaming. We like to serve ours with tortilla chips, shredded cheese & sour cream for a quick, simple tortilla soup.
Notes
Do not can in jars larger than 500 ml (1 pint), or the soup may not heat through enough to be considered safe during the canning process.
Recommended Products
Disclosure: We are a participant in the Amazon Services LLC Associates Program, an affiliate advertising program designed to provide a means for us to earn fees by linking to Amazon.com and affiliated sites.
If you are looking for an easier, quick tomato soup to enjoy for dinner tonight, be sure to check out my recipe for
Creamy Gluten Free and Dairy Free Tomato Soup
. It uses a tin of canned tomatoes and some fresh vegetables to give you a thick, hearty tomato soup in about 30 minutes.
Don't forget to PIN IT for later!
Disclosure: We are a participant in the Amazon Services LLC Associates Program, an affiliate advertising program designed to provide a means for us to earn fees by linking to Amazon.com and affiliated sites.
Originally posted September 2011. Recipe and images updated August, 2019.