What a nice treat this was! I have made Mexican Rice in the past, but it has never turned out this good. This rice is not sticky at all, and although it has a mild tomato colour & flavour, it is not dominating in this side dish, as it is in my other recipe.
Needless to say, I now have a new recipe. 🙂 I hope your family enjoys this one as much as mine did.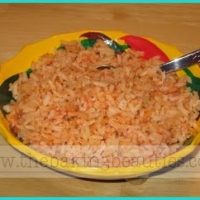 Mexican Rice
Ingredients
2 cups salsa (mild or hot, your choice. I used home-made salsa I canned in fall)
2-3 tbsp olive oil
2 cups long grain white rice
2 cups chicken broth
1 tsp salt
1/2 cup fresh cilantro
1 lime
Instructions
1. Preheat your oven to 350 degrees F.
2. Process your salsa in the processor or blender until pureed and thoroughly smooth.
3. Place rice in a fine mesh strainer and rinse under cold running water until water runs clear- about 1 1/2 minutes. Shake rice vigorously to remove excess water. This step removes the starch from the rice so it will not stick. IF YOU OMIT THIS STEP YOUR RICE WILL NOT BE DRY AND FLUFFY.
4. Heat oil in a Dutch oven or frying pan. Drop a few rice grains in and if they sizzle then it is ready. Add rice and fry stirring until rice is light golden and translucent, about 6-8 minutes.
5. Stir in broth, pureed mixture, cilantro, juice of one lime, and salt. Increase heat to medium high, and bring to a boil.
6. Cover pan and transfer pan to oven to bake until liquid is absorbed and rice is tender, 30-35 minutes. Stir well after 15 minutes.