These really are the best gluten-free Chicken Fingers, and they are Baked, not fried! I hadn't had great chicken fingers since going gluten-free, but now that has changed. These were great! And so nice too, because you know what kind of meat it is. It is so nice to know what you're eating. 🙂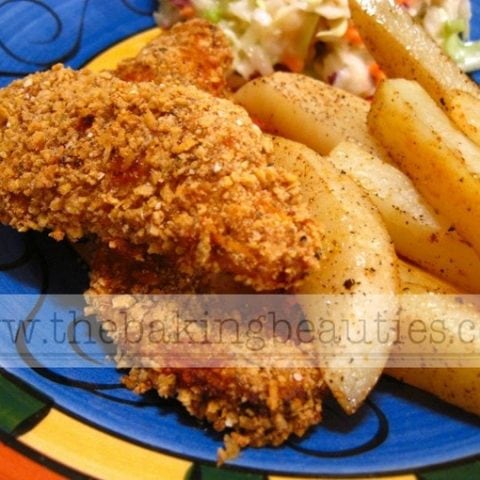 The Best Gluten-Free Chicken Fingers (Baked, not Fried!)
Ingredients
Approx. 8 ounces boneless, skinless chicken breast
1 cup buttermilk (I did 1 cup milk with 1 Tbsp lemon juice)
2 egg whites
2 tablespoons water
2 cups gluten-free cornflakes, crushed (I used Nature's Path Mesa Sunrise, make sure your cornflakes aren't sweetened)
1 tablespoon Parmesan cheese, shredded
1/2 teaspoon EACH paprika, cayenne, salt, pepper, Italian seasoning, garlic powder
Instructions
Preheat oven to 400 degrees F.
Cut chicken breasts into thin strips. Soak in buttermilk for about 30 minutes. Then drain.
In a shallow dish, mix egg whites and water. Set aside.
In another shallow dish, mix crushed cornflakes, Parmesan cheese, and spices. Set aside.
Dip drained chicken, one strip at a time, into egg/water mixture, then into crumb mixture, until totally coated. Place chicken strip on parchment lined baking sheet. Continue with the rest of the chicken.
Bake in preheated oven for 30-40 minutes, or until done (cooking time will vary based on the size of the chicken strips).