This Wonderful Gluten Free Sandwich Bread really does earn it's name. The bread is really simple to make, has a wonderful texture, and will get you eating sandwiches again in no time.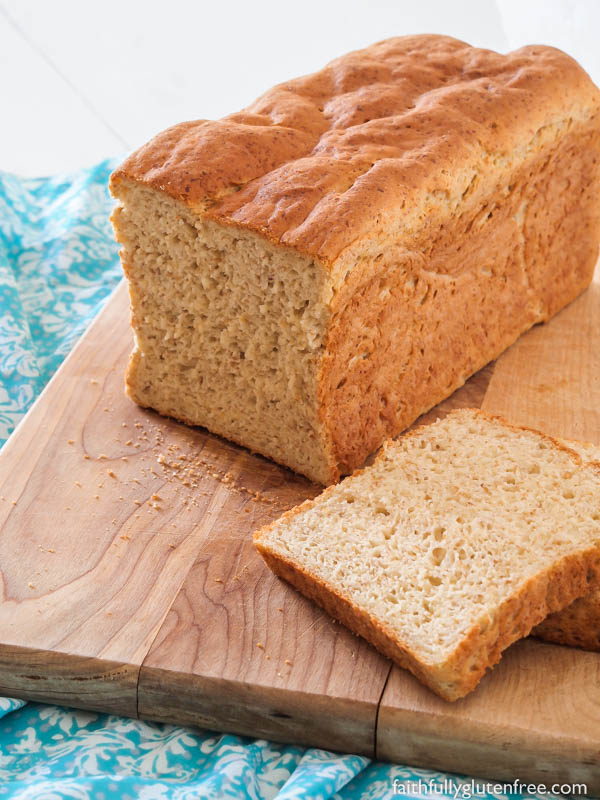 Having some good recipes for gluten free bread in your recipe box when you are a celiac is important. Well, a virtual recipe box, at least. Or at least
a pinterest board
.My recipe box would include this recipe for Wonderful Gluten Free Sandwich Bread, as well as
Gluten Free Millet Bread
and
Gluten Free Hamburger/Hot Dog Buns
recipes. With these 3 bread recipes, plus
some biscuit and scone recipes
, I can pretty much make anything I need.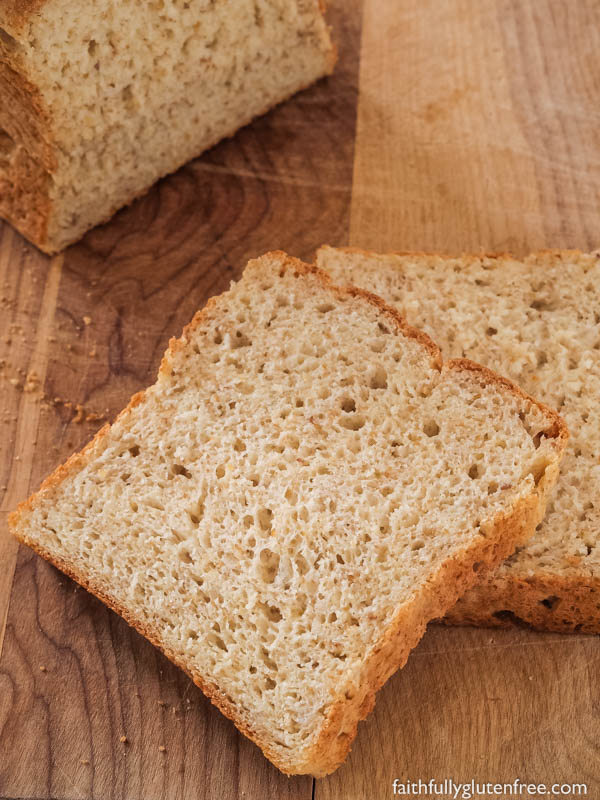 Unlike the Millet bread, which I think of as a white gluten free bread, I consider this Wonderful Gluten Free Sandwich Bread to be more of a whole grain bread. The flax not only adds nutrients to the loaf, but it also adds a lot of moisture and texture to the bread that you wouldn't have otherwise.
Slathered with some jam or marmalade, along with a side of fruit and yogurt, and you've got a great breakfast to start the day.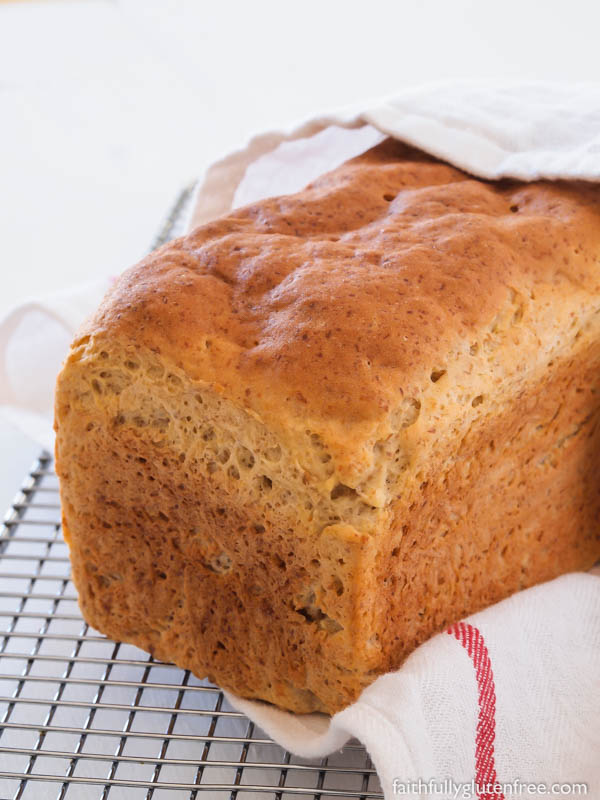 Some tips to bake the perfect loaf of Wonderful Gluten Free Sandwich Bread:
I baked this loaf in my 9×4-inch Pullman Pan. I love that pan, you don't have to slide the lid on to bake a nice sized loaf in that pan. The tall, square sides give you a really nice shaped loaf, perfect or sandwiches or French toast.
Be sure that the yeast you are using isn't old. If it doesn't get foamy after a few minutes when you mix it with the warm water and sugar, you know it's time to toss it and buy new. I use Rapid Rise Instant Yeast, which means that it doesn't need to proof before baking with it, but I often do just to speed up the process even further.
Have patience. Yeast takes time to rise, and there are so many factors that affect the rate at which it works. So, if after 30 or 35 minutes, things aren't looking like you think they should (and your yeast got foamy while proofing), have patience. Make sure your loaf is in a warm, draft free place, cover the pan with lint free tea towel to help speed things up a bit.
If you bake bread often, consider mixing up a batch of dry ingredients in a zipper-seal bag and storing it in the fridge until the next time you bake. This way, when you want to bake a loaf, you dump the contents of the bag into a bowl, proof your yeast, and add your wet ingredients. Simple!
Wonderful Gluten Free Sandwich Bread
Total Time:
1 hour
20 minutes
This Wonderful Gluten Free Sandwich Bread really does earn it's name. The bread is really simple to make, has a wonderful texture, and will get you eating sandwiches again in no time.
Ingredients
1 cup warm water
2 tablespoons granulated sugar
2 teaspoons rapid rise instant yeast
2 large eggs
2 large egg whites
2 tablespoons vegetable oil
2 teaspoons apple cider vinegar
Dry Ingredients:
1 1/4 cup brown rice flour
1/2 cup ground flax
1/2 cup potato starch
1/4 cup skim milk powder
1/4 cup tapioca starch
2 1/2 teaspoons xanthan gum
1 1/4 teaspoons salt
Instructions
Grease and line the bread pan with parchment paper.
Combine warm, yeast and sugar in a glass bowl. Stir & let sit 5 minutes. This allows the yeast to proof & shortens rising time.
In the bowl of a stand mixer, combine the dry ingredients. Mix well and set aside.
Add the eggs, egg whites, oil and apple cider vinegar to the yeast mixture. Whisk to combine.
With the mixer running on low, slowly add the wet ingredients to the dry ingredients.
Mix on medium speed for 2 minutes, scraping down the bowl if necessary.
Spoon the dough into the prepared bread pan. Using a spoon dipped in water, smooth the dough, spreading it into the corners of the pan.
Let rise, uncovered, in a warm, draft-free place for 30-40 minutes, or until dough has risen to the top of the pan.
Meanwhile, preheat oven to 350°F. Bake bread for 35 to 40 minutes, or until the internal temperature of the loaf is 200°F.
Remove bread from pan and place on a wire cooling rack immediately. Cool completely before storing in an air-tight bag.
Notes
TIPS:
I like to let my bread rise in a slightly warmed oven. Turn the oven on to 100 degrees F, and leave it on just until it gets warm (not hot) in the oven. Then turn the oven off, place the bread in the oven, and let it rise until nearly to the top of the pan (the amount of time this takes depends on how warm the environment is that the bread is rising in. Cooler temps = longer rise time). Remove the risen bread to preheat the oven before baking.
Use an instant read thermometer make sure that the bread's internal temperature is 200°F. Under-baked bread will be gummy when you slice into it.
I generally remove the bread from the pan as soon as it comes out of the oven. I place the loaf, on its side, on a wire cooling rack. After about 10 minutes, I flip the bread to the other side. I find doing this helps the bread to keep a nicer shape once it has cooled.
Disclosure:We are a participant in the Amazon Services LLC Associates Program, an affiliate advertising program designed to provide a means for us to earn fees by linking to Amazon.com and affiliated sites.
The recipe, and images, were updated February 2018.