Gluten Free bread shouldn't be a brick. This gluten free Millet Sandwich Bread is light, soft and squishy, holds up to a sandwich quite well, and has a great flavour.
When going gluten-free, I find that one of the hardest things to cope with is not having good bread to make a sandwich with. Although the bread that is available in the stores now is much better than it was 5+ years ago, it's still not great.
Don't get me wrong, I usually have a loaf of store-bought bread in my freezer, you know, for emergencies. But, when it comes to gluten-free, nothing beats a homemade loaf of bread.
Gluten-free bread is really easy to bake as well, you just have to be a little fearless in the kitchen. I haven't had an inedible loaf of bread in years. Sure, sometimes they don't turn out that pretty, but they are always tasty.
After playing around with some bread recipes, I found one that I really like. This gf Millet Sandwich Bread is light, soft and squishy, holds up to a sandwich quite well, and has a great flavour.
I've also used this gluten free Sandwich Bread to make both an amazing gluten free Maple Butter Tart Bread Pudding and gluten free Bread Stuffing, and it worked beautifully for both dishes.
To use it for those things, I cut the bread into cubes, and dried them out in the oven set to a low temperature. You don't want crispy toasted, just lightly toasted and dried out. This helps the bread to hold up to the moisture & stirring that it is about to undergo.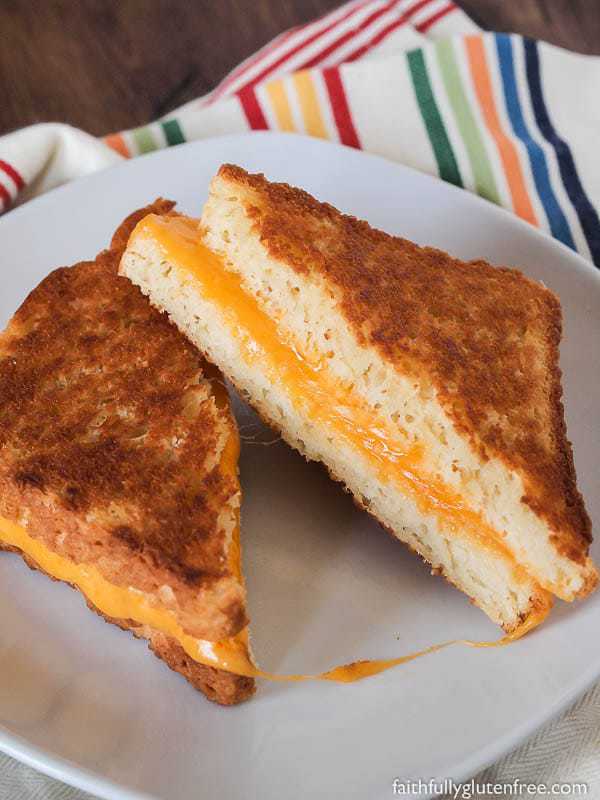 This gluten free sandwich bread also makes great grilled cheese sandwiches. This grilled cheese sandwich would be perfect served with my Creamy Gluten Free and Dairy Free Tomato Soup.
Some tips to get the perfect loaf of gluten free Millet Sandwich Bread:
To get the best results when baking gluten-free bread, it really is best to use a stand mixer with a paddle attachment. After incorporating all the ingredients, I always put the mixer on medium speed and let it beat for a few minutes. This gets things evenly mixed, incorporates air into the mixture, and is basically the 'kneading' that wheat-based bakers do by hand. I don't have a very good hand mixer, but the one I have would not be able to hold up to bread dough. If you have a very powerful one, it may work.
I know stand mixers are expensive, but if you were to ask me one thing that every gluten-free baker needs, a stand mixer would be my answer. If you've been diagnosed with celiac disease, it's a life-long diagnosis, you will be baking gluten-free for years to come, so it's a good investment.
After 10 years, I am still in love with my bowl-lift Kitchen Aid stand mixer. I know it's not in everyone's budget, but you can get more inexpensive machines as well, like this Hamilton Beach stand mixer. When it comes to baking bread, I don't believe that mixing by hand will give you the same results as mixing with a stand mixer. Just a heads up.
What kind/size of pan is best for this gluten free sandwich bread?
Over the years I've played with a few different kinds of pans. I found non-stick pans become "very-stick pans" after a few uses, even when lined with parchment paper. To make things easier, I decided to give silicone bread pans a try. This is the silicone bread pan that I use, and I really like them. The size is perfect to get a nice rounded loaf. With doing nothing to the pan at all, the bread pops right out when it's baked.
The only downfall is that sometimes the bread decides to push out to the sides instead of up, giving you a bit of a rounder loaf instead of one that goes up. But, the good news is, it still tastes fantastic. I've been using (and reusing) these pans for a few years now, and they still bake up beautifully, and look like new.
My new favourite bread pan is the 4″ x 9″ Pullman Pan by USA Pan. It is a heavy baking pan, tall, with straight sides. Once your bread has risen, you place the lid over the top of the pan, and bake your bread. It gives you a nice square loaf of bread, perfect for sandwiches. You'll also notice that the top is nice and even, without any huge bumps. Another bonus is that baking the loaf in this pan gives you a nice thin crust, which I really prefer for sandwiches.
Here's why this gluten free Millet Sandwich Bread recipe is now my go-to bread recipe:
It is a very versatile bread, holding up to French toast (either frying pan style, or gluten free Baked French Toast), garlic toast, and a sandwich.
It keeps fresh on the counter for at least 4-5 days (depending on your environment).
I can quickly whip up a loaf of bread with ingredients that I regularly stock in my gluten free pantry.
If you bake bread often, you can save yourself time by mixing all the dry ingredients together in a resealable bag, storing it in the fridge until you're ready to bake. Then when you want to bake a loaf of bread, just add the wet ingredients, and you'll be baking in no time.
Notes & Tips from reader Annie on how to bake Gluten Free Millet Sandwich Bread in a bread maker:
Well we just took the bread out and my husband couldn't wait to try it. Needless to say we sliced into it while still warm. AMAZING!!!! Especially with butter I took a pic and posted on my timeline…not sure if you can see it or not. I have the Zojirushi BBCC-X20 Breadmaker (NO gluten free cycle). I used the Quick cycle to knead, rise and bake the bread. I used your recipe without adjusting measurements. I did not warm up the milk or bring the eggs to room temperature because my bread maker has a Preheat programmed into the cycles.

That said I first placed all of the dry ingredients except the rapid rise yeast, into a separate bowl and whisked together until well mixed. Directly into the bread pan I placed milk, honey, cider vinegar, oil and eggs. I did beat the eggs together gently in a smaller bowl prior to adding to the wet. Then I added the premixed dry ingredients on top of the wet, and adding the rapid rise yeast on top. Select the Quick Cycle. Once Preheat has stopped and kneading begins stand by with a spatula and watch, scraping down the sides as needed.

Once kneading is done, take your spatula dipped in some water and use the back of it to quickly level off the dough on top. Then let the bread maker do the rest. Once it is finished baking I let the bread sit in the bread machine an additional 10 minutes on the warm cycle. After 10 minutes, remove from pan and let cool…that is if you can wait that long Hope this made sense. If you've got any questions let me know.
If you make the gluten free Millet Sandwich Bread with substitutions, or prepare it in your bread maker, please come back here and report your findings, so we can all learn from one another.
New to baking gluten-free bread? Check out this wonderful guide written by Megan of Allergy Free Alaska – The Everything Guide to Making Gluten Free Bread (plus Troubleshooting).
Gluten Free Millet Sandwich Bread Recipe:
Gluten Free Millet Sandwich Bread
Total Time:
1 hour
25 minutes
Unlike a lot of gluten free bread, this loaf is definitely not a brick! Light, squishy, it has the perfect texture, and holds up to being sliced quite well. If you dry it out after slicing it, this bread also works great for bread pudding and stuffing.
Ingredients
1 cup (250 ml) warm milk, about 100°F
2 teaspoons (8 grams) dry active or rapid rise yeast
1 Tablespoon (15 ml) honey
1 cup (150 grams) millet flour
1/2 cup (80 grams) brown rice flour
1/2 cup (95 grams) potato starch (not flour)
1/4 cup (30 grams) almond meal
1/4 cup (35 grams) tapioca starch/flour
1/4 cup (18 grams) skim milk powder
1 Tablespoon (10 grams) xanthan gum
1 – 1 1/2 teaspoons (4-6 grams) salt
1 teaspoon (5 ml) apple cider vinegar
1/4 cup (60 ml) canola oil
3 large eggs, room temperature
2-3 teaspoons (10-15 ml) sesame seeds (optional)
Instructions
If using metal bakeware, grease and line the bread pan with parchment paper. If using silicone bakeware, you're ready to go!
Combine warm milk, yeast, and honey in a glass bowl. Stir & let sit 5 minutes. This allows the yeast to proof & shortens rising time.
In the bowl of a stand mixer, combine the millet flour, brown rice flour, potato starch, almond meal, tapioca starch, milk powder, xanthan gum, and salt. Mix well.
Add the apple cider vinegar, oil, and eggs to the yeast mixture. Whisk to combine.
With mixer on lowest speed, slowly add the wet ingredients to the dry ingredients until combined. Scrape bottom and sides of bowl with rubber spatula. With mixer on medium speed, beat for 2-3 minutes.
If not using a silicone baking pan, line the bread pan with parchment paper.
Spoon the thick batter into the prepared 9″x5″ bread pan (I use a pan with 9.3″ X 4″ X 2.4″ Inches inside dimensions). If using sesame seeds, sprinkle them on now. Let rise, uncovered, in a warm, draft-free place for 30-40 minutes, or until dough has risen to the top of the pan.
Meanwhile, preheat oven to 350°F. Bake bread for 40 to 45 minutes, or until the internal temperature of the loaf is 200°F.
Remove bread from pan and place on a wire cooling rack immediately. Cool completely before storing in an air-tight bag.
Notes
TIPS:
I like to let my bread rise in a slightly warmed oven. Turn the oven on to 100 degrees F, and leave it on just until it gets warm (not hot) in the oven. Then turn the oven off, place the bread in the oven, and let it rise until nearly to the top of the pan (the amount of time this takes depends on how warm the environment is that the bread is rising in. Cooler temps = longer rise time). Remove the risen bread to preheat the oven before baking.
Use an instant read thermometer make sure that the bread's internal temperature is 200°F. Under-baked bread will be gummy when you slice into it.
I generally remove the bread from the pan as soon as it comes out of the oven. I place the loaf, on its side, on a wire cooling rack. After about 10 minutes, I flip the bread to the other side. I find doing this helps the bread to keep a nicer shape once it has cooled.
Recommended Products
Disclosure: We are a participant in the Amazon Services LLC Associates Program, an affiliate advertising program designed to provide a means for us to earn fees by linking to Amazon.com and affiliated sites.
Wonder how this gluten free Millet Sandwich Bread would hold up if you made yourself a sandwich in the morning, and wanted it at lunch?
Yeah, I wondered that too!
Don't forget to PIN IT to your gluten free Bread Pinterest board:
Disclosure: We are a participant in the Amazon Services LLC Associates Program, an affiliate advertising program designed to provide a means for us to earn fees by linking to Amazon.com and affiliated sites.
The images were updated Feb 2018.