These are the Best Gluten Free Cinnamon Buns you'll find, I promise! Soft, sweet, sticky, and as good as that wheat-based cinnamon bun from your past.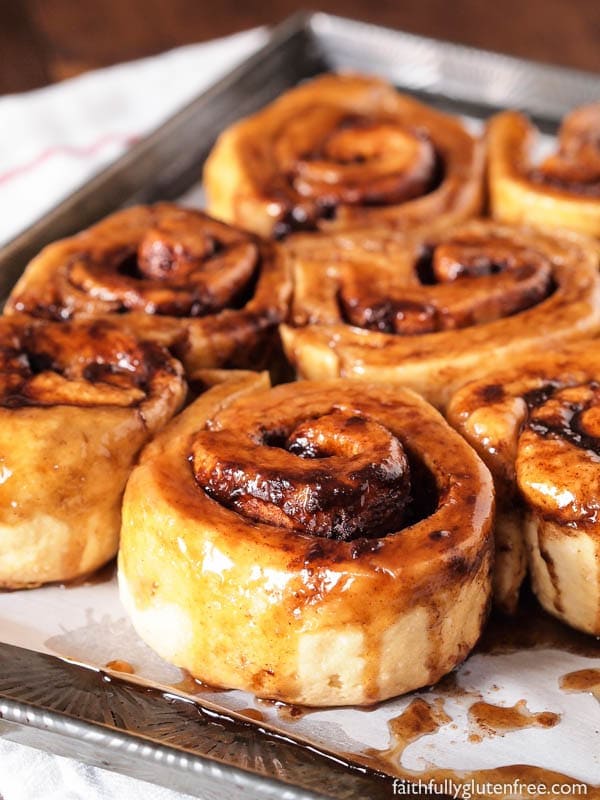 Seriously, folks, if you try one recipe for gluten-free cinnamon buns, I hope it's this one.
These gluten free cinnamon rolls have an ooey-gooey caramel topping which you cook up and put in the bottom of the baking pan. They make the cinnamon buns nice and sticky.
Once the gf Cinnamon Buns have finished baking, you flip them onto a serving tray, making that gooey syrup that you put in the bottom of the pan, a great sticky topping making these the best Gluten Free Cinnamon Buns. Some people refer to them as gluten free Sticky Buns because of this caramel topping.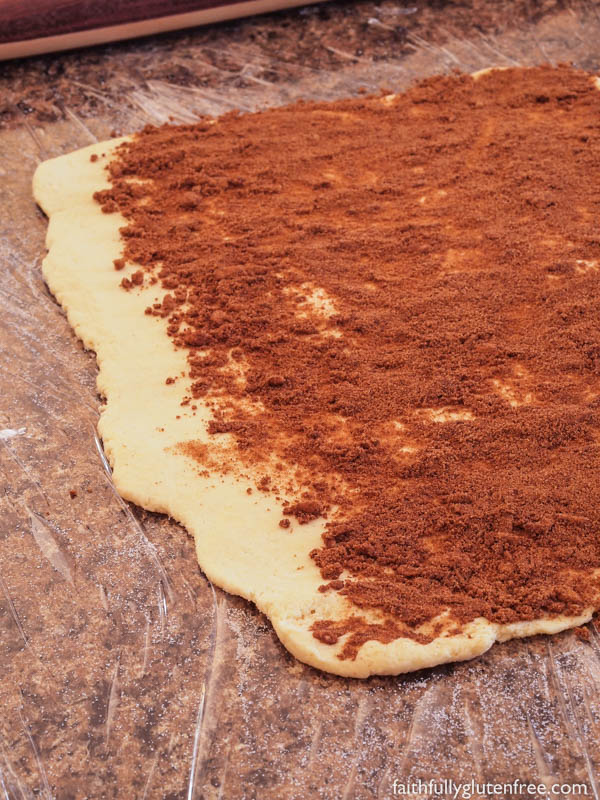 This recipe is based on the same cinnamon bun recipe that I received in my grade 10 Home Ec. class from Mrs. Braun.
Mrs. Braun was an older woman who really knew her way around the kitchen & sewing. I learned a great deal from her, and still use a lot of what I learned in her classes today. She could never get my name right – always calling me by my Mom's name, since she had also been my Mom's teacher at one time- but she was one of my favourite high school teachers.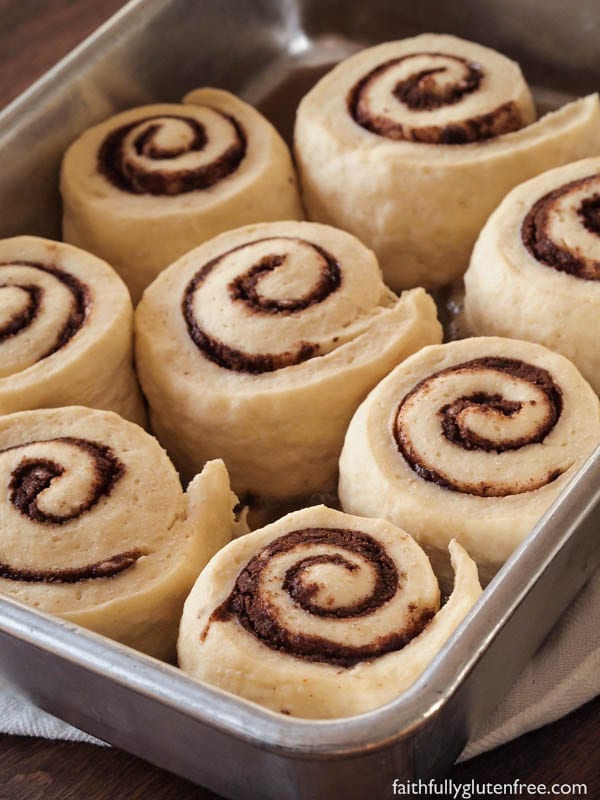 This recipe for gluten free cinnamon rolls is the only recipe that I received in home ec that I still continue to use to this day – 25ish years later. Some things are worth holding onto. I had to make some changes to make things gluten free – not only with the ingredients, but also with the techniques.
The recipe has been tweaked in the past 20+ years, but has always been a favourite. I hope you will enjoy this gluten free version of Mrs. Braun's cinnamon rolls. I bet I could bake these for her, and she would never know they were gluten free.
Tips to make these Gluten Free Cinnamon Buns ahead of time:
These gf Cinnamon Rolls are great to make ahead of time. I have had success forming the rolls, covering the baking pan with plastic wrap, and putting them in the fridge to bake at a later time (like in a few hours). You just have to give them a little more time to rise before baking if you do this.
You can also form the gluten free cinnamon buns, get them all prepped and in the baking pan, wrap it up in plastic wrap (a few layers is best), and put it straight in the freezer. Decide when you want to bake it (like Christmas morning), and take it out of the freezer the night before, letting it defrost (still covered) in the fridge.
In the morning (when you are awoken at 5:00 a.m. by the kids), remove the plastic wrap and place the pan of gluten free cinnamon rolls into a warm, draft-free place. I like to warm my oven slightly, and place the baking pan in there to get it nice & cozy warm. After it has risen, bake it, and it will be just as good as if you hadn't made it ahead of time.
I would not recommend freezing it for longer than one week, but you can easily make it a few days in advance and use this method without a problem.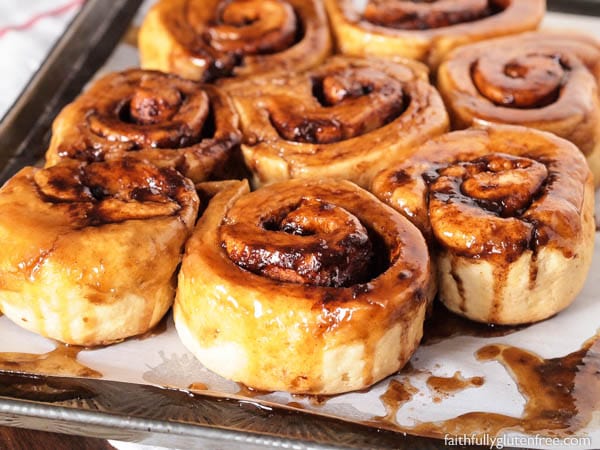 Other recipes that use the same (or very similar) dough that I think you will LOVE:
The Best Gluten Free Cinnamon Rolls Recipe:
The Best Gluten Free Cinnamon Buns (Rolls)
Total Time:
1 hour
30 minutes
With these sticky gluten-free cinnamon buns, you won't be missing the gluten at all. They are just as good, if not better, than wheat-based cinnamon buns.
Ingredients
Topping:
4 Tablespoons butter or margarine
1/2 cup brown sugar
2 Tablespoons corn syrup (or maple syrup)
1 teaspoon pure vanilla extract
2 Tablespoons heavy whipping cream
pinch of salt
Filling:
2 Tablespoons very soft unsalted butter
1/2 cup firmly packed brown sugar
1-2 tablespoons ground cinnamon
Dough:
1 2/3 cup brown rice flour
1/3 cup PLUS 1/2 cup tapioca starch
1/2 cup potato starch
1 Tablespoon xanthan gum
1 Tablespoon rapid rise yeast
3 Tablespoons granulated sugar
1/2 teaspoon salt
1/4 cup instant vanilla pudding mix (dry) OR dry milk powder
1 teaspoon baking powder
1/4 cup unsalted butter
1/2 cup water
1 large egg, room temperature
3/4 cup milk
2 Tablespoons light flavoured oil
1 teaspoon apple cider vinegar
1 teaspoon pure vanilla extract
Instructions
Topping:
Over low heat, in a small saucepan, heat butter, brown sugar, and corn syrup (or maple syrup), stirring until sugar dissolves. Add whipping cream, vanilla extract, and a pinch of salt. Stir to incorporate. Remove from heat and pour into the bottom of a greased 9×13 pan with high sides.
Filling:
Combine the butter, brown sugar, and cinnamon until it looks like wet sand. Set aside until after the dough has been shaped into a rectangle.
Dough:
In the bowl of your stand mixer, mix all dry ingredients until combined. Set aside.
Put water and butter in a glass measuring cup and microwave just until the butter has melted. Remove from microwave and stir. Add milk, stir. Add other wet ingredients and whisk to combine.
With the stand mixer running (using the paddle attachment), pour the wet ingredients into the dry ingredients. Scrap down the bowl if you have to.
Allow to mix on medium speed for 3 minutes.
Take a piece of plastic wrap and lay it out on a slightly damp counter top, so it covers an area bigger than 8″ x 16″. Sprinkle an additional 2 Tablespoons of sugar on the plastic wrap. Scrape the dough onto the plastic wrap. Gently lay another piece of plastic wrap over the top of the dough and pat the dough down into a rectangle shape. Lift and reposition the top plastic wrap whenever you need to. Roll the dough out (with the plastic wrap on top) to approximately 8″ x 16″.
Remove plastic wrap. Spread filling mixture evenly across dough's surface. Leave 1 1/2″ along one long end without any filling, this is where your cinnamon rolls will be sealed.
Starting along the long end, use the bottom sheet of plastic wrap to lift the edge of the dough and roll it up, forming a long cylinder. Start with the edge that has filling on it, that will be the center of your finished rolls.
Using a long piece of dark coloured thread (light colours can be lost in the dough), cut the long "cinnamon bun log" into 8 pieces, about 1 1/2″ wide. You can do this by placing the thread underneath the roll, crossing it at the top, and pulling the threads so they cross each other, pulling it through the dough. This way, you won't be squishing your dough down by cutting with a knife. Place cinnamon buns in the prepared pan, with cut side up. I like to place a sheet of plastic wrap over the top, and flatten buns down to about 1″ high.
Allow the cinnamon buns to rise in a warm, draft free place for about 30-40 minutes, or until nearly double in size.
Bake in preheated 350 degree F oven for 20-25 minutes, or until the tops are a nice golden brown.
Allow to cool for about 5 minutes before inverting on a serving tray, letting the syrup run down over the rolls.
These are best served warm, however, I had great success with reheating them in the microwave for a few seconds when they were a day old as well.
Notes
Gluten-free AND Dairy-Free Cinnamon Rolls
I know many, many of you have asked how to change this recipe so that it is both gluten and dairy free. After some playing around, these are the changes that I made.
REPLACE the instant vanilla pudding powder with 1/4 cup almond flour (although Jell-O brand pudding powder is dairy free)
REPLACE the 1/2 cup water and 3/4 cup milk with 1 1/4 cups soy milk (or your favorite dairy-free milk)
REPLACE all of the butter with vegan butter (I used Earth Balance)
REPLACE the heavy cream in the Topping with 2 tablespoons dairy-free milk.
Recommended Products
Disclosure: We are a participant in the Amazon Services LLC Associates Program, an affiliate advertising program designed to provide a means for us to earn fees by linking to Amazon.com and affiliated sites.
The Best Dairy Free and Gluten Free Cinnamon Buns:
It is also possible to make these gluten free cinnamon buns dairy free. By doing a few small changes (listed in the notes of the recipe), you will end up with a delicious, sticky, ooey-gooey gluten and dairy free cinnamon roll, just like these:
Don't forget to PIN IT to your gluten free bread board.
The recipe, and images, were updated February 2018.