I took the sweet citrus flavour of Paska, or Easter Bread, and baked some amazing gluten free Paska Rolls. Filled with a delicious cream cheese and citrus zest filling, these rolls would be perfect for Easter brunch.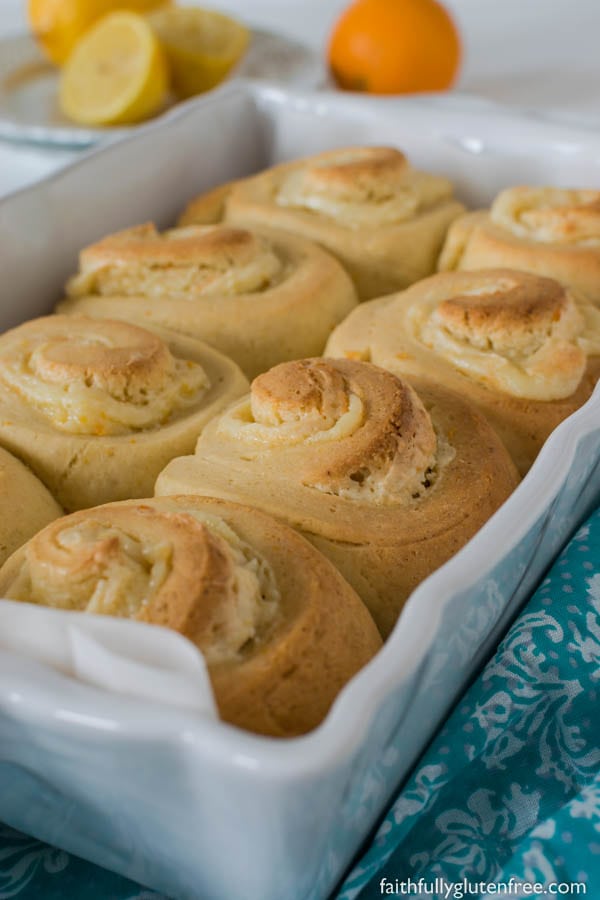 Gluten Free Easter Bread (or Paska) is a sweet, citrus bread that I've always enjoyed during Easter. Growing up in a Mennonite family, my Grandma used to bake large loaves of Paska in coffee tins. My Mom took a slightly different route by baking Paska buns. I decided to to add my twist to this traditional Easter bread by incorporating those flavours into gluten free Paska Rolls.
Paska is traditionally eaten during Easter. Some versions have just lemon zest, but I grew up with it having both lemon and orange.
Sometimes Paska is topped with icing and sprinkles (this is a must, if you ask me), other times it's icing and coconut.
There are many different variations, but the lemon and orange combined with the cream cheese is pure perfection, in my opinion.
The method for these rolls is the same as The Best Gluten Free Cinnamon Buns. If you have any questions about these rolls, feel free to read through to 150+ comments on the Cinnamon Rolls.
You can also watch a video of me making another cinnamon roll, and that will give you an idea of what the consistency of the dough should be, and how to work with it.
Tips to make Gluten Free Paska Rolls ahead of time:
If you are wanting to indulge in these sweet gluten free Paska Rolls for brunch of breakfast on Good Friday or Easter Sunday, you can save yourself some time by making them the night before.
Follow the recipe as written but stop when it says to let the rolls rise before baking. After you have formed the rolls, cover the top of your baking pan with plastic wrap or foil, and place them in the fridge. This will slow the yeast down, letting you have the perfect rolls by morning.
In the morning, when you want to bake the gluten free Paska Rolls, you'll want to remove them from the fridge and let them rise in a warm place. It may take a little longer for them to rise, since they were in the fridge, so give them at least an extra 10 minutes or so.
Now you can just follow the recipe as written, following the bake temperature time as written.
If you like these Gluten Free Paska Rolls, you might also like:
Gluten Free Paska Rolls
I took the sweet citrus flavour of Paska, or Easter Bread, and baked some amazing gluten free Paska Rolls. Filled with a delicious cream cheese and citrus zest filling, these rolls would be perfect for Easter brunch.
Ingredients
Dough:
1 2/3 cup brown rice flour
1/3 cup PLUS 1/2 cup tapioca starch
1/2 cup potato starch
1/4 cup instant lemon (or vanilla) pudding mix (dry) OR dry milk powder
3 tablespoons granulated sugar
1 tablespoon rapid rise yeast
1 tablespoon xanthan gum
1 teaspoon baking powder
1/2 tsp salt
the zest of 1/2 a lemon and 1/2 a navel orange
1/4 cup unsalted butter
1/2 cup milk
3/4 cup milk
1 egg, room temperature
1 teaspoon cider vinegar
2 tablespoons oil
Filling:
4 ounces (1/2 cup) cream cheese, very soft
2 tablespoons unsalted butter, very soft
1/2 cup granulated sugar
the zest of 1/2 a lemon and 1/2 an orange
NOTE: You may add 1/2 cup shredded coconut to the filling (optional).
Frosting (optional):
2 ounces (1/4 cup) softened cream cheese
2 tablespoons unsalted butter, softened
1/2 cup confectioners' sugar
About 1 tablespoon fresh lemon juice
Instructions
Line a 9x13-inch baking sheet with parchment paper (I actually just found a new baking pan that is about 7x11-inches, and it is the perfect size, so if you have something similar, you can use that). Set aside.
Turn your oven light on, and turn on your oven to the lowest heat. Once it is just warm in the oven, turn the oven off. This will help your yeast bread to rise nicely before baking.
In the bowl of your stand mixer, mix all dry ingredients until combined. Set aside.
Put 1/2 cup milk and 1/4 cup butter in a glass measuring cup and microwave just until the butter has melted. Remove from microwave and stir. Add 3/4 cup milk, stir. Add other wet ingredients and whisk to combine.
With the stand mixer running (using the paddle attachment), pour the wet ingredients into the dry ingredients. Scrap down the bowl if you have to.
Allow to mix on medium speed for 2 minutes.
Take a piece of plastic wrap and lay it out on a slightly damp counter top, so it covers an area bigger than 8″ x 16″. Sprinkle about 2 tablespoons of sugar on the wrap. Scrape the ball of dough on top of that. Gently lay another piece of plastic wrap over the top of the dough. Pat the dough down into a roughly squarish shape. Lift and re-position the top plastic wrap whenever you need to. Roll the dough out (with the plastic wrap on top) to a square approximately 8″ x 16″.
Remove plastic wrap.
Stir together the cream cheese, 2 tablespoons butter, 1/2 cup sugar, and lemon and orange zest. Carefully spread this mixture over the dough, leaving 1 1/2″ along one long end without any filling, this is where your rolls will be sealed.
Starting along the long end, use the bottom sheet of plastic wrap to lift the edge of the dough and roll it up, forming a long cylinder. Start with the edge that has filling on it, that will be the center of your finished rolls.
Using a long piece of dark thread (light colours can be lost in the dough), cut the long "log" into 8 pieces, about 1 1/2″ wide. You can do this by placing the thread underneath the roll, crossing it at the top, and pulling the threads so they cross each other, pulling it through the dough. This way, you won't be squishing your dough down by cutting with a knife. Place rolls in prepared pan, with cut side up. I like to push the rolls down to about 1″ high.
Allow the Paska rolls to rise in a warm, draft free place (like your slightly warmed oven) for about 30 minutes, or until nearly double in size.
Bake in preheated 350 degree F oven for 20-25 minutes, or until the tops are a nice golden brown.
Allow to cool for about 5 minutes before topping with the cream cheese frosting, if using.
To make the frosting, beat the softened cream cheese, butter, confections' sugar and lemon juice until smooth.
These are best served warm, however, I had great success with reheating them in the microwave for a few seconds when they were a day old as well.
Notes
Some tips for dairy free:
REPLACE the instant lemon pudding powder with 1/4 cup almond flour (ground almond meal)
REPLACE the milk with soy milk (or your favorite non-dairy milk)
REPLACE all of the butter/margarine with vegan butter (for example, Earth Balance)
REPLACE the cream cheese with vegan cream cheese
Originally posted April 2012. The recipe and images were updated in March 2018.