I love Mexican food. My favorite restaurant, since eating pasta while out is off the list, is now a Mexican food restaurant. Since they use corn tortillas in a lot of the dishes, and not a lot of the dishes include any gravy-type sauces, it is a safer bet than a lot of other types of food. Give me salsa, corn chips/tortillas, lettuce, cheese & sour cream, and I'm a happy girl. I've made Easy Gluten-free Burrito Pie in my "pre gluten-free" days, using flour tortillas, but it was actually better using the corn tortillas. Big surprise, huh? Not really. I layered this dish in a 9×13-inch pan, much the way you would lasagna. I then topped mine with lettuce, onion greens, tomatoes, salsa & sour cream. SO GOOD! I'm saying, this is so good, I woke up the next day excited to be able to have the leftovers for lunch. I know, I need to get out more, eh? 🙂 Ah, it's the simple things in life!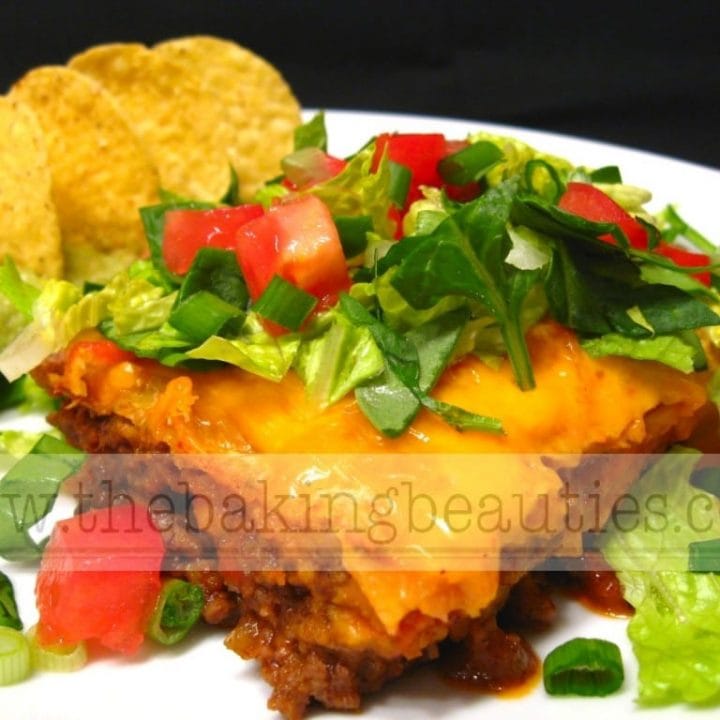 Gluten-free Burrito Pie
Ingredients
2 pounds ground beef
1 onion, chopped
2 teaspoons minced garlic
1 (10 oz) can diced tomatoes
1 (8 oz) jar taco sauce (I had homemade sauce on hand)
1 cup salsa (pick the amount of heat you want)
8-10 corn tortillas
9 ounces shredded Colby Cheese (I just had cheddar, worked great)
Instructions
Preheat oven to 350 degrees F.
In a large skillet over medium heat, saute the ground beef for 5 minutes. Add the onion and garlic, and saute for 5 minutes more. Drain any excess fat, if desired. Mix in the diced tomato, taco sauce, salsa, and taco seasoning. Stir mixture thoroughly, reduce heat to low, and let simmer for 15-20 minutes.
Spread half the meat mixture on the bottom of a 9x13-inch baking pan. Spread some refried beans onto each corn tortilla. Place on top of meat mixture, bean side down. Cut the tortillas to fit the pan and cover the meat mixture, if necessary.
Sprinkle with some cheese, top with remaining meat mixture. Repeat layer of bean smothered corn tortillas.
At this point, I spread a thin layer of salsa on top of the corn tortillas, because I didn't want them to dry out when baking. Top with remaining cheese.
Cover with foil & bake in preheated oven for about 30 minutes. Remove foil & broil until cheese is bubbling & brown. Top with your favorite toppings, like lettuce, sour cream, salsa, tomatoes, onion greens, black olives, etc.