The varieties of chocolate chip cookies are nearly as vast as the variety of brownies, and everyone has their favourites. These Chewy Gluten Free Oatmeal Chocolate Chip Cookies were a hit with my kids, and they are perfect to pack in their lunch kits too!
Last week I had a reader ask me if I knew of any gluten-free cookie recipes that were chewy. Every cookie she had tried so far had been crisp. Well, I'm here to tell you that I created a fabulous Chewy Oatmeal Chocolate Chip cookie, and it was a total accident. I was actually intending to make a crisp cookie, but after baking and tasting these, I realized that I had just created a fabulous chewy cookie! A wonderful accident. 🙂
These cookies are loaded with chocolate chips, and have a great crisp exterior, but a nice soft, chewy middle. Perfect to have with your afternoon coffee, or to send along in the kid's lunch kits. If you wish, you could add 1 cup of chopped nuts, which I omitted due to nut allergies at school. Feel free to change up the chocolate chips as well, using any blend of milk, dark, butterscotch, cinnamon, etc.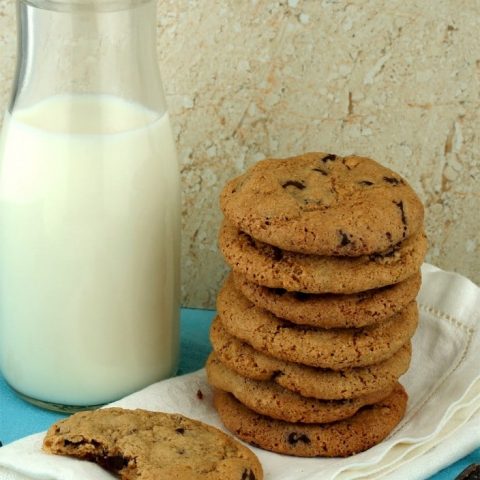 Chewy Gluten Free Oatmeal Chocolate Chip Cookies
These Chewy Gluten Free Oatmeal Chocolate Chip Cookies were a hit with my kids, and they are perfect to pack in their lunch kits too!
Ingredients
1 cup certified gluten-free quick cook oats
1 cup sorghum flour
1/2 cup brown rice flour
1/4 cup tapioca starch
1 teaspoon xanthan gum
1 teaspoon baking soda
1/2 teaspoon ground cinnamon (optional)
1/2 teaspoon salt
2/3 cup canola oil
1 cup granulated sugar
1/2 cup brown sugar
1 teaspoon vanilla extract
3 large eggs
2 cups semi-sweet chocolate chips
Instructions
Preheat oven to 350 degrees F and line your baking pans with parchment paper.
Using a food processor or coffee grinder, quickly pulse the oats to form smaller flakes, but not too much, or you will have flour.
In the bowl of a stand mixer, combine the pulsed oats, sorghum flour, brown rice flour, tapioca starch, xanthan gum, baking soda, ground cinnamon, and salt.
In a separate bowl, whisk together the canola oil, sugars, vanilla, and eggs.
With the mixer running on slow speed, add the wet ingredients to the dry ingredients. Mix until combined. Add the chocolate chips and mix until evenly distributed.
Scoop 2 teaspoons of dough on your baking sheet, leaving 3-inches between cookies to allow for them to expand while baking. Dampen your hands with a small amount of water and roll the scooped dough into a smooth ball. This will give your finished cookies a nice round shape.
Bake cookies in preheated oven for 10-12 minutes, decreasing for a chewier cookie, increasing for a crispier cookie. Allow cookies to cool for a few minutes before moving them to a wire rack to cool completely. Store cookies in an airtight container.
Notes
If your dough is still too soft, or you want a slightly 'puffy' cookie, add an additional 1/2 cup brown rice flour.
NOTE: This post contains Amazon affiliate links. If you purchase items that have been listed, I earn a few cents from it. Thank you for your support.
Looking for an easier way to scoop your cookies? Or perhaps a gift for the baker in your life? I LOVE my cookie scoops. I have 3 sizes, one perfect for small cookies, one for Cookie Monster size cookies, and the 3rd is perfect for filling muffin tins.
Disclaimer: We are a participant in the Amazon Services LLC Associates Program, an affiliate advertising program designed to provide a means for us to earn fees by linking to Amazon.com and affiliated sites.