Wow your guests with these lighter-than-air, simple-to-prepare Gluten Free Cream Puffs with a Pomegranate Cheesecake Filling.
Holiday entertaining is right around the corner, and between now and when it is time to ring in the new year, you will probably be having friends down, attending parties, family gatherings, and the list goes on. The point is, you will be either entertaining or being entertained a lot. When you are eating gluten-free that's not always a comfortable situation to be in. However, by bringing a tray of these gluten-free cream puffs along, you will know that there will be something gluten-free for you to munch on. No one else will ever know that they are not wheat-based, if you do decide to share. 😉
This dough is fabulous because after you form the cream puffs on the parchment paper, you can bake what you need immediately, and freeze the rest of the dough until you need them. Once the dough has frozen, you simply store it in an air-tight zipper seal bag. When you want some fresh cream puffs, remove as many as you need from the freezer, place on a parchment lined baking sheet and let the dough come to room temperature while your oven preheats before baking it as directed. You can also freeze baked, unfilled cream puffs, and just crisp them up by baking them in a 400 degree oven for 10 minutes. And with the unlimited variety of sweet or savoury fillings that you can use, you can bring these to each and every function and never serve the save dish twice. 😉
For more tips on working with this gluten-free Choux Paste, please read "Gluten-free Cream Puffs".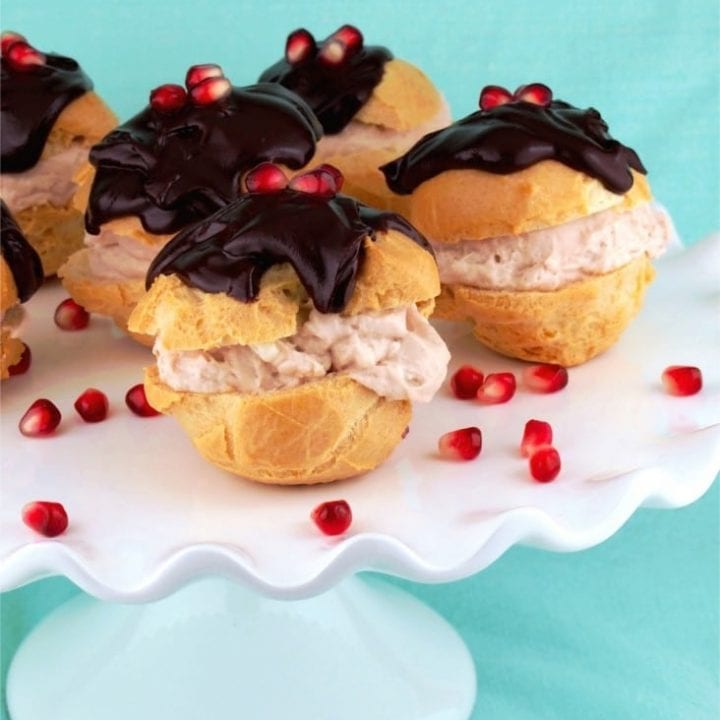 Gluten Free Cream Puffs with a Pomegranate Cheesecake Filling
Total Time:
1 hour
40 minutes
Gluten Free Cream Puffs with a Pomegranate Cheesecake Filling
This post may contain affiliate links. Please read my disclosure policy for more information.
November 21, 2012 By Jeanine 8 Comments (Edit)
Pause
Unmute
Remaining Time -0:41
Fullscreen
X
Wow your guests with these lighter-than-air, simple-to-prepare Gluten Free Cream Puffs with a Pomegranate Cheesecake Filling.
Ingredients
Cream Puffs
2/3 cup white rice flour
1/3 cup sweet rice flour
1/2 teaspoon xanthan gum
Pinch salt
1 teaspoon baking powder
1 cup water
1/2 cup unsalted butter
4 large eggs, room temperature
Pomegranate Cream Cheese Filling
1 cup pomegranate juice
8 ounces cream cheese, softened
1/2 cup confectioners' (icing) sugar
1 cup heavy whipping cream
1/4 cup confectioners' (icing) sugar
2 tablespoons dry vanilla pudding mix
Instructions
Cream Puffs
Preheat the oven to 400 degrees F. Line a baking sheet with parchment paper, and set aside.
In a mixing bowl, whisk together the white rice flour, sweet rice flour, xanthan gum, salt, and baking powder. Set aside.
In a medium sauce pan, bring the water and butter to a boil. Once they have reached a boil, pour all of the dry ingredients in at once, and stir with a wooden spoon until the dry ingredients are completely incorporated, and the mixture looks similar to play dough.
Place hot dough into a large mixing bowl or bowl of a stand mixer fitted with a paddle attachment. Beat on medium-high speed for a minute or two to cool the dough down a bit. With the mixer on medium speed, add one egg at a time. Beat dough until the egg is completely incorporated before adding the next one. Repeat until all 4 eggs have been added.
Mix on medium-high speed for 1 minute, until the dough is smooth.
Spoon the dough (about a 2 tablespoons per cream puff) onto prepared baking sheet, leaving about 2-inches between cream puffs.
Bake in preheated oven for 30 minutes. Turn off the oven, open the door, and pierce each cream puff with a sharp knife. This will help any steam trapped inside them to escape, giving a nice crisp cream puff. Leave the cream puffs in the oven, with the door open a few inches, until the oven has cooled completely.
Once cream puffs have completely cooled, fill them with a sweet or savoury filling. They are best served the same day, but can be stored in an air tight container. To crisp unfilled cream puffs again, place in a 400 degree F oven for 10 minutes.
Pomegranate Cream Cheese Filling
In a small saucepan over medium heat, simmer the pomegranate juice until only 2 tablespoons remain, making a pomegranate syrup. Allow to cool.
Beat the softened cream cheese and 1/2 cup confectioners' sugar together until smooth, scraping down the bowl as necessary. Beat in the cooled pomegranate syrup.
In a narrow, deep mixing bowl, use an electric mixer to beat the whipped cream and 1/4 cup confectioners' sugar until soft peaks form. Add the dry pudding mix and continue to beat until the whipped cream stiffens.
Fold half of the whipped cream mixture into cream cheese mixture. Continue with the remaining whipped cream.
To Serve
Cut cooled Cream Puffs in half, scoop 2 tablespoons of the cream cheese filling into the puff and replace the top. Top with melted dark chocolate and a few fresh pomegranate arils.
Notes
The Choux Paste can be frozen to use later. Spoon the dough onto a wax paper lined baking sheet and place in the freezer. Once they are frozen, store in a zipper seal freezer bag. To bake, place frozen dough onto parchment lined baking pan, and let come to room temperature before baking (about 15 minutes). Bake the same way you would if you were baking immediately.
This recipe was also featured in the beautiful Holiday Edition of EatInEatOut Magazine! You can download the entire free magazine HERE (you'll find this recipes on pages 82-83).