This Gluten-free Chocolate-Chocolate Trifle was SO good! No one would even guess it was gluten-free, unless you tell them. I tweaked a chocolate cake recipe that I've used in the past, made some homemade chocolate pudding, and did a flavoured whipped cream. You could use instant chocolate pudding and a tub of Cool Whip to make things easier for you if you'd like, I won't tell. 🙂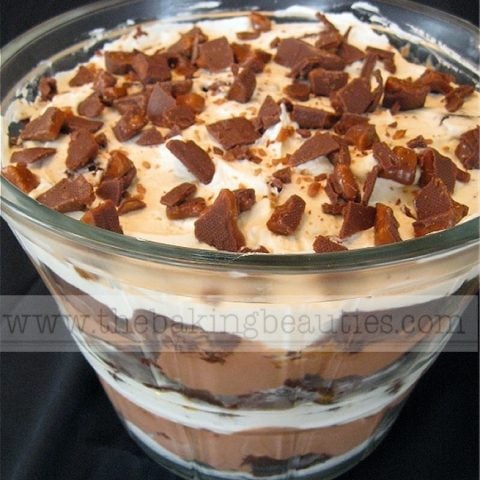 Gluten-free Chocolate-Chocolate Trifle
The wonderful thing about a trifle is that they are best made in advance. Preparing and assembling the trifle the day before allows the cake to soften, and it all becomes a wonderful pudding-like consistency.
Ingredients
Chocolate Cake
2/3 cup brown rice flour
2/3 cup tapioca starch
2/3 cup sorghum flour
1 teaspoon xanthan gum
1 1/2 cups granulated sugar
3/4 cup unsweetened cocoa powder
2 teaspoons baking powder
1/2 teaspoon baking soda
3/4 cup buttermilk
3/4 cup cold coffee
1/2 cup oil
1 teaspoon vanilla extract
4 large eggs, slightly beaten
Thick Chocolate Pudding
1/2 cup granulated sugar
1/4 cup unsweetened cocoa powder
3 tablespoons cornstarch
1/8 teaspoon salt
2 cups milk
1 teaspoon vanilla extract (or other flavouring)
1 tablespoon butter
Whipped Topping
3 cups heavy whipping cream
1/2 cup granulated sugar
1 tablespoon brandy (or 3/4 teaspoon extract of your choice)
Instructions
Chocolate Cake
Preheat oven to 350 degrees F. Grease a 9x13-inch baking pan, and set aside.
In a medium sized bowl, whisk together all dry ingredients.
Make a well in center of dry ingredients. Add buttermilk, coffee, oil, vanilla and beaten eggs. Whisk together in well.
Stir together wet ingredients with dry ingredients until fully incorporated and pour into prepared pan.
Bake in preheated oven for 25-30 minutes until a toothpick inserted in the middle comes out clean. Do not overbake!
Cool cake completely. Once completely cooled, cut into 1-inch squares for the trifle.
Thick Chocolate Pudding
In a 2-quart microwave-safe bowl, combine the first four ingredients.
Stir in milk until smooth.
Microwave, uncovered, on high for 3 minutes; stir.
Microwave 4-6 minutes longer, or until thickened, stirring after each minute.
Stir in vanilla and butter.
Place plastic wrap directly on the hot pudding (keeps thick pudding skin from forming), and refrigerate until cool.
Whipped Topping
Using the stand mixer with the whisk attachment, whisk cream on high speed.
Add sugar and brandy. Whip until stiff peaks form.
Mix approximately 1/3 of the whipping cream into the cooled chocolate pudding. This lightens the pudding up, making it more like a mousse.
Assembling the Trifle
In a large bowl (I use a glass pail), spread a thin layer of whipping cream.
Top with a layer of of cake pieces.
Then a layer of pudding (use 1/2 the pudding).
Whipped cream again (1/2 of what remains).
Then cake. Top this layer of cake with bought caramel sauce & 2 chopped up Skor bars, if you wish.
Now top with another layer of pudding (the remainder).
Now it is time to spread on the remainder of the whipped cream. This gets topped with another 2 chopped Skor bars.