This gluten-free Rhubarb Coffee Cake was perfect. In fact, it was perfect to sit and have coffee with a dear friend on the deck, soaking up some rays (the day it was warm in Manitoba) and catching up with each other, and eating this cake. Absolutely perfect. 🙂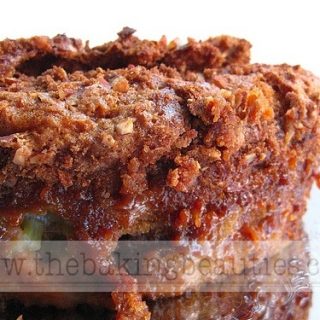 Gluten-free Rhubarb Coffee Cake
Ingredients
Coffee Cake
1/2 cup butter, softened
1 1/2 cups granulated sugar
1 teaspoon vanilla extract
1 large egg
2 cups Featherlight Flour Mix (See Note)
1 teaspoon xanthan gum
1/2 teaspoon salt
1 teaspoon baking soda
1 cup milk
2 cups chopped rhubarb
Topping:
1/2 cup brown sugar
2 tablespoons Featherlight Flour Mix (See Note)
2 teaspoons ground cinnamon
1 tablespoon melted butter
1/2 cup chopped nuts (I did almonds)
1 teaspoon vanilla extract
Instructions
Preheat oven to 350 degrees F.
Mix margarine and sugar together; beat in egg and vanilla.
Mix in dry ingredients followed by milk,j then finely chopped rhubarb.
Combine topping ingredients & set aside.
I used an angel food cake pan for this cake, you can simply use a 9x13-inch pan. If using a greased 9x13-inch pan, pour batter in pan and top with topping. If using an angel food cake pan, spread 1/2 the batter in the bottom of a greased pan, sprinkle some topping on the batter (about 1/3 of the topping), then top with remaining batter, smooth the top, and sprinkle with remaining topping mixture.
For a 9x13-inch pan, bake in preheated oven for 35-40 minutes. I found that with the angel food cake pan, it was about 55-60 minutes. When a toothpick is inserted, it should come out clean.
For the angel food cake pan, let cool in the pan, then cut around the outside & inside, and invert on a plate. Then invert onto another plate, so that the topping is still at the top of your cake.
When I removed the cake from the oven, it DID fall quite a bit, don't be discouraged, it still looks & tastes great!
Notes
Bette Hagman's Featherlight Flour mix is as follows: 3 cups rice flour, 3 cups tapioca starch, 3 cups cornstarch and 3 tablespoons potato flour.
Disclosure: 
We are a participant in the Amazon Services LLC Associates Program, an affiliate advertising program designed to provide a means for us to earn fees by linking to Amazon.com and affiliated sites.