These Easy Salted Butterscotch Truffles have a soft, silky-smooth center of butterscotch goodness that is encased in a shell of semi-sweet chocolate, and topped with a light sprinkle of sea salt. The perfect addition to your holiday trays or for gift giving.
My first Christmas after being diagnosed with Celiac disease, I wasn't sure what I was going to do for Christmas baking.
I used to do a lot of baking every Christmas, and that year I was still having a lot of trial and error when it came to baking.
I decided to try to find naturally gluten free sweets that I could make, and came across a recipe for Easy Decadent Truffles. That recipe uses cream cheese, icing sugar, and melted chocolate chips as the base of the truffle.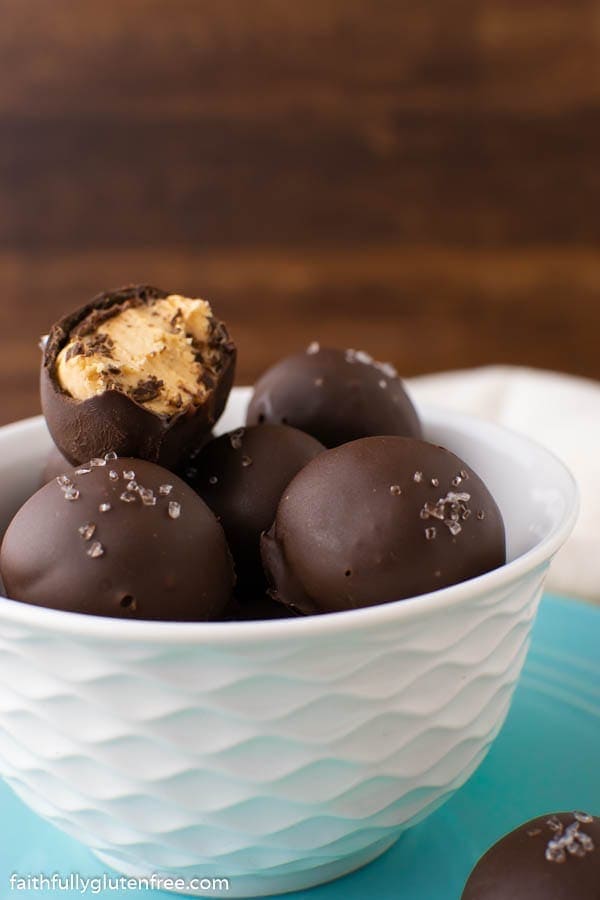 Years later, while I was doing my Christmas baking, I decided that I needed to add some truffles to the list. They are so pretty placed among the cookies on the trays.
I decided to play with the flavors a little bit though, and that is when I made these easy Salted Butterscotch Truffles. When I shared a picture of them on my Facebook page, many comments came in asking me to share the recipe.
So if you are experiencing your first gluten free holiday, or if you are hosting someone that needs to eat gluten free, don't fret. These easy no-bake Salted Butterscotch truffles are naturally gluten free, easy to make, and only require a few simple ingredients.
How to make Salted Butterscotch Truffles:
Start with softened cream cheese. This will help it to mix up a nice smooth truffle filling.
Add the icing sugar, melted gluten free butterscotch baking chips, and vanilla.
CHILL. Yes, this recipe requires the filling to chill. Not once, but twice.
Roll the truffle filling into balls, and FREEZE. If the filling seems too sticky to roll into smooth balls, you can smooth them more after freezing.
Dip the chilled truffle filling balls in melted chocolate, and sprinkle the tops with sea salt.
Chill & enjoy. Store in a single layer in an air-tight container the refrigerator or freezer.
Looking for more naturally gluten free treats? How about:
Easy Salted Butterscotch Truffles recipe:
Easy Salted Butterscotch Truffles
Total Time:
2 hours
35 minutes
Easy Salted Butterscotch Truffles have a soft, silky-smooth center of butterscotch goodness that is encased in a shell of semi-sweet chocolate, and topped with a light sprinkle of sea salt. The perfect addition to your holiday trays or for gift giving.
Ingredients
1 brick (8 oz, 250 g) cream cheese, softened
2 cups 250 gr confectioners' (icing) sugar
2 cups (380 g) gluten-free butterscotch chips, melted (see Notes)
1 teaspoon (5 ml) vanilla extract
2 cup (190 g) gluten-free milk or semi-sweet chocolate chips (may need more)
2 teaspoon (5 ml) shortening
1/2 teaspoon (2.5 ml) sea salt
Instructions
Beat together the cream cheese and confectioners' sugar until smooth.
In a glass bowl, microwave the butterscotch chips in 30 second intervals at 50% power, stirring in between, until only a few small lumps remain. Then stir until smooth. You can also melt the chips on the top of a double boiler.
Beat the melted butterscotch chips and vanilla into the cream cheese mixture. Cover and refrigerate for at least one hour.
Once it is chilled, spoon the mixture into 1 tablespoon balls onto a wax paper or parchment lined baking sheet. I like to use my smallest cookie scoop for this. Place the baking sheet in the freezer for about 30 minutes.
Now that the filling is hardened, you can use your hands and roll the truffles into smooth balls. Let freeze for a few more minutes while you prepare the chocolate coating.
Combine the milk or semi-sweet chocolate chips and shortening in the top of a double boiler. I like to place a Pyrex bowl over a small saucepan with 1-inch of barely simmering water in it.
When the chocolate is melted and smooth, remove half of the truffles from the freezer. Drop one in the melted chocolate, and stir around quickly with a fork. Lift the chocolate coated truffle out of the chocolate with the fork (don't stab the truffle, just have it on top of the fork), and tap the fork on the side of the bowl to remove excess chocolate. Place the chocolate coated truffle onto another wax paper lined baking sheet, using a wooden skewer to push the truffle off of the fork, and sprinkle the top with a few grains of sea salt.
Repeat this process until you are completely done. You need to work quickly, because the truffles do warm up quickly, that is why we only work with half at a time. Once all the truffles are dipped, place the pans in the freezer for another 5 minutes, just to help the chocolate set up, and then transfer them to a air-tight container.
These can be refrigerated for up to two weeks, so they are great to make in advance.
Notes
I used Hershey Chipits baking chips. As of October, 2019, these baking chips in Canada contain no gluten ingredients.
Recommended Products
Disclosure: We are a participant in the Amazon Services LLC Associates Program, an affiliate advertising program designed to provide a means for us to earn fees by linking to Amazon.com and affiliated sites.
Don't forget to
PIN THIS RECIPE
to your Pinterest boards:
Originally posted December 2014. Images updated November 2019.