Time for something sweet! This Snickers pie was delicious! If you keep some gluten-free chocolate crumbs on hand in the freezer, like I do, it doesn't take much longer than using a pre-made shell. Plus, instead of getting two pies, I got one large 10″ cake, made in a springform pan.
NOTES: I did use low-fat cream cheese & low-fat Cool Whip with great results, and it also cut back on some of the calories. 🙂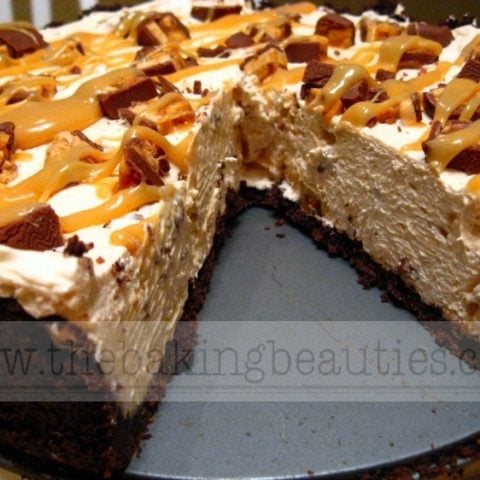 Easy Snickers Bar Pie - Gluten-free too!
Total Time:
4 hours
25 minutes
This recipe makes 2 pies or 1 cake made in a springform pan.
Ingredients
Chocolate Crumb Crust
2 cups gluten-free chocolate crumbs
1/2 cup granulated sugar
1/2 cup melted butter
Easy Snickers Bar Pie
8 ounces cream cheese, softened
1 1/2 cups powdered sugar
1/2 cup creamy peanut butter or chunky peanut butter
4 regular size Snickers candy bars, chopped (reserve one for sprinkling on top of the finished cake)
16 ounces Cool Whip, thawed
Caramel sauce for drizzling on top (optional)
Instructions
Chocolate Crumb Crust
In a bowl combine all ingredients;, mix well to combine.
Press into the bottom & up the sides of a 10" springform pan.
Bake at 350 degrees F for 8 minutes.
Cool completely.
Fill as desired.
Easy Snickers Bar Pie
In a large mixing bowl, beat cream cheese, sugar and peanut butter until creamy.
Stir in chopped candy bars
Gently fold in the Cool Whip just until mixed.
Pour into crusts and refrigerate overnight.