This gluten free Rhubarb Crisp takes the tart, spring fruit and turns it into a sweet, saucy dessert that is perfect topped with a scoop of vanilla ice cream.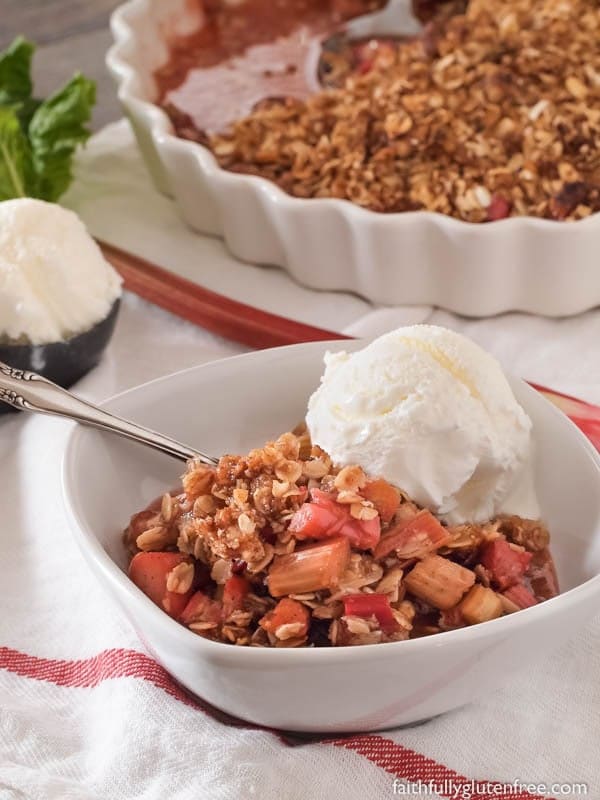 Every spring, I wait for the stalks of rhubarb to spring forth from the ground. Rhubarb is a fairy hardy plant, but whether it will survive our cold Manitoba winters is another thing.
But, once those green leaves start to emerge from the ground and uncurl, and the red stalks start to appear, it is time to start thinking about all the wonderful things you will be able to cook with this tart fruit.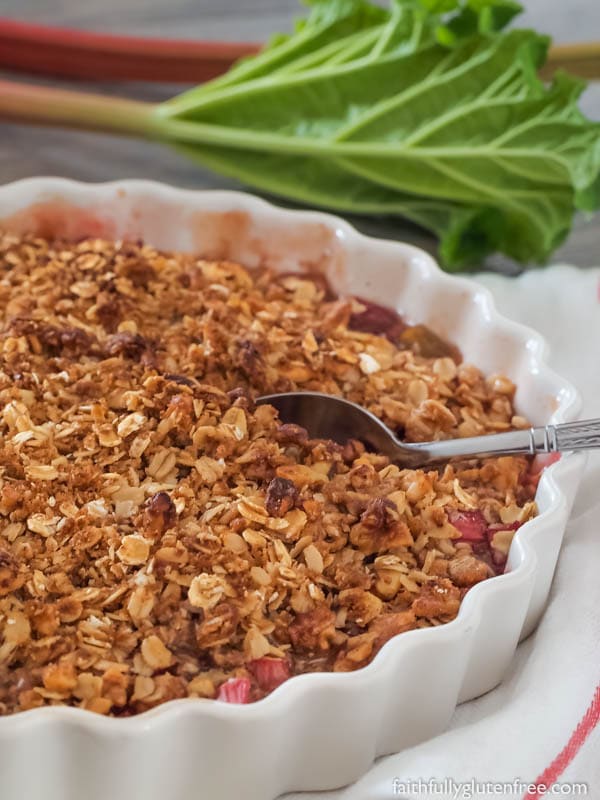 You can't have fresh picked rhubarb and not make a crisp. I think that is a rule, but I'm not sure. This classic gluten free Rhubarb Crisp is as good as the crisps my Grandma and Mom used to make. I've been making it for years already, and we all love it.
The addition of nuts in the topping really adds a great flavour. As the crisp is baking, and the rhubarb is softening, the nuts are getting toasted. If you're looking for a nut-free crisp though, you can easily omit them.
The topping can be used with other fresh fruits to make a variety of fruit crisps. Blueberry-peach is one of my favourites – just remember that if you are using a sweet fruit, you can cut back on the sugar and cornstarch.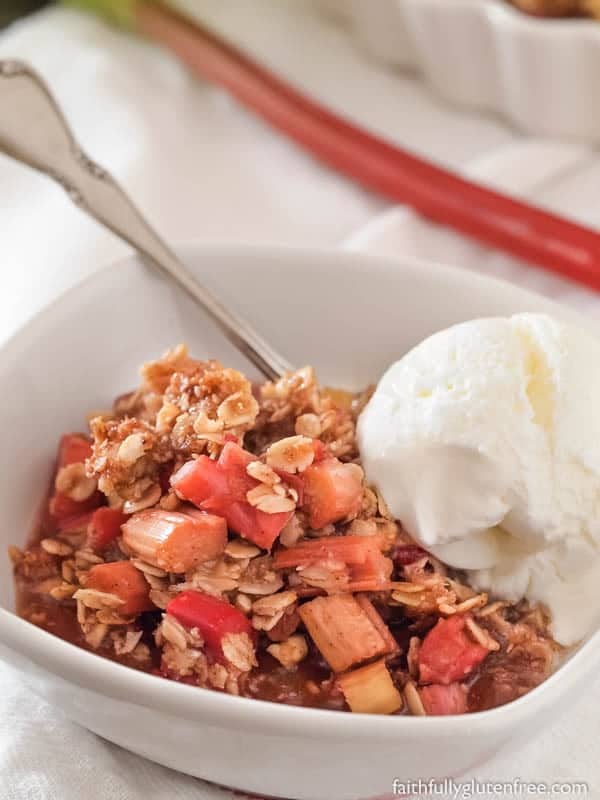 Looking for more ways to use rhubarb? How about:
Gluten Free Rhubarb Crisp recipe: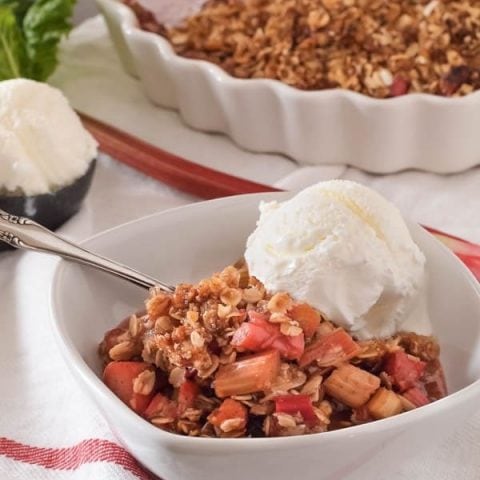 Gluten Free Rhubarb Crisp
Ingredients
Rhubarb Filling:
1 cup (200 g) granulated sugar
3 tablespoons (45 g) cornstarch
1/2 teaspoon (2.5 ml) ground cinnamon
4 cups (1 L) rhubarb, cut into 1/2" (1 cm) pieces
Crisp Topping:
1 cup (100 g) certified gluten-free rolled oats
1/2 cup (110 g) brown sugar, packed
1/2 teaspoon (2.5 cm) ground cinnamon
1/2 cup (125 g) chopped walnuts, chopped pecans, or slivered almonds
1/4 cup (55 g) cold unsalted butter, cut into small cubes
Instructions
Preheat the oven to 375 degrees F (190 degrees C).
Rhubarb Filling:
In a mixing bowl, combine the granulated sugar, cornstarch, and 1/2 teaspoon ground cinnamon. Add the chopped rhubarb, and stir to coat.
Pour into rhubarb mixture into an 8x8-inch (20x20 cm) baking pan, pouring any remaining sugar over the top.
Crisp Topping:
You can use the same mixing bowl to stir together the gluten free oats, brown sugar, and 1/2 teaspoon ground cinnamon. Add the butter cubes, and using your fingers, break the butter into smaller pieces, about pea-sized. Stir in the chopped nuts and sprinkle the topping evenly over top of the rhubarb filling.
Bake in the preheated oven for 30-35 minutes or until nice and bubbly. Let it sit for at least 10 minutes before serving to allow the filling to thicken while it cools. We like to serve ours still warm, with a scoop of gluten free vanilla ice cream.
Notes
This classic Gluten Free Rhubarb Crisp can be baked in an 8x8-inch baking pan, or you can bake it in ramekins for individual servings.
If you bake it in ramekins, be sure to place them on a baking sheet in case they bubble over while baking. The baking time can also be decreased by 5-10 minutes.
To make this dish nut-free, I would substitute the nuts with chopped sunflower or pumpkin seeds.
Recommended Products
Disclosure: We are a participant in the Amazon Services LLC Associates Program, an affiliate advertising program designed to provide a means for us to earn fees by linking to Amazon.com and affiliated sites.
Don't forget to
PIN IT
for later!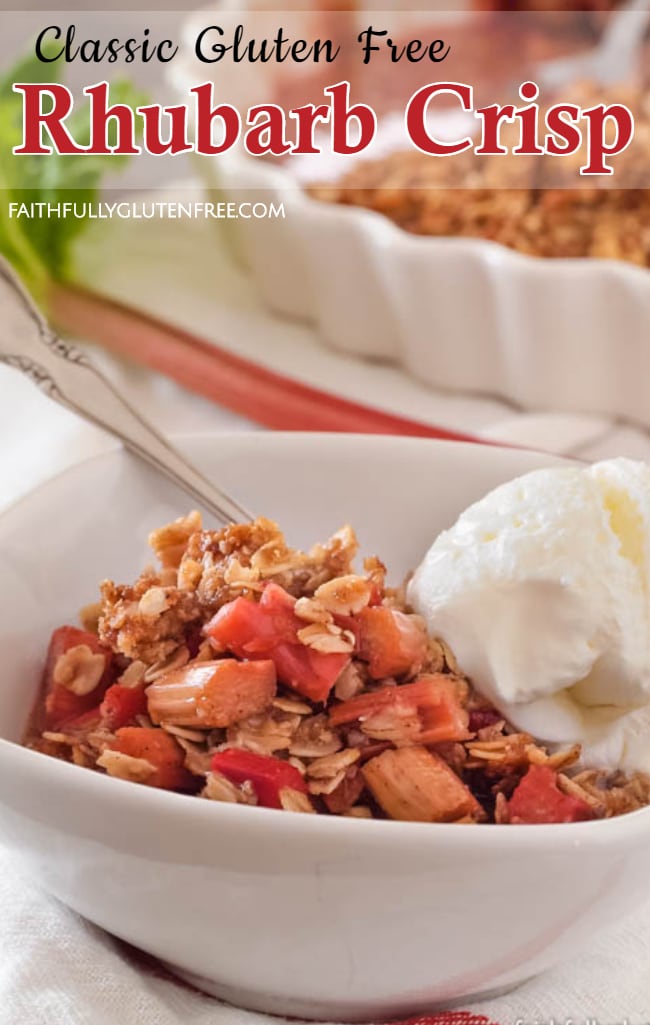 Disclosure: This post may contain affiliate links. If you make a purchase using these links – your cost remains the same, but I earn a small percentage to help pay for more groceries so I can make more recipes. Thank you!
This recipe and images were updated June 2016.

Save
Save
Save