These Gluten Free Cherry Chip Cupcakes are studded with tiny chunks of maraschino cherries. Be sure to save one to put on top!
*sigh* Look at those dreamy cupcakes. They make me smile.
Way back in my pre-gf days, I used to occasionally bake a cherry chip cake or cupcake – but always from a box. I never tried to bake them from scratch. Come to think of it – I probably seldom baked a cake from scratch back then. Why bother – the boxed mixes worked pretty well, tasted just fine, and were cheap! So, if we wanted to treat ourselves to a fancy little cherry chip cupcakes, it was just a matter of mixing a boxed mix with some milk, oil & eggs, and ta-da! Cupcakes.
But since celiac disease joined my life, I've been doing a lot of baking from scratch. Sometimes it makes me wonder how easy I would find regular wheat-based baking now. With gluten-free baking you have so many factors, and things need to be just right to get the right taste, texture, and look. I think wheat-based baking would be a snap by comparison. But I doubt that I would be as passionate about baking as I am now if I were still baking with wheat. My blog probably would have petered out 5 years ago, and I wouldn't have met all of you fabulous people online. There are some bonuses to having to bake gluten-free.
These gluten free Cherry Chip Cupcakes have a wonderful vanilla flavour, with a slight almond flavour added. If you are allergic to nuts – feel free to omit the almond extract. Studded with tiny bits of cherry, these cupcakes were a huge hit with my family.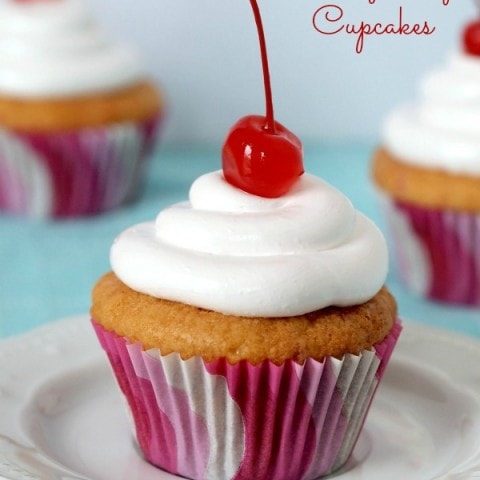 Gluten Free Cherry Chip Cupcakes
Gluten Free Cherry Chip Cupcakes
This post may contain affiliate links. Please read my disclosure policy for more information.
May 16, 2014 By Jeanine 7 Comments (Edit)
Video Player is loading.Pause
Unmute
Remaining Time -0:52
Fullscreen
These Gluten Free Cherry Chip Cupcakes are studded with tiny chunks of maraschino cherries. Be sure to save one to put on top!
Ingredients
Cherry Chip Cupcakes:
1 cup white rice flour
2/3 cup granulated sugar
1/3 cup potato starch
2 tablespoons tapioca starch
1 1/2 teaspoons baking powder
1 teaspoon baking soda
1/2 teaspoon xanthan gum
1/4 teaspoon salt
1/2 cup sour cream
1/4 cup milk
1/4 cup oil
2 large eggs
2 tablespoons maraschino cherry juice
2 teaspoon vanilla extract
1/4 teaspoon almond extract
10 ounce jar maraschino cherries, well drained and finely chopped (reserve some whole cherries for topping the cupcakes)
Fluffy White Frosting:
2 large egg whites, room temperature
2 tablespoons water
3/4 cup granulated sugar
1/4 teaspoon cream of tartar
pinch salt
1 teaspoon vanilla extract
Instructions
Cherry Chip Cupcakes:
Preheat the oven to 350 degrees F. Line muffin tin with paper liners.
In a large bowl, whisk together the brown rice flour, sugar, potato starch, tapioca starch, baking powder, baking soda, xanthan gum, and salt. Set aside.
In another bowl, whisk together the sour cream, milk, oil, eggs, maraschino cherry juice, vanilla, and almond extracts.
Pour the wet ingredients into the dry ingredients, and stir to combine. Fold in the chopped maraschino cherries.
Spoon into prepared muffin tin.
Bake in preheated oven for 18-20 minute, or until a tooth pick inserted into the middle of the cupcake comes out clean.
Cool completely before frosting.
Fluffy White Frosting:
In a stainless steel mixing bowl, whisk together the egg whites, water, sugar, cream of tartar and salt. Set the bowl over a saucepan of simmering water and continue whisking until the egg whites are hot (about 160*F).
Using a heavy duty hand mixer, or a stand mixer, beat the egg whites until stiff peaks form, and the frosting has cooled to room temperature. This takes about 10minutes. Add the vanilla extract, and beat until evenly distributed. Spoon or pipe onto cupcakes immediately.
Notes
Ensure that your cherries are dried before adding them to the batter. I blotted mine with paper towel before chopping them, and again after.
What flavour of boxed cake mix do you miss the most?