Making the Best Baked Beans is easy when you use store-bought beans as the base, and then jazz them up to customize them. Thank you to Sobeys for sponsoring this post so we can talk this tasty side dish, and about Hosting a Gluten Free Potluck.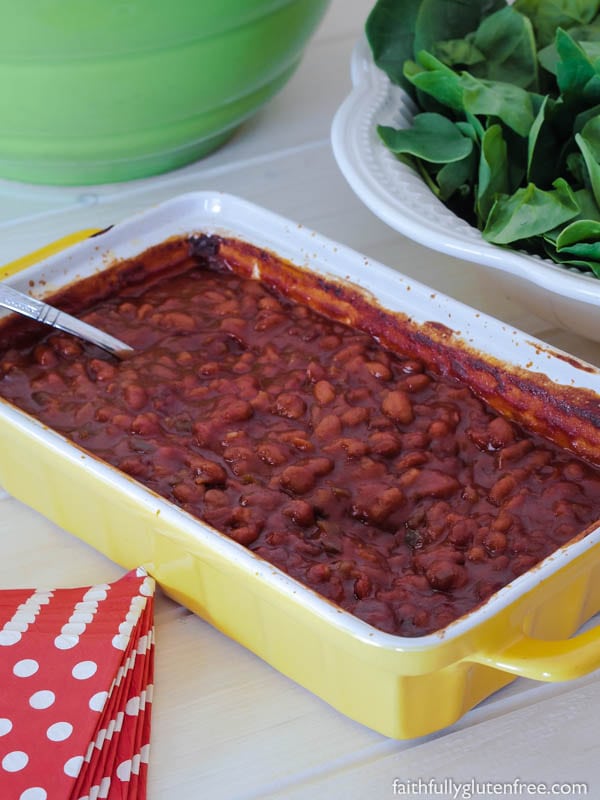 Attending a potluck can be terrifying when you have to eat gluten free.
You don't know if there will be anything there you can eat. You won't know if Betsy used a soy sauce that has gluten in it to make those wings, or what's in the mysterious fluffy salad that Tom brought. There's just so many unknowns to contend with. I get it. I understand. Potlucks are scary for people with celiac disease. There are certain steps, however, that you can take that will make them a lot less scary.
Talk to the host
If they are not aware (or have a tendency to forget things), let them know that you have to eat a meal free from gluten. The host can ask everyone attending to bring along a recipe card with the recipe of the dish they are sharing printed out on it. This lets you see exactly what is in each dish, then you can make an educated guess as to whether or not to take the risk. Not only will this help Celiac's identify potential sources of gluten, but anyone with a food allergy will also be able to see if nuts, eggs, shellfish, or dairy are included in the dish. With the number of food allergies on the rise, everyone could benefit from knowing the ingredients. Not to mention, when everyone raves about a dish, they can write out the recipe before leaving.
Keep 'em separated
If you have both gluten-free, and gluten-full food at a potluck, a way to cut down on potential cross contamination is to keep the gluten-free food on a separate counter or table. This way, if someone accidentally dips a spoon into the wrong dish, or misses their plate and drops something into another container – all is not lost to cross-contamination.
Serve yourself first
Before everyone else digs-in to the spread at a potluck, everything is perfect. No spoons have been placed in the wrong bowls, no crumbs have fallen into a gluten-free dish, all is alright. Once people start scooping, spreading, and moving along, things become imperfect. Fill up your plate with the gluten-free foods before anyone else to avoid the potential contamination. Take enough for the meal – with carelessness and the risk of cross contamination, you won't be able to go back for seconds.
Pack your lunch kit
When you attend a social function, like a potluck, don't expect everyone else to cater to your dietary restrictions. People will still bring gluten-full foods. And that's OK, because you packed yourself a gluten-free meal before leaving home. Besides the dish that you are contributing to the potluck, there may not be any other dishes for you to eat. At a potluck, it is unlikely that anyone would even notice that you are eating something else. They may just think that you found a dish or two that they missed.
Sobeys questioned Canadians, and based on their answers:
62% of Canadians dietary-energy comes from processed food.
Canadians who cooked with their parents are 59% more likely to love cooking as an adult.
67% of Canadians who say they love to cook also agree that tasty, healthy, and cost-effective meals can be planned, prepared, and served in a limited time.
59% of Canadians who grew up cooking involve others in the process and enjoy sharing all they've learned.
Only 18% of Canadians have at least one meal per day prepared from scratch.
Only 31% of Canadians aged 18-29 are confident in the kitchen compared to 48% of those over 50.
This is why Jamie Oliver's Food Revolution Day is so important. And why cooking skills workshops for young people is so important. Cooking is a necessity of life. To thrive, we need to know how to take a few basic ingredients and make something delicious. Young people need to be taught that there is more than just processed foods available for them.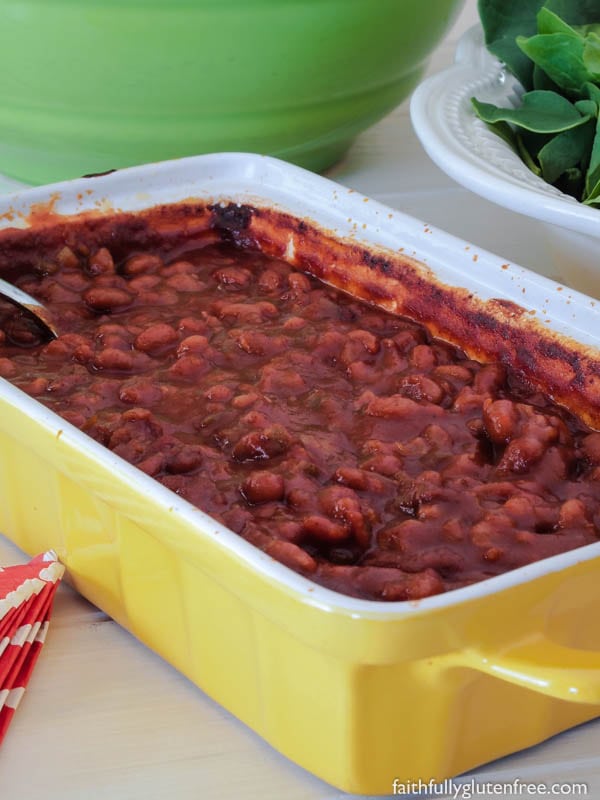 Looking for something delicious to take to a potluck? How about these Best Baked Beans? They start from canned beans, but then get kicked up – guests will be asking your secrets. You don't have to tell them how easy they are to make though – that'll be our little secret.
In addition to the Best Baked Beans, these dishes would be great for a potluck too: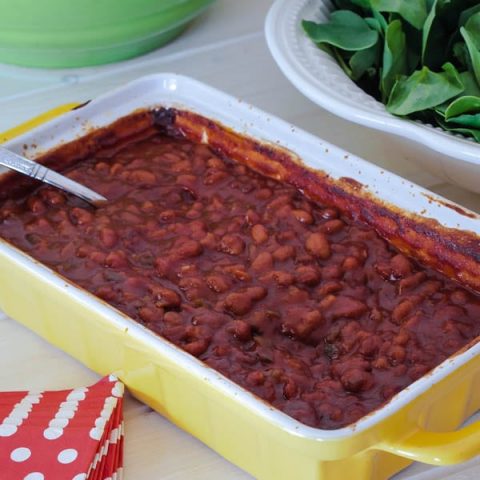 The Best Baked Beans
Cook Time:
1 hour
30 minutes
Total Time:
1 hour
45 minutes
Making the Best Baked Beans is easy when you use store-bought beans as the base, and then jazz them up to customize them.
Ingredients
1 tablespoon oil
1/4 green pepper, chopped
1 small onion, chopped
1/4 cup brown sugar
1/4 cup your favourite gluten free barbecue sauce
2 tablespoons apple cider vinegar
2 tablespoons prepared mustard
1 tablespoon smoked paprika
(optional: 4 slices bacon, fried & chopped)
Instructions
Preheat the oven to 350 degrees F.
Heat the oil in a large skillet over medium heat.
Saute the onions and green peppers until tender.
Add the beans (don't drain them), brown sugar, barbecue sauce, apple cider vinegar, mustard, and paprika. If using - stir in the fried bacon. Stir to combine.
Pour the beans into a baking dish, making sure to leave some room so that the beans will not boil over.
Cover with foil and bake in preheated oven for 1 1/2 to 2 hours. You could also heat them in the slow cooker for 2-3 hours on high.
Serve hot or cold.

This is a sponsored conversation written by me on behalf of Sobeys. As always, the opinions and text are all mine.