Making Gluten Free Eclairs is much easier than you think! Mmm… think of all the flavor combinations you could make!
It has been nearly 8 years since I was diagnosed with celiac disease, and I've said it many times – the only thing I miss is convenience. Well, that and a big, glazed yeast doughnut, but I'm working on re-creating that.
The ability to order in Chinese food.
Swing through the bakery.
Go out to eat at a restaurant on the spur of a moment (for food you're actually craving, and not to a restaurant that you have to research ahead of time, then play 20 questions with the staff to ensure that your food will be safe. Yeah, that takes the fun right out of it).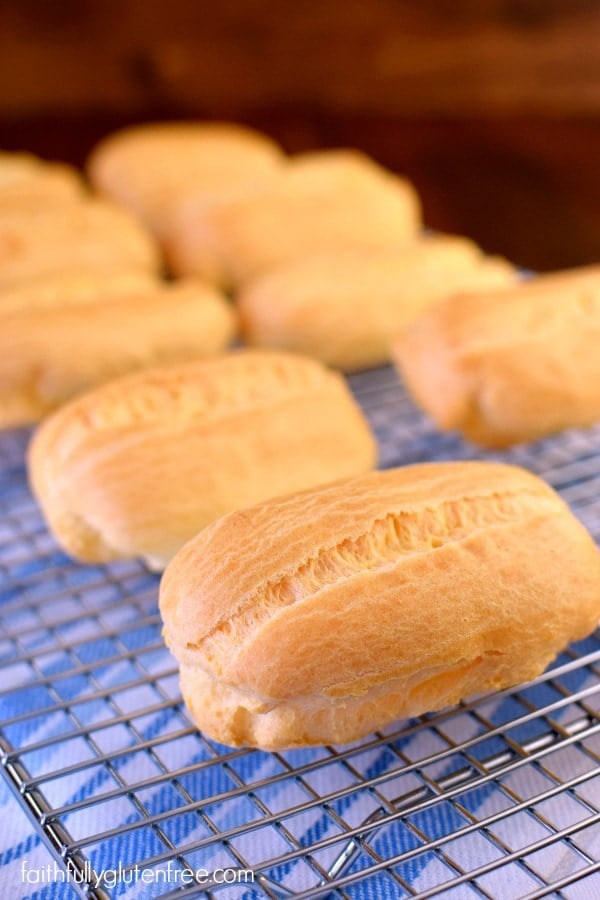 I mention bakery, because those are the things that are sometimes more difficult to re-create at home, or the things you'd like to pick up on a whim. In my immediate area, there are no dedicated gluten free bakeries.
I've heard of a few places that have jumped on the gluten free bandwagon and offer gluten free items, but really, they don't understand cross contamination, and in my mind, anything that comes from a shared kitchen should have a big "May Contain Wheat" sticker on it.
Or they offer it up to those that are "gluten conscious" – isn't it great that they are aware of gluten? Doesn't mean that the item you're purchasing will be gluten free though – at least it's not safe for those that have a need for no gluten, compared to those that want a low gluten diet.
Anyway, back to the bakery items. Whenever I feel like I'm missing out on something, I head to the kitchen.
Right from diagnosis, I decided that I would learn how to recreate anything I desire. Since this celiac thing is a life-long diagnosis, I might as well learn to live with it, and not let it make me feel like I'm being denied anything. And I think I've done pretty good too. Cinnamon buns, cakes, cookies, bread, you name it – I bake it. And when I had a craving for gluten free Eclairs, I knew I could easily make those as well.
The dough used to make these gluten free Eclairs is the same dough that I used to make gluten free Cream Puffs. The dough is actually called Pâte à Choux, and it can be used to make a number of pastries. It is a really easy dough to mix up, and when baked at a high temperature, the steam and the eggs creates beautiful hollow pastries that can be filled.
Some filling options for you gluten free Eclairs:
If you don't have a piping tip that will work to poke into the gluten free Eclairs to fill them, don't let that stop you from making them. You can slice them in half using a serrated knife and fill them that way.

Gluten Free Eclairs
Total Time:
1 hour
50 minutes
Making Gluten Free Eclairs is much easier than you think! Mmm… think of all the flavor combinations you could make!
Ingredients
Eclairs:
2/3 cup (107 g) white rice flour
1/3 cup (68 g) sweet rice flour
1/2 teaspoon (2.5 ml) xanthan gum
Pinch salt
1 teaspoon (5 ml) baking powder
1 cup (250 ml) water
1/2 cup (125 ml) unsalted butter, cut into cubes
4 large eggs, room temperature
Ganache:
3/4 cup (145 g) gluten free semi-sweet chocolate chips
1/3 cup (80 ml) heavy whipping cream
Instructions
Eclairs:
Preheat the oven to 400 degrees F (204 degrees C). Line a baking sheet with parchment paper, and set aside.
In a mixing bowl, whisk together the white rice flour, sweet rice flour, xanthan gum, salt, and baking powder. Set aside.
In a medium sauce pan over medium-high heat, bring the water and butter to a boil. Once they have reached a boil, pour all of the dry ingredients in at once, and stir with a wooden spoon until the dry ingredients are completely incorporated, and the mixture looks similar to play dough.
Place hot dough into a large mixing bowl or bowl of a stand mixer fitted with a paddle attachment. Beat on medium-high speed for a minute or two to cool the dough down a bit. With the mixer on medium speed, add one egg at a time. Beat dough until the egg is completely incorporated before adding the next one. When you add an egg, the dough will look like it breaks apart, but keep mixing it until it comes back together again. Repeat until all 4 eggs have been added.
Mix on medium-high speed for 1 minute, until the dough is smooth.
Place the dough into a pastry bag, or resealable freezer bag, and cut a 3/4-inch (2 cm) opening in the end/corner. Pipe the dough into logs, about 1-inch (2.5 cm) thick and as long as your finger onto the prepared baking sheet, leaving about 2-inches between eclairs. You can use a knife dipped in water to cleanly cut off the dough once you have piped the log long enough.
Bake in preheated oven for 30 minutes. Turn off the oven, open the door, and pierce the end of each eclair with a sharp knife. This will help any steam trapped inside them to escape, giving a nice crisp eclairs. Leave the eclairs in the oven, with the door open a few inches, until the oven has cooled completely.
Once the eclairs have completely cooled, you can fill them. They are best served the same day, but can be stored in an air tight container. To crisp unfilled cream puffs again, place in a 400 degree F oven for 10 minutes.
Filling:
Place the Peanut Butter Pastry Cream into a pastry bag fitted with a pointed tip. Insert the tip into the cut that you made at the end of the eclair. Squeeze filling in until the entire eclair is full. Do not overfill, or the pastry cream will run out after filling.
Ganache:
Combine the chocolate chips and cream in a microwave-safe bowl. Microwave on medium power in 30 second intervals, stirring in between, until completely smooth.
Using the back of a spoon, spread the ganache on the tops of the filled eclairs.
Notes
The Pâte à Choux can be frozen to use later. Pipe the dough onto a wax paper lined baking sheet and place in the freezer. Once they are frozen, store in a zipper seal freezer bag. To bake, place frozen dough onto parchment lined baking pan, and let come to room temperature before baking (about 15 minutes). Bake the same way you would if you were baking immediately.
Disclosure: We are a participant in the Amazon Services LLC Associates Program, an affiliate advertising program designed to provide a means for us to earn fees by linking to Amazon.com and affiliated sites.