The spicy aroma of soft, chewy Gluten Free Gingerbread Cookies will make your mouth water. I dare you to not nibble on one while you're decorating them.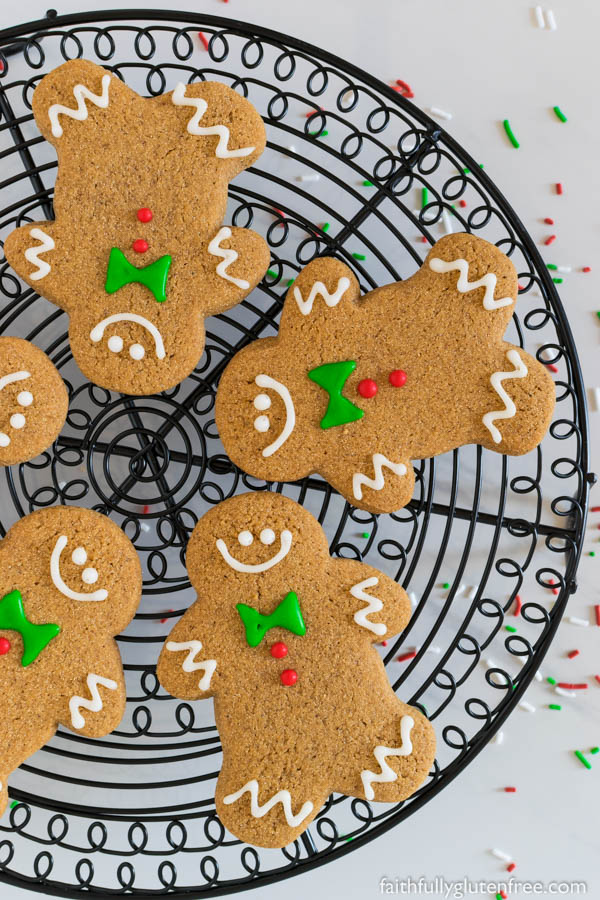 Disclaimer: This is a sponsored recipe. I was compensated by the kind folks at Crosby's Molasses for creating this recipe. However, like always, the opinions are entirely my own.
It's that time of year again. The leaves have all fallen, the daytime highs are rather low, and the ground is often dusted with snow in the mornings. Whether we like it or not, winter is quickly approaching. Within a week or two, the ground will be covered with a layer of white that will last until March or April.
One of the things that I like to do with the kids during these cold winter days is bake gluten free gingerbread cookies. The kids enjoy cutting them out, and decorating them when they are cool.
This dough makes the perfect gluten free gingerbread men cookies. Loaded with all the right spices, these cookies, which hold their shape well during baking, are also still soft and slightly chewy. Would they work to make a gluten free gingerbread house?
A small one – Maybe. But for a large house, you'll need to use my recipe for a Gluten Free Gingerbread House.
Love these gluten free Gingerbread Cookies? You might also like:
Gluten Free Gingerbread Cookies:
Gluten Free Gingerbread Cookies
Total Time:
1 hour
20 minutes
This dough does require at least 1 hour of refrigeration time after mixing. Take that into account when planning your baking! Adapted from Crosbys.com
Ingredients
1 cup brown rice flour
1 cup millet flour
1 cup sweet rice flour
1/2 cup potato starch
1/4 cup tapioca starch
2 teaspoons xanthan gum
2 teaspoons ground cinnamon
2 teaspoons ground ginger
1/2 teaspoon baking soda
1/2 teaspoon salt
1/2 teaspoon ground allspice
1/4 teaspoon ground cloves
1/4 teaspoon ground nutmeg
1 cup unsalted butter, room temperature
1 cup granulated sugar
1/2 cup Crosby's Fancy Molasses
1 large egg
2 tablespoons lemon juice
Instructions
In a large bowl, whisk together the brown rice flour, millet flour, sweet rice flour, potato starch, tapioca starch, xanthan gum, baking soda, salt, and spices.
In the bowl of a mixer fitted with a paddle attachment, beat the butter and sugar together until creamy. Beat in the molasses and egg, scraping down the bowl as necessary. Add the lemon juice.
With the mixer on low speed, gradually add the dry ingredients to the creamed mixture. Mix until the dry ingredients have been fully incorporated.
Divide the dough in two, placing each piece of dough on a sheet of plastic wrap. Pat the dough into a disk, wrap tightly, and refrigerate for at least 1 hour.
Preheat the oven to 350 degrees F and line your baking sheets with parchment paper.
Lightly flour the counter with sweet rice flour. With a sheet of plastic wrap on top of the dough, roll the dough out to about 1/4-inch thick. Use your favourite cookie cutters and get creative. Although the cookies hold their shape pretty well, don't use anything too detailed, since they do grow a bit.
Place cut out cookies on prepared baking pan, leaving 2-inches between cookies.
Bake in preheated oven for 8-10 minutes. Allow cookies to cool on the baking sheet for 3-5 minutes before removing to a cooling rack. Cool completely before using a simple frosting of confectioners' (icing) sugar and milk.
Repeat until all the dough has been formed. Off-cuts can be re-rolled and used again.
Notes
Be sure to refrigerate your dough for at least one hour before baking!
Looking for another reason to use your cookie cutters? How about these Gluten Free Rolled Sugar Cookies?
Images updated November 2018.