These gluten free White Chocolate Cranberry Cookies, which are crispy on the edges and chewy in the middle, are sure to be a hit. Filled with dried cranberries, white chocolate chips, and a hint of brandy, they will become a year-round favorite.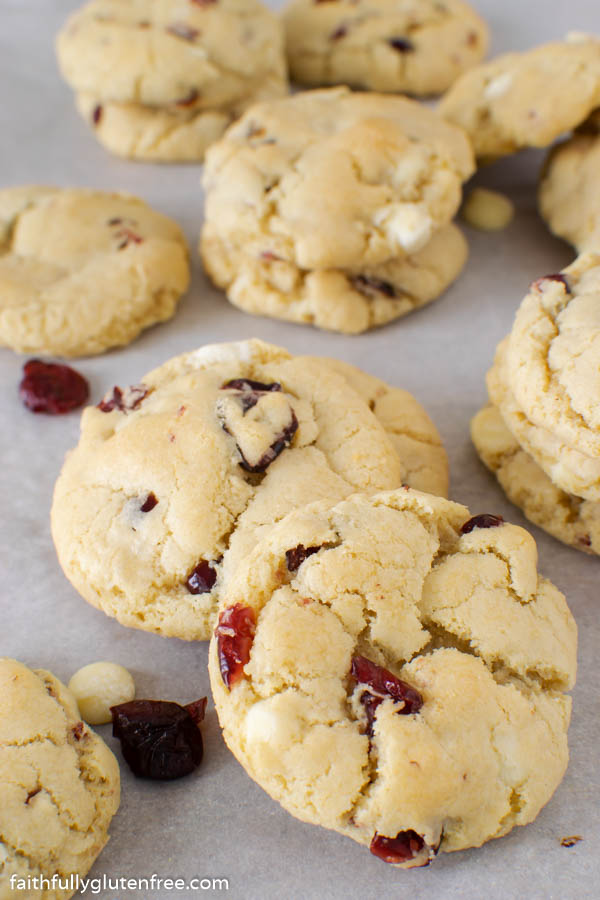 I first made this recipe probably 15 years ago. Our local radio station used to host a holiday cookie baking contest, and I entered a gluten-filled version of these cookies and won.
Once I had to start eating gluten free due to a Celiac diagnosis, one of the first recipes I converted to gluten free was these cookies. They have been a part of my Christmas cookie baking ever since.
I feel that the ingredient that really brings these cookies over the top is the brandy extract. I've made them without before, and although they are still a good cookie, the brandy extract really adds something special.
However, this year I have had a dickens of a time trying to find brandy extract. I searched every grocery store I came across both locally and in the US, and no one carried it. So this year, I will be using rum extract instead. It still adds that flavor that brings these cookies to the next level.
Can I use brandy or rum instead of the extract?
I would really encourage you to find brandy or rum extract to make these cookies. Using the same amount of actual brandy or rum will not give you the flavor you get from an extract, and if you add more, the consistency of your dough will change. So I would not recommend using brandy or rum in place of the extract.
Looking for more gluten free cookies to enjoy? Here are some of my favorites:
Gluten Free White Chocolate Cranberry Cookies recipe:
Gluten Free White Chocolate Cranberry Cookies
These gluten free White Chocolate Cranberry Cookies are one of my favorite cookies. A soft, chewy cookie filled with cranberries, white chocolate chips, and a brandy flavor.
Ingredients
1/2 cup unsalted butter, softened
1/2 cup brown sugar, packed
1/2 cup granulated sugar
1 large egg
1 1/2 teaspoons brandy or rum extract
1 cup brown rice flour
1/2 cup potato starch
1/4 cup tapioca flour
1 teaspoon baking soda
1 teaspoon xanthan gum
1/2 teaspoon baking powder
3/4 cup gluten free white chocolate chips
1 cup dried cranberries (check for gluten)
Instructions
Preheat oven to 350 degrees F. Line cookie sheets with parchment paper.
In a large bowl, cream together the butter, brown sugar, and granulated sugar until fully combined.
Beat in the egg and brandy extract, scraping down the bowl when necessary.
In a separate bowl, whisk together the remaining dry ingredients.
Stir the dry ingredients into the butter, sugar & egg mixture.
Mix in the white chocolate chips and cranberries.
Form the dough into balls consisting of about 2 teaspoons of dough. (I use my small cookie scoop for this). Roll the cookies into a ball using your hands, and place at least 2-inches apart on the prepared baking sheet.
Bake approximately 9-11 minutes in the preheated oven. For best results, take them out while they are still slightly doughy. Allow cookies to cool for 1 minute on the cookie sheets before transferring to wire racks to cool completely.
Store cooled cookies in an airtight container.
Notes
These cookies freeze beautifully once they have baked. Remove them from the freezer at least 30 minutes before serving to let them defrost.
Recommended Products
Disclosure: We are a participant in the Amazon Services LLC Associates Program, an affiliate advertising program designed to provide a means for us to earn fees by linking to Amazon.com and affiliated sites.
Don't forget to
PIN THIS RECIPE
to your gluten free cookies Pinterest board:
Originally posted December 2008. Recipe and images updated November 2019.