Keep the tradition alive, or start a new one, by building a Gluten Free Gingerbread House, which is also dairy free, and tastes great.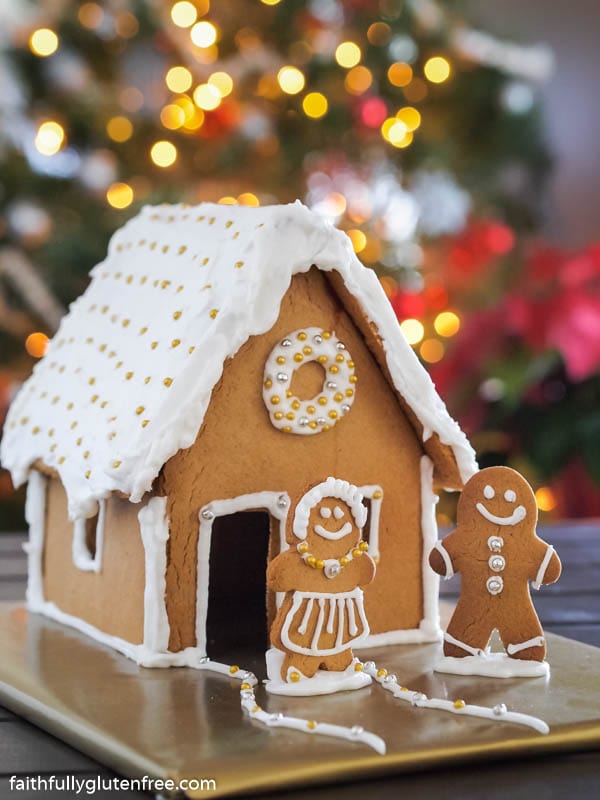 My weakness this time of year? The smell of gingerbread. Oh my goodness, is there anything better? Ginger, cinnamon, cloves combined with a little molasses, and you have the beginnings of something amazing.
It doesn't matter if it's gluten free Gingersnap Cookies, gluten free Gingerbread Cookies, gluten free Gingerbread Cake with Chocolate and Coffee, or this gluten free Gingerbread House, I'm in – I love the spicy combination.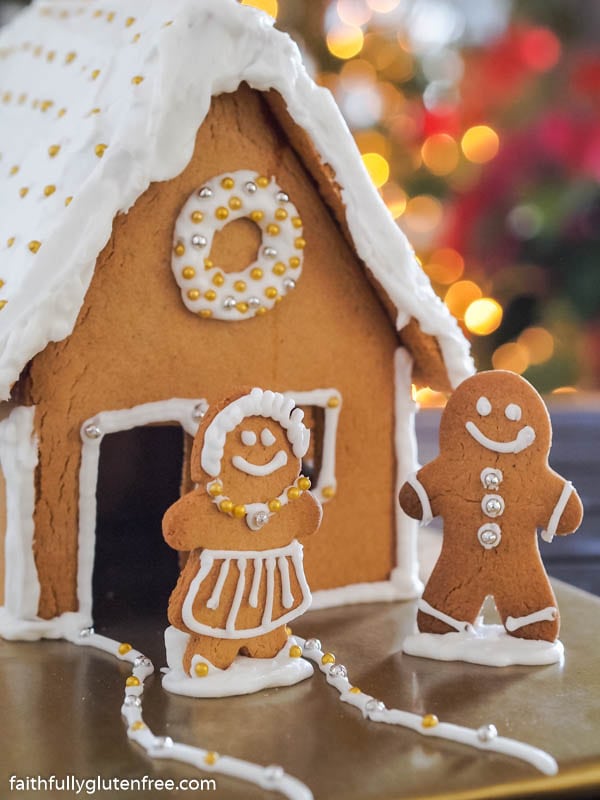 Have you ever built a gingerbread house? I know a lot of people are intimidated by them, but it's really much easier than you think! Although there are a few companies that sell gluten free gingerbread house kits, they aren't always easy to find, and can cost quite a bit with shipping.
You can easily build your own gluten free gingerbread house at home, with very little frustration. My kids love helping cut the pieces out, and decorating them. They spent a full hour creating their gingerbread scenes last weekend, and now pieces of the display are mysteriously disappearing (I love gummy candy, but I just blame the mischievous elf.)
Cutting Out Your gf Gingerbread House:
My wonderful husband created a Gingerbread House Template that you can download here for FREE. It is a basic house, and the dough recipe will give you one house, plus maybe a few people and/or trees, if you want. The gingerbread tastes great to eat too, so make yourself a few gingerbread men to nibble on while decorating, if you want.
You can also use a set of cutter to build your gluten free Gingerbread House. Last year after Christmas I bought a set of gingerbread house cutters. The price was discounted because it was past the season, and it made baking a gingerbread house easier than ever.
Assembling your gluten free Gingerbread House:
First, you will need to decide what you will use to build your house on. A cake board works great, as does a (seldom used) cutting board or baking sheet. Just be sure that it is rigid enough that you will be able to move your house without it sliding off.
Now sticking the house pieces together. This part doesn't need to be difficult, and there is no need to pull your hair out doing it. My friend, who used to build gingerbread creations every Christmas, told me a tip years ago, and I've done it ever since.
Melting Sugar:
Instead of using royal icing to assemble the house, use melted sugar! It is so easy to do, and yes, requires your attention, because melted sugar is very hot. So this is the part where you send the kids to watch Rudolph the Red Nosed Reindeer while you put their houses together.
I put about a half cup of granulated sugar in a heavy bottomed skillet over medium-high heat. The sugar will melt, and turn brown. THAT is when you want to use it. Once it reaches that colour, turn the heat down, or remove it from the stove top, and work quickly. If the sugar seems to be getting too thick, place it back on low heat to warm it up, it will get runnier again. Leave it on the heat too long, and it will turn really dark brown, you don't want that.
Once the sugar is a nice golden colour, dip the end you want to stick in it, like you would glue, and quickly press it against the piece you are sticking it too. For this small house, I dipped the end of a side wall in, glued it to the front of the house, then repeated that with the other side wall.
Once both walls were in place and stuck, I carefully lifted it up, and dipped the other end of the walls (at the same time), into the melted sugar, and stuck it to the back wall. Now I had my 4 walls assembled, I took a spoon, and VERY CAREFULLY spooned some of the melted sugar on the slopes of the roof, working with one side at a time. If you end up with a crack at the peak of your roof, no worries, that is where the royal icing comes in.
To clean it up, use a silicone spatula to scrape the liquid sugar into an empty tin can, let it solidify before tossing it in the garbage. To clean the pan, no worries there either, just place the pan in a sink filled with hot water, and let it sit. The sugar will dissolve and the pan will be completely clean without any effort. Same for any spoons or spatulas that you used.
If some sugar dribbled down your walls while you were putting on the roof, just wait until it cools slightly and peel it off. Or, cover it with candies, which is probably easier.
Royal Icing:
There are a few ways you can make royal icing. You can use meringue powder or you can use egg whites. Both will give you a really great glue that will hold up all your decorations, and dry quite quickly. The trick to a great thick royal icing, is being sure to beat it long enough. I use my stand mixer with a whisk attachment for this, and beat it on medium-high speed for 7-10 minutes.
Click for the recipes I use:
Gluten Free Candies:
You went through all this work to bake and build a gluten free Gingerbread House, don't forget to keep your candies gluten free as well. Here are a few lists (from 2014) to check to make sure that your candy is gluten free. ALWAYS double check the labels yourself though.
Above all, have fun creating your gluten free Gingerbread House!
There is no right or wrong way to decorate a gingerbread house. Have fun, get creative, and make memories. That's what gingerbread houses are all about, the memories you create while decorating (and eating) them. Merry Christmas from my little Gingerbread House to yours!
Gluten Free Gingerbread House recipe: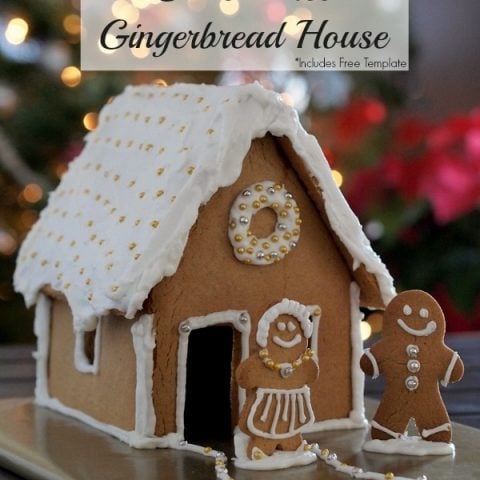 Gluten Free Gingerbread House
Ingredients
1/4 cup (30 g) millet flour
1/2 cup (85 g) potato starch
3/4 cup (120 g) brown rice flour
3/4 cup (155 g) sweet rice flour (also called glutinous rice flour)
2 1/2 teaspoons (12.5 ml) baking powder
1 1/2 teaspoons (7.5 ml) ground ginger
1 1/2 teaspoons (7.5 ml) xanthan gum
1 teaspoon (5 ml) ground cinnamon
1/2 teaspoon (2.5 ml) ground allspice
1/2 teaspoon (2.5 ml) salt
1/4 teaspoon (1.25 ml) ground cloves
3/4 cup (94 g) confectioners' (icing) sugar
1/2 cup (147 g) brown sugar, packed
1/2 cup ( 125 ml) vegetable shortening
1 large egg
3 tablespoons (45 ml) fancy molasses
Instructions
Preheat the oven to 325 degrees F (163 degrees C).
In a mixing bowl, whisk together the millet flour, potato starch, rice flours, baking powder, spices, xanthan gum, and salt. Set aside.
In the bowl of a stand mixer fitted with a paddle attachment, beat the sugars and shortening until light and fluffy. Add the egg and molasses, and beat until well incorporated, scraping down the bowl if necessary.
Add the dry ingredients to the wet ingredients, and stir until completely combined, and the dough forms a ball around the paddle. If the dough seems too dry, add some water, 1 teaspoon at a time. You don't want the dough to be sticky, just to hold together well. Knead the dough by hand if necessary.
Place half the dough on a large sheet of parchment paper (not larger than your baking sheet). Roll the dough out to a thickness of 1/4-inch (0.64 cm). To ensure you have an even thickness, you can lay a 1/4-inch dowel on either side of your dough, so your rolling pin rests on the dowels.
Lay your gingerbread house template pieces out on the dough so that there is at least 1-inch (2.5 cm) between pieces. Use a sharp knife to cut out all the pieces, and remove the excess dough, leaving only the house pieces on your parchment paper. Place a baking sheet at the edge of the counter, and carefully slide the parchment paper onto your baking sheet. Bake in the preheated oven for 15-17 minutes, or until the cookies begin to turn a light brown around the outside. You may need to turn your sheet once during baking.
Gingerbread cookies do puff a bit when baking, so when you remove the cookies from the oven, and they are still hot, place the template back on top of the pieces and with a sharp knife, trim the cookies straight and square again. This will ensure you have straight edges when you assemble your house.
Repeat with the remaining dough, re-rolling dough as necessary, until you have 2 roof pieces, 2 side walls, and 2 end walls, cutting out doors and windows before you bake them. If the dough starts to seem too dry to roll properly, add about a teaspoon of water and knead it to fully incorporate it. If you have trouble with the dough sticking to your rolling pin, cover it with a sheet of plastic wrap before rolling.
Let the gingerbread pieces cool completely on a wire rack. It works great to let them sit out overnight, uncovered, so they can dry out and harden before you assemble your house.
Merry Christmas from my little Gingerbread House to yours!
Disclaimer:We are a participant in the Amazon Services LLC Associates Program, an affiliate advertising program designed to provide a means for us to earn fees by linking to Amazon.com and affiliated sites.